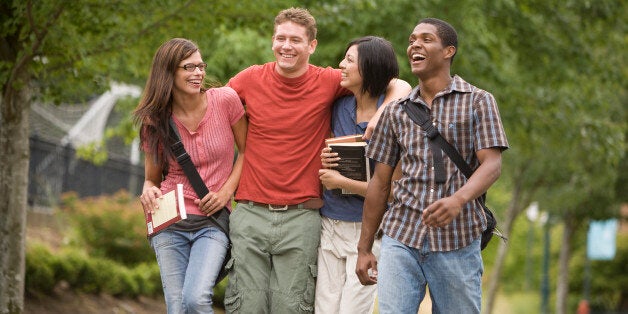 Starting college is a daunting experience, and your first day can often be the most daunting. But it doesn't need to be! While many people think that the first day is the most stressful, we've come up with some tips to make sure that your first day is as fun and as easy a transition into college life as possible.
1. Leave your dorm room door open.
An open door policy is the quickest way to get people to introduce themselves. Open door = friendly resident who wants to chat. If you're looking to make friends quickly, then be sure you pack a door stop to wedge your door open! People will drop in and say "hi" as they move in, and this also lets you know when your dormmates have moved in.
And if you need help with your unpacking, you're likely to get helpful dormmates asking if they can help with anything!
2. Unpack your things as soon as you can.
There's one sure way to make yourself feel homesick, and that's to not move into your dorm room properly. If you've ever tried living out of a suitcase for a few weeks, then you know that it can be a complete nightmare. The best thing that you can do is to get rid of all your boxes and give the empty suitcases back to your parents. Set your room up the way that you want it, and make sure you have all your homely touches displayed where you can see them; this way, your dorm room feels like a little piece of home and not the empty shell that it was!
Once you've unpacked and made yourself feel a little more at home, go and explore your new surroundings! Whether you head straight to figure out where your classes will be or you're more interested in seeing the recreational facilities, try to orient yourself and see a bit more of the campus. You'll be feeling at home in no time!
4. Don't spend your first night alone.
And no, before you get the wrong idea, we are definitely not suggesting that you hook up with someone on your first day! Whether people on your halls are going to a party or they're all staying in with a chick flick and some popcorn, be sure that you're not in your room alone the first night. Even if you're really tired, go and meet some new people before saying you're super tired and need some sleep.
5. Meet as many people as possible…
Be prepared to meet as many people as you can in your first day. Everyone is going to be smiling and keen to make new friends, so be sure to take advantage of this! Don't judge anyone yet, and don't automatically decide who your friends are going to be –- just take it easy and play it by ear.
Just be sure that you introduce yourself to as many people as you can! Whether you go around your hall knocking on doors, or are just hanging out with people who knocked on your door, be sure that you spend time with other people who have just moved in.
6. …but if you don't make any friends, know that it's okay!
So you don't think you've met anyone who is going to be your new BFF? Don't panic! It's just the first day. Honestly, most college students change friendship groups a few times before they settle into one that suits them. The people you meet on your first day don't have to be your new friends; in fact, it's highly possible that they won't be.
You have four years to make new friends, so don't be disheartened that you've not settled in on your first day. Many collegiettes continue making friends until the end of their senior year. Just keep reminding yourself: it's only day one!
Related
Popular in the Community