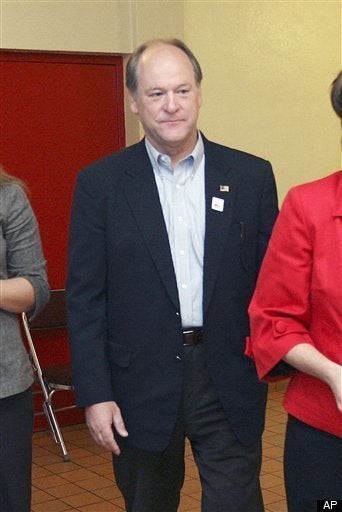 Bobby Bright, a Democrat from Alabama, became the first House Democrat to definitively say that he will not vote to make Nancy Pelosi the Speaker of the 112th House of Representatives, telling the local WSFA that he would vote for "a centrist."
"I am not going to vote for Nancy Pelosi as Speaker of the House. Neither the leader of the minority party, John Boehner, nor the present Speaker, will get my vote. I will vote for someone, a centrist, who is much more like me," said Bright in an interview with a local station.
Bright's Republican opponent has repeatedly attempted to tie Bright to Pelosi, a reflection of a national strategy that Republicans have employed over the past several election cycles.
Bright previously made news by dodging the question of whether he'd vote for her by speculating that she may not even be alive at the time. (Four Democratic House challengers have said that they will not vote for Pelosi, though none are considered viable.)
The lack of an endorsement of Pelosi comes as Bright's race is tightening. An internal Republican poll provided to HuffPost shows Bright trailing his Republican opponent Martha Roby by two points, within the margin of error but evidence of a much tighter race than previous polls had shown. The district is overwhelmingly Republican, with the GOP holding a 16-point registration advantage, according to the Cook Political Report. Despite the lean of the district, Bright is a reasonably popular figure and Cook lists the seat as lean Democratic.
"We feel confident in the state of the race," Bright spokesman Lewis Lowe told HuffPost, saying that polling had nothing to do with the decision. "Congressman Bright made the decision after long and thoughtful consideration and after speaking to thousands of constituents over the last year and a half. It's the right thing to do for his district and the country."
Bright, in a statement, elaborated on the decision. "Washington is broken," he said. "The leadership of both parties is too divisive, and our country is paying the price. Neither the Speaker nor the Republican leader has displayed the type of bipartisan cooperation required to build consensus and move our country forward. As a result, we must look elsewhere for leadership. I cannot support either candidate for speaker and would like to vote for a conservative centrist who has a track record of bridging divides. Putting an end to partisan politics shouldn't have to wait any longer."
Bright's distancing from Pelosi, however, suggests that the campaign sees the race as anything but assured. The Republican poll shows Roby up over Bright 45-43; a previous GOP poll in July had Bright up 49-41. Bright's popularity is also sliding, according to the poll. In July, he was favored by 62 percent of the district; the new poll puts him at 52 percent.
If Democrats only hold on to the House by one seat, Bright's pledge to oppose Pelosi could have a major impact. A Bright spokesman didn't immediately return a call.
Watch Bright back off of Pelosi:
This story has been updated to include a statement and response from Bright.
Popular in the Community