As many of you know, I had been working on a documentary for the last three years to spread the word on the importance of bringing jobs and innovation back to America; something I feel extremely passionate about, as it affects every one of us.
I am excited to announce that Make it in America: Empowering Global Fashion was released on January 6th through iTunes, Netflix, Amazon and Time Warner Cable.
The conflict of the film is brought up by Martha Stewart, when she specifically states... "We are faced with a big problem... How can we make enough goods for our growing population that will be affordable and well made? How can we do that here back in the United States?"
I pondered this question for some time, thinking about what we could make that could be produced at a high volume.
Being in fashion, we wanted to figure out a way to make an affordable product in the United States that any woman could wear.
In time, I realized something was missing from the market. Something that every day or evening, as I left my home or the office, I longed for and needed. A fashionable, yet comfortable slide sandal that I could slip on and go... from the gym to shopping or work to cocktails or pool to lunch. My BFF and stylist Elena Corsano, who was a former fashion editor at both Elle and Town and Country, felt exactly the same way. So we began to conduct focus groups with many various types of women to weigh in on whether they felt they had a need for this type of shoe. Over 90 percent of our subjects were extremely validating of our idea. And so... Soak was born!
When we were deciding where in the US to produce the shoes, we learned about Maine's history as a thriving hub of the industry... it was a natural fit and just so happens that coastal Maine is one of Elena and my favorite vacation destinations.
Being able to do high volume production has definitely been a road block for the American made movement. In order to reduce the cost of goods being made, one must be able to produce an item quickly and efficiently without losing quality control.
Maine is known for their craftsmanship in making hand sewn shoes, but this takes time and it's very costly.
We were fortunate to find a factory in Kennebunk called G&G Products. The owner has a strong knowledge of shoe construction, as he once worked with Unico, one of the last shoe manufacturers in Maine. Unico used to make the rubber outsoles of several named brand shoes before they closed down due the major outsourcing of jobs oveseas. When Unico closed their operations, the owner of G&G bought some of the equipment with the same hope that we have... reviving Maine's shoe industry.
His machines allow for high volume production vis a vis injection molding. We are working with our factory to reinvigorate and innovate using new and clean technology. Yes, our cost is slightly higher making our shoes in America, but as volume levels start to kick in, our price will come down. We also were adamant about making a product that was green friendly and recyclable. By being close to our factory, we can assure that strict guidelines are being followed and adhere to our desire to be environmentally sound.
Our sandals are a response to the film. It is a call to action. The average consumer cannot afford to buy American made because most American made fashion is priced at the contemporary price point... north of $200. We wanted to find a way to produce something, that would appeal to the masses, for under $100.
And yes, of course we hope to sell millions of pairs, but more importantly we want to create jobs... lots of jobs. Not 5 or 10... hundreds!
We have seen great progress in Detroit, where Shinola has managed to reinvigorate a once thriving manufacturing base, by creating watches, bikes, and more.
Maine once had similar production output in the shoe manufacturing sector, which over the years has dramatically diminished. We hope to change that.
Committed to Maine, Elena and I, headed up to Portland last Wednesday(to avoid, hopefully the last storm of the season), and launched a Kickstarter campaign on Thursday to energize Mainers on bringing shoe manufacturing back in a big way!
We awoke Thursday am, in Portland, groggy eyed and exhausted from the drive up and while we enjoyed a delicious breakfast at one of Portland's most notable hotels, The Portland Harbor Hotel, we were stunned to find our porject was on the front page of the Portland Press Herald.
That evening we hosted an event, to kick things off at The Portland Hunt & Alpine Club. As we sipped, just about the most tasty cocktail I have ever had...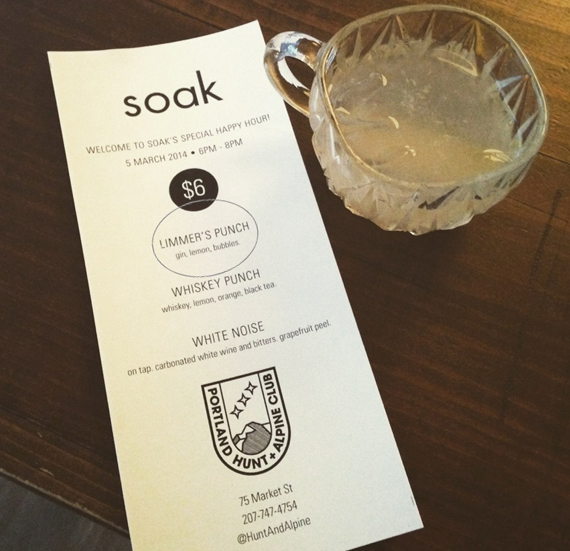 We chatted with some of Maine's most notable business individuals and the likes of State Senator, Amy Volk.
Everyone in the room was excited and very optimistic about our new business venture and the idea of real job creation!
After more interviews for both radio and newspaper and a mention by Erin Ovalle on the local ABC affiliate evening news, we drove back feeling enthusiastic and grateful! However, we know we have our work cut out for us and we are prepared for the journey.
Elena and I are thrilled about this opportunity... but more importantly, as two working moms, we are more enchanted by the idea of giving back to our country and showing our children that there is more to gain from working hard, than just money. We want to teach our kids... you can make a difference in the lives of others.
If you are interested in learning more about our project we would love for you to check it out here.
We hope you will see that there is a real opportunity to create desperately needed jobs here in the US.
Hopefully, this will serve as inspiration, for the many entrepreneurs out there, considering domestic manufacturing.
Popular in the Community