This blog entry is authored by Michelle Perez, one of Orin Levine's graduate students at the Johns Hopkins Bloomberg School of Public Health. This post is the first of a three week series entitled "Tomorrow's Vaccine Policy Leaders."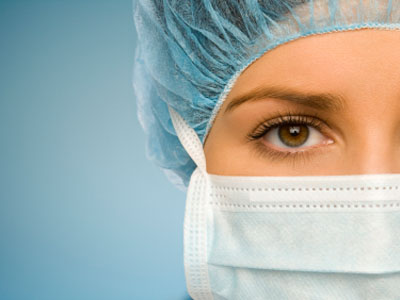 Imagine that you are in the hospital being treated for a serious illness. Your immunity is compromised and so your health care providers wash their hands, wear face masks, and limit their contact with you in order to avoid spreading germs that might harm you. How would you react if you learned that, despite all of these precautions, they've left you vulnerable to influenza by not taking the simple step of getting themselves vaccinated?
The influenza virus infects millions and kills thousands of Americans every year. Health care workers are at the front lines of our response because they take care of patients with influenza. However, they also treat those most vulnerable to severe flu disease and can therefore, unwittingly, cause influenza outbreaks in health care settings. In one case cited by American Medical News, a medical resident at an Ohio hospital exposed 166 people to influenza. This is an avoidable risk. Even though it is recommended that all health care workers receive the seasonal flu vaccine, the Center for Disease Control (CDC) estimates that 64% of these workers are NOT vaccinated against influenza.
We trust our health care providers to do what is best to foster our health but in this case they are not yet taking the steps they should to avoid a serious health threat. Increasing vaccination coverage is the best way to reduce this danger.
Without vaccination, many health care workers are sure to contract the flu. Some hospitals choose to focus on campaigns educating workers to stay home when ill. However, in practice this rarely works well, in part because the flu is contagious one day before symptoms begin. Therefore, even if someone does not feel sick, he or she could be passing the virus to an already seriously ill patient.Some hospitals have recognized the severity of this issue and taken strides to increase vaccination coverage. BJC Healthcare, a St. Louis area health system that includes 11 hospitals, issued an influenza mandate in 2008. Since then, vaccination coverage has reached 98% among BJC's more than 26,000 employees. This is obvious proof of the quick success rates that can be achieved through mandating vaccination.
Despite this evidence, in November of 2009, the American Medical Association House of Delegates voted to reject a proposal to make influenza vaccinations mandatory for health care professionals. At the meeting, Dr. Michael Butera of the Infectious Disease Society of America argued for mandatory vaccinations. He cited the "ethical duty to do no harm and prevent transmission of disease to patients" as a key reason to implement a mandate. He also pointed to the poor results of education campaigns.
It is time for the association to reconsider their decision and take strides toward making vaccination mandatory in time for the next flu season. Until then, the public should urge them to undertake this change. You would never allow a doctor to perform surgery without washing his hands. Why is it more acceptable for a doctor to avoid vaccination and put his or her patient at increased risk?
Part of the mission of the American Medical Association is to be a leader in science and public health advocacy. However, by failing to implement a system that has been shown to improve public health outcomes, the association is failing to live up to its mission. If AMA delegates carefully consider the association's responsibilities to the public it will become clear that their only choice is to reconsider their previous decision and implement a mandatory influenza vaccination requirement for health care workers.
Related
Popular in the Community