The GED® credential opens doors to great opportunities - jobs, promotions and additional education. It's a fact that GED Testing Service has been driving home for years! (Our logo even spotlights this fact with the visual of a door opening.) We hope you will help us spread the word about the value of a GED® diploma this month through GED Grad Day. More on that in a minute.
More than 20 million people have earned their GED® credentials since our testing began in 1942. Many GED® graduates overcome great obstacles to earn their credentials. We regularly celebrate their successes in the Graduate Stories section of our website. There you'll find photos and videos highlighting their accomplishments, as well as an opportunity for graduates to submit their own information in a quick and easy way.
Now, more than ever, we're sharing inspiring GED® graduate stories through our social media accounts to help motivate potential test-takers around the world. Examples include 81 year-old Rev. William Plazarin who earned his GED® credentials after more than a year of attending adult education classes, and Dawn Bias who studied for the tests while battling drug addiction and test anxiety behind bars. Members of our online communities continue to show great support for both of these students.
Recently we started a pilot project to further enhance our ability to share these graduates stories in compelling ways online. Tactics include using colorful graphics, exciting gifs and fun videos. That project wraps up on June 15th when we kick-off of an exciting digital event called #GEDGradDay. It is a day to drive conversation and action by celebrating GED® graduates, and all they have accomplished, while motivating and encouraging the next generation of students to open the doors to their futures.
Everyone is invited to participate. Getting involved is simple. You're invited to take one, or all three of the following actions on Wednesday, June 15th.
On your personal social media accounts, post a picture of yourself opening a door and use the caption to explain how you think education opens doors. Remember to use #GEDGradDay!
Join the live discussion on our Facebook Page between noon and 3pm ET on June 15.
Online or offline, encourage people to resume their educational journeys by earning their GED credentials. (You can do this by retweeting, sharing, or reposting our #GEDGradDay promotional content on the social networks, too.)
We're even offering an incentive to encourage participation! Each time #GEDGradDay is used on the social networks, GED Testing Service will make a donation to the National Center for Families Learning (NCFL).* If you're unfamiliar with the organization, NCFL's mission is to address our nation's literacy challenges by engaging all family members in learning, with a primary focus on parents and children living in poverty.
Thanks in advance for your support of #GEDGradDay. I'm convinced that a positive, high-profile, digital event like this will be beneficial to potential test-takers, GED® graduates, educators and GED Testing Service.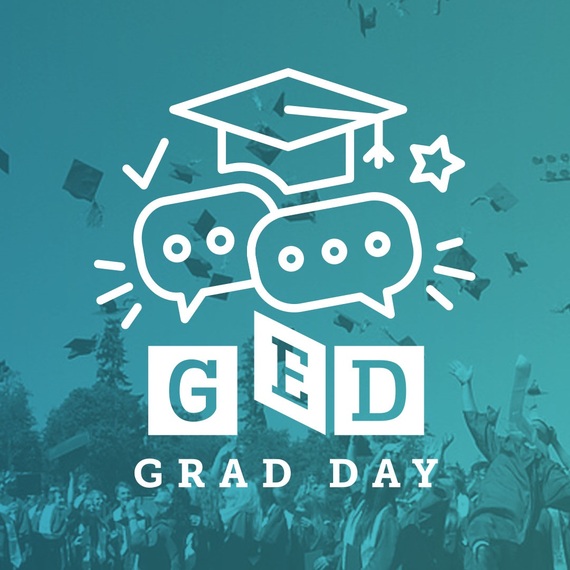 Calling all HuffPost superfans!
Sign up for membership to become a founding member and help shape HuffPost's next chapter