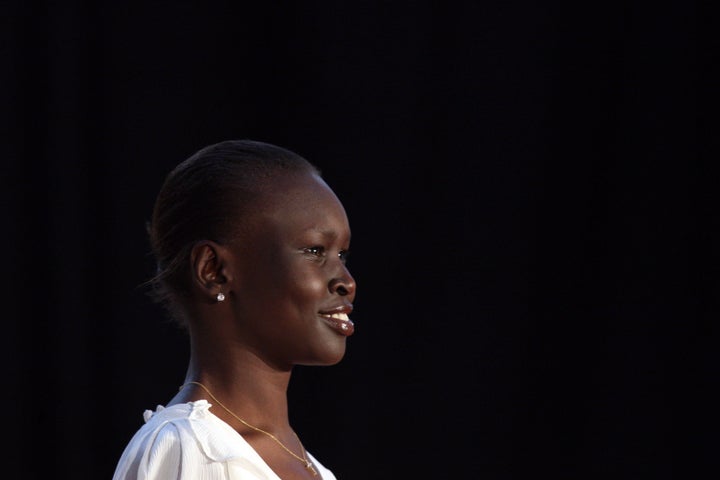 When Sudanese supermodel Alek Wek was 14 years old, she left South Sudan in the heat of civil war. Her family, fleeing both rebel and government forces, trekked through the bush for months, leading to her father's leg infection, paralysis and death.
Wek ended up at a refugee resettlement organization in London in 1986 and was separated from her mother for two years. A scout spotted her at a market and Wek went on to become the first African model to appear on the cover of Elle. Wek, now 34, realizes her good fortune and tells the Huffington Post she uses her platform as a way to advocate for refugees.
"The most humbling thing fashion has given me is a voice, and I hope to use that for other refugees," she says. "People look at refugees as a burden. I have always hoped to shed light on how they positively contribute to their new homes."
She is one of many sharing her story at the first-ever Refugee Congress at Georgetown Law School in Washington, D.C. on Wednesday and Thursday. Sixty refugees and asylum seekers spanning six decades and representing nations from Cuba to Burma met to share their stories of displacement. Representing every state in the U.S., the attendees also offered ideas for reform in policies affecting refugees.
After the convention, participants will meet with their Congressional representatives. The event is the inaugural refugee gathering convening under the premise that refugees should be involved in and informing policy, according to UNHCR.
Fatuma Elmi, a refugee from Somalia attending the convention, tells the Huffington Post she has high hopes that the convention community will develop recommendations for policy reform to send to the State Department.
Elmi, who fled civil war in Somalia and landed in Minneapolis in 1991, helps African refugees purchase houses and open small businesses. She's holding workshops at the convention to discuss widening the window of time in which a refugee must be hired. Currently, it's set at eight months.
"We need to revisit requirements for refugees when they come here," she tells the Huffington Post. "Someone who comes here, particularly from Somalia, might be 22 years old and he might not be able to write his own name. How am I supposed to make sure he gets a job?"
Elmi says the interim time between landing in the U.S. and landing a first job should also include more education opportunities.
Wek is also pressing for increased education for refugees, as well as providing these opportunities for citizens in her homeland. With South Sudan's new status as a sovereign nation, she says she'd like to go back, rebuild the country and instill a sense of community, while focusing predominantly on education outreach.
"People want to open schools, improve agriculture, become writers," she said. "I would love to see the arts, the history, a gallery, a library. There's so much rich history."
She's working on raising money for an academy school, a blueprint she would like to see crop up throughout the country. She herself started an organization called WEK, or Working To Education Kids, which provides education tools and resources for underprivileged kids.
Wek's also worked on the ground with Doctors Without Borders in Africa, educating people about disease and how to use clean water pumps installed on trips with UNICEF.
She sees herself as a true ambassador for those those who have helped refugees -- but what's more -- refugees themselves.
"Not only do refugees lose their home, but they don't always have a voice," Wek says. "They deserve to have that at the very least."
PHOTOS of Refugee Congress: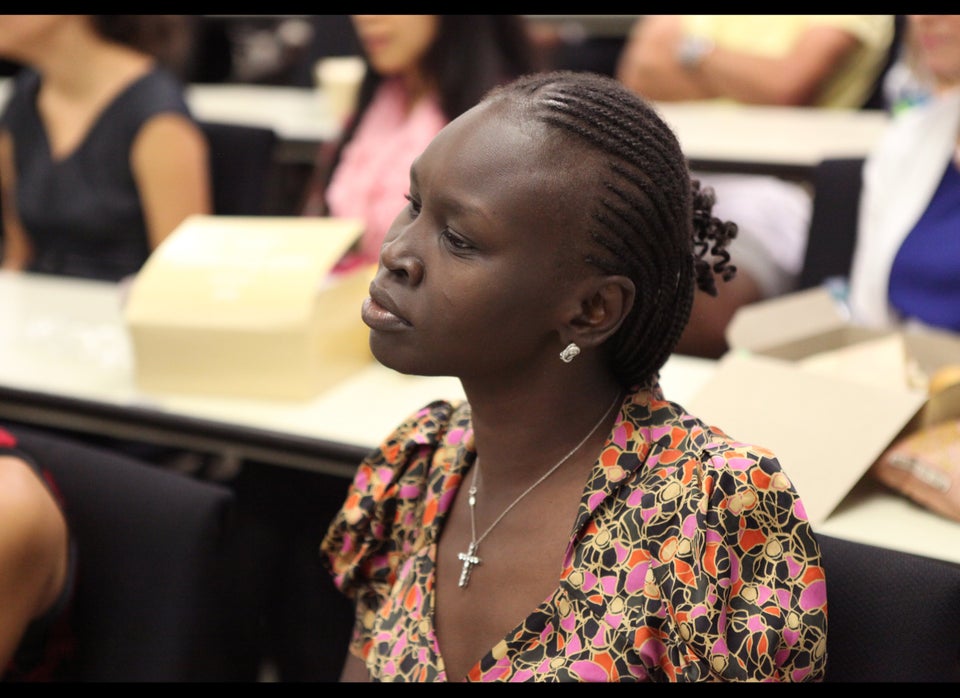 WATCH 6 Voices For 6 Decades:
Related
Popular in the Community