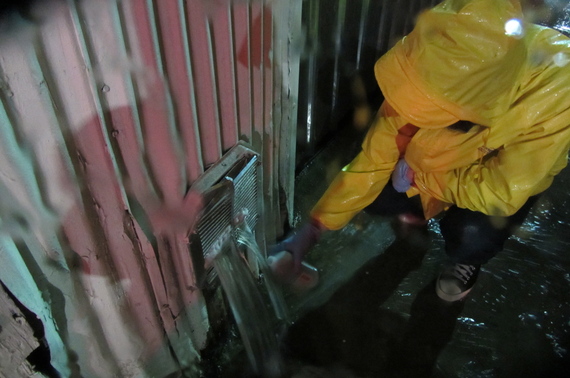 Although it doesn't rain often in Los Angeles, when it does, it pours. In less than 20 days a year, LA averages about 15 inches of rain. And the major riverine artery of LA, the Los Angeles River, is one of the fastest and steepest flowing rivers in an urban environment. The LA River watershed drops more than 7,000 feet in a little over forty miles, from its highest point in the San Gabriel Mountains to the river's outlet in Long Beach. Over the 51 miles of the river's course, it falls 795 feet whereas the mighty Mississippi River falls just 605 feet over its more than 2,000 mile course. This means that, in a big storm, water is moving quickly and voluminously through our cities.
The flow of the LA River is accentuated by the fact that is has been channelized and lined with concrete. What's more - the surrounding cities are equipped with gutters and storm drain systems that direct all urban runoff into the river. The storm water, of course, picks up all the nasty pollutants in our streets, industrial facilities, and gutters before catching a ride straight to the Pacific Ocean.
A couple weeks ago, LA experienced its first real rain event of the season. While we welcome the precipitation in what seems like a drying climate, we also cringe at the pollution caused during each year's "first flush". After months of accumulation during the dry season, the first rain of the season can be the nastiest for our water quality.
The "first flush" and the upcoming rainy season is a crucial time for LA Waterkeeper to identify and assess some of the major sources of storm water pollution that plague our waterways, including the LA River. As part of our Water Quality Monitoring program, the Stormwater Assessment Team (S.W.A.T.) is a group of trained volunteers that conduct investigative storm water sampling when it rains at industrial facilities suspected of violating federal and state clean water laws. The storm water samples are then tested at state certified labs for heavy metals including iron, aluminum, copper, lead, zinc, and mercury, and trash and fecal bacteria. The data we collect from this year's rain will be used to influence statewide and regional water quality regulations and to ensure, sometimes through litigation, that industrial facilities are operating in compliance with standards set to protect public health and the environment.
Over the years, this work has been successful in cleaning up scrap metal recycling yards, auto dismantlers, and recycling facilities throughout Los Angeles. Many of these businesses discharge toxic metals and bacteria into the environment near neighborhoods and schools, which is illegal under the federal Clean Water Act. LA Waterkeeper and S.W.A.T. volunteers are there to protect communities and all of our rights to clean water. And, since the storm season just started, you can join us at our next S.W.A.T. training.
Calling all HuffPost superfans!
Sign up for membership to become a founding member and help shape HuffPost's next chapter