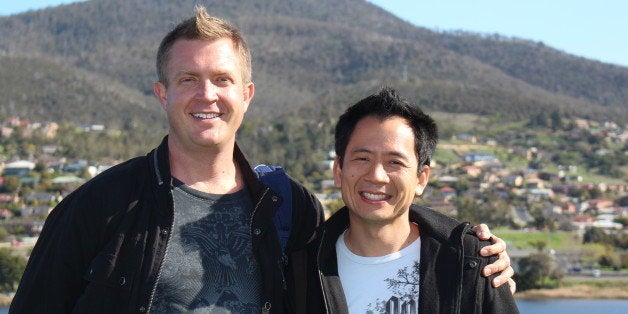 But Kwong and Nelson will marry at the First Unitarian Church of Honolulu, which has special meaning for them, and not just because President Obama went to Sunday school there. Jonipher Kwong is the first openly gay, Asian minister of the church.
In his ten years of ministry, Kwong has overseen more than 50 weddings. "I'm always the minister and never the groom," he likes to say.
He met his partner, a longshoreman in Los Angeles, 15 years ago. While Kwong was the minister at a church in Orange County, he patiently administered other couples' same-sex weddings as Nelson dreamed up an extravagant California wedding for themselves.
Legal same-sex marriage, however, was short-lived in California. Proposition 8 passed in November 2008 and banished same-sex marriage once again. Kwong's mother had urged the couple to marry before the vote, but they had never thought Prop 8 would pass.
"I was just crushed and devastated," says Kwong. "Part of it was because my partner and I didn't have a chance to get married ourselves, but I was also working on the [anti-Prop 8] campaign and pouring my heart and soul into it."
In the short time frame in which gay marriage was legal in California prior to Prop 8, Kwong oversaw some remarkable same-sex weddings. He recalls when a same-sex couple came into the anti-Prop 8 campaign headquarters, asking for some signs for their lawn. They mentioned they planned to marry before the vote.
"They told my co-worker, 'We got a license but we need a minister.' My colleague nudged me and said 'Do you want to do it?' I usually prepare, write a script, consult with the couple. They said just say 'whatever comes to your heart.' So we gathered all the campaign organizers there ... with the couple and their 4-year-old child. As they were exchanging vows there was not a dry eye in that room. We realized that that was what we were there for. That campaign was winning the dignity for that couple to be able to exchange their vows in front of everyone."
When the Supreme Court overturned Prop 8, Kwong and Nelson had already moved back to Hawaii. A few months later, the gay marriage debate heated up in Hawaii. In October, Governor Neil Abercrombie called a special session of the state legislature to review a bill that would legalize gay marriage. The two weeks that followed were legislative mayhem. When the House was in its third reading of the bill and about to send it back to the Senate, Kwong and Nelson went to the State Capitol to watch.
"We sat for 13 hours that day," recalls Kwong. "We were going to go to our 15th anniversary dinner after. As we were sitting through the hearing we realized it was going to be a big deal. It would be history being written. We decided we had to get engaged, I don't even remember who proposed to whom. So it ended up being an anniversary and engagement dinner."
"When we got home we heard the roll call on the television and tears just started streaming down our faces. This is going to become a reality for us."
The couple will marry as close after midnight as possible on Monday, Dec. 2. Because the Hawaii Health Department is allowing marriage licenses to be obtained online, there is no need to wait for the offices to open. Beginning at midnight, the online options will change so couples can identify themselves as "bride and bride, groom and groom, or spouse and spouse." Couples may wed immediately after a state-certified agent approves their online license.
With only two and a half weeks to plan, preparations have been ad hoc. "What I'm most concerned about now is how we're going to fit everyone into the church," Kwong says. The church seats about 100, and over 150 people have RSVPed. Governor Abercrombie said he will attend the ceremony, as well as at least 25 clergy members from a wide range of faiths. A rabbi will officiate.
But after being a part of not one but two state's battles for their right to marry, the couple is ready to just enjoy and celebrate. "We finally decided we weren't going to wait anymore," says Kwong. "Fifteen years is a long enough wait, I think."
REAL LIFE. REAL NEWS. REAL VOICES.
Help us tell more of the stories that matter from voices that too often remain unheard.
BEFORE YOU GO
PHOTO GALLERY
Gay Marriage Around The World