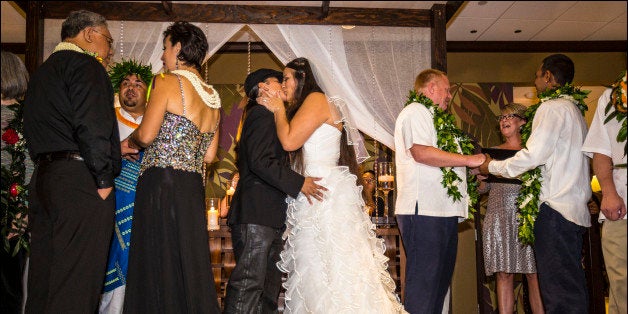 HONOLULU -- Same-sex marriage took more than two decades of activism to reach Hawaii, but the first ceremonies only took a few minutes.
Shortly after the clock struck midnight Monday — the moment state marriage license applications became available online — six same-sex couples began to exchange their vows at a festive, historic celebration on the 30th floor of the Sheraton Waikiki.
"I do," said one partner.
Cue Elvis and the "Hawaiian Wedding Song":
Now that we are one Clouds won't hide the sun Blue skies of Hawaii smile On this, our wedding day.
It was quite the lovely occasion: The Sheraton's Leahi Club Lounge, with stunning views of Waikiki at night in the rain, was adorned with white flowers and candles. Chaz Hill played piano and sang touching ballads, including John Lennon's "Imagine." Hinaleimoana Wong-Kalu performed a stunning oli (a Hawaiian chant).
The bar was open. Appetizers were served. And six perfect wedding cakes — two in the shape of a heart — awaited each of the six couples that married.
The newlyweds are Donna Gedge and Monica Montgomery (together for 35 years and counting), Paul Perry and Gary Bradley (11 years), Saralyn and Isajah Morales (four years), Shaun Campbell and Tony Singh (five years), Richard J. Rosehill and Shawna P. Okami (32 years) and Keola Akana and Ethan Wung (six years). Each couple had their own officiant.
"We have lived our lives as first-class citizens who are law-abiding, taxpaying, and contributing members of the community," said Gedge and Montgomery in a prepared statement. "Yet we are legally recognized as second-class citizens as we do not have Federal rights. Getting married means that we will have the first-class legal status as well as the rights and benefits that only marriage will afford us."
Gedge was a city worker and Montgomery a state worker. Both are retired.
Bradley was a plaintiff in the Jackson v. Abercrombie lawsuit that challenged Hawaii's 1998 constitutional amendment that gave the Hawaii Legislature the right to restrict marriage to opposite-sex couples. The lawsuit was made moot when Gov. Neil Abercrombie signed same-sex marriage legislation into law Nov. 13.
"Paul and I are happy that we did not have to move forward with this and that the state of Hawaii stepped up to provide equality for all and not just some families in Hawaii," said Bradley, a customer development manager for Advantage Webco-Hawaii.
It was Abercrombie who ordered legislators into a special session Oct. 28 to take up Senate Bill 1, now called Act 1. The measure drew tens of thousands of pages of written and online testimony and dozens of hours of hearings and floor sessions.
While a majority of testifiers opposed SB 1, often for religious reasons, it passed the House of Representatives 30-19 and the Senate 19-4. The Senate accepted House amendments to the bill that expanded religious exemptions for clergy, religious organizations and nonprofits that do not wish to solemnize gay marriage ceremonies. (Read the state's FAQ on the law.)
Hawaii was the 15th state along with the District of Columbia to legalize gay marriage, and Abercrombie and Lt. Gov. Shan Tsutsui issued proclamations to mark Monday's weddings. Illinois this month became the 16th state to follow suit, and its first gay wedding was held Nov. 27.
State Reps. Chris Lee, Della Au Belatti and Mark Takai were in attendance, as was state Sen. Will Espero and former lawmaker Jackie Young, who fought for civil rights for gays and lesbians since the early 1990s.
"We may be the 15th state to have marriage, but we were the first to rule that it was a possibility, and that was back in 1990," said Young. "Chris Lee was 9 years old at the time."
As the clock neared midnight, some of the soon-to-be-married couples joked that they hoped the Department of Health website would be more reliable than the federal one handling Obamacare.
At midnight, Michael Golojuch Jr., the chairman of the GLBT Caucus of the Democratic Party of Hawaii who handled emcee duties, said, "Marriage equality is now the law of the land in the aloha state."
But due to what were described as "minor technical difficulties," it took about 45 minutes to register all six couples.
Finally, the ceremony was ready to begin. Starr Kalahiki, accompanied by pianist John Signor, sang a mellow, lilting version of The Proclaimers' "I'm Gonna Be (500 Miles)":
But I would walk five hundred miles And I would walk five hundred more Just to be the man who walked a thousand miles To fall down at your door
The couples then exchanged vows simultaneous and quietly. And then it was done.
"This is history!" said Golojuch, as the audience clapped and cheered.
"I'm crying like a baby," one audience member said to another, embracing. "This feels good. There's nothing like equality."
Three of the couples that married early Monday also participated in a Hawaii civil unions ceremony early on Jan. 1, 2012, when civil unions became law.
One of the couples, the Moraleses, said the civil union allowed Saralyn to change her maiden name from Batt to her married name of Morales, and to enjoy "the recognition that comes with that." She also was able to add Isajah to her medical insurance.
Now the Moraleses says they look forward to receiving tax benefits that had previously been denied them, and to expand their family.
The Sheraton hosted the wedding ceremony, which was organized by Citizens for Equal Rights, the GLBT Caucus of the Democratic Party of Hawaii, Honolulu Pride, Integrity Hawaii, Pride Alliance Hawaii, Pride@Work Hawaii and Rainbow Family. Besides the Sheraton, local businesses that lent support included Chef Chai, Hula's Bar & Lei Stand, Kelli Bullock Photography, Paul Brown Salons & Spas, Nai'a Wood Designs and The Wine Stop.
Earlier in the day, a Marriage Equality Family Day event planned at Thomas Square was cancelled due to inclement weather. Instead, Honolulu Mayor Kirk Caldwell opened the Mission Memorial Building to more than two dozen more couples who were getting married Monday so they could hold their wedding rehearsals. Shortly after the first weddings at the Sheraton, the two dozen couples followed suit.
It was not the only marriage celebration Monday in Hawaii.
The Rev. Dr. Jonipher Kupono Kwong, who has performed many weddings during his 10 years in the ministry — both for opposite and same-gender couples — also tied the knot, with Chris Nelson. Abercrombie attended the ceremony at First Unitarian Church of Honolulu in Nuuanu.
Marriage equality. Marriage equity. Same-sex marriage. Gay marriage. Legally it's time to call it what it is: marriage.
REAL LIFE. REAL NEWS. REAL VOICES.
Help us tell more of the stories that matter from voices that too often remain unheard.
BEFORE YOU GO
PHOTO GALLERY
Justice Ginsburg Presides Over Michael Widomski And David Hagedorn's Wedding