For students aiming to be the first in their families to earn a college degree, there are many obstacles to getting into school -- but the challenges don't end when they arrive on campus. However, several groups are seeking to change that with mentoring and career development programs that specifically aim to help these students finish school.
Only 11 percent of first-generation, low-income college students graduate with a four-year degree, according to research from the Pell Institute, and first-generation students are twice as likely as those with parents who graduated from college to drop out of school. There are racial disparities to consider too, since Latinos represent the highest proportion of first-generation college students. African-American students are also overrepresented among the first-generation student population.
One group working to address this graduation gap is America Needs You, a New York-based nonprofit that provides mentoring and career development training for low-income first-generation college students.
Initially called New York Needs You, the group was founded in 2009 by entrepreneur and philanthropist Robert Reffkin, and launched the following year with an inaugural group of 50 college students. The students took part in the group's two-year "fellows" program, which consists of intensive career development and leadership training workshops, access to high-profile summer internships and one-on-one work with a volunteer young professional "mentor coach."
The organization changed its name to America Needs You when it expanded to New Jersey in 2012, and it also launched a program in Chicago earlier this year. CEO Kimberly Harris said ANY aims to celebrate the tenacity and resilience of first-generation students, while giving them the tools they need to succeed in school and beyond.
"I'm betting on our students," Harris told The Huffington Post. "If they can navigate issues like homelessness and abuse and extreme poverty, they can handle any issue in the boardroom when they get the opportunity."
To qualify for the fellowship program, applicants must show that neither of their parents or guardians have a bachelor's degree and qualify as low-income by the Department of Housing and Urban Development's standards. Prospective participants apply during their freshman year and start the program during the summer before sophomore year. The program is funded by foundations, corporate partners and fundraising events.
First-generation college students drop out for a variety of reasons, including financial or academic factors. Harris also argues that many students lack an understanding of what a college degree will help them achieve, which is why she says ANY works to make secondary education feel "as relevant as possible, as early as possible."
The lessons students learn in the workshops are geared toward creating a road map of where they want to be in a decade -- and then working backward to determine what they should be doing now to meet their long-term goals. Along the way, participants learn to craft resumes and cover letters, speak in public and manage relationships.
The program has had impressive results. ANY says 96 percent of current participants have graduated or are on track to graduate from college, while 90 percent of program alumni were either employed or continuing their education as graduate students within six months of graduating from college. In addition, 100 percent of participants who attended community colleges successfully transferred to four-year schools.
Harris says the key to that success is the participants' relationship with their mentor coaches.
"Imagine going back to your college years and having one person dedicated to your success," Harris said. "Even with the curriculum and workshops and hours of time learning substantive skills, what's most important to this is building that trust with a young professional to help push the student along the way and keep them on track."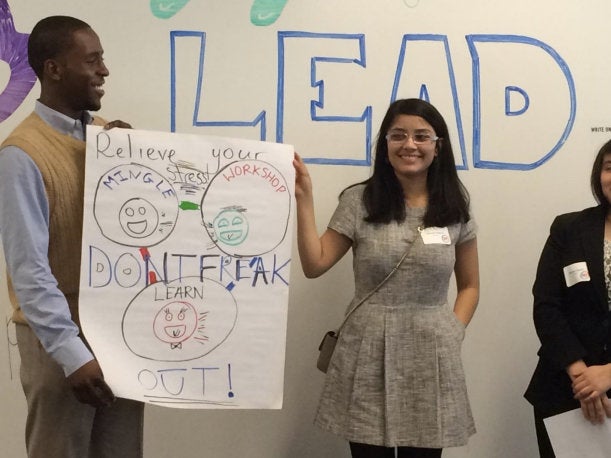 Though ANY plans to be operating in five states by 2020, the group is certainly limited by challenges of scalability, particularly since the national population of first-generation college students numbers in the millions.
Chelsea Jones, associate director of student programs at the Center for Student Opportunity, a nonprofit based in Bethesda, Maryland, agreed that the sort of mentoring offered by ANY can go a long way toward helping a first-generation student feel better prepared for school and life after it.
That's why her organization has created its own initiative, called I'm First, that offers something akin to virtual mentoring for students who hope to be the first in their families to finish college.
CSO partners with 185 colleges and universities around the country that offer resources specifically aimed at first-generation students. Using these resources, the group hosts an online database that allows aspiring college students to determine which of those partner schools might be the best match for them.
In addition, the I'm First website also publishes articles tailored to particular subsets of first-generation students, such as those who are undocumented or in foster care, as well as blog posts written by the eight to 10 first-generation students who have received scholarships from CSO.
Jones, who herself attended Howard University as a first-generation college student, told HuffPost that the blog posts from peers, which often discuss challenges as well as successes, are helpful to aspiring college students.
"This isn't support you can get from home," Jones said. "It's not that they don't support you, but they haven't been there and don't have the know-how to tell you what you should do or shouldn't do. This [platform] lets them know they can do this, that it will be a little bit hard, but I've got this mentor or these bloggers who have gone through everything I'm going through now, so I've got this."
Beyond the support offered by groups like CSO and ANY, Jones said she believes more and more campuses are becoming aware of how they can help first-generation students toward graduation.
"I think, little by little, schools are seeing that they are an asset to the campus and that they need them there and that they can't just have them on campus and assume they'll know what to do," she said.
Related
Popular in the Community