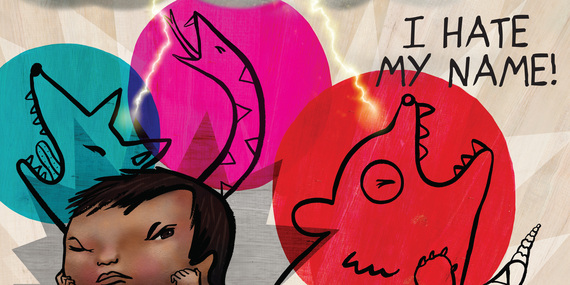 In each of the past few years, one book has separated itself from the pack early on (Last Stop on Market Street in 2015 and The Adventures of Beekle in 2014). Now that we're past the halfway point of this year, another book has once again distinguished itself from the pack: Thunder Boy Jr. by Sherman Alexie and Yuyi Morales (Little, Brown).
A heartwarming story about a young boy literally trying to make a name for himself in the world, Alexie and Morales have created a touching family portrait that feels both modern and timeless. (I had the pleasure of reviewing the book for the New York Times Book Review, so you can read more here.)
But while Thunder Boy Jr. has taken the world by storm, there are several titles challenging for the honor of Best Picture Book of the Year (for example, as my colleagues Betsy Bird and Travis Jonker said: They All Saw a Cat feels like it was built in the Caldecott laboratory). With that in mind, here's a quick runthrough of some of the favorites (in alphabetical order) that I've come across during the first half of 2016.
(Disclaimer: I had a picture book come out in June (Let Me Finish!, ill. Isabel Roxas), but since I'm obviously biased, I did not consider it for this list.)
The Airport Book by Lisa Brown (Macmillan): Somehow, the airport has become routine and banal (and sometimes tantamount to purgatory), but Brown skillfully reclaims its magic and a sense of child-like wonder in this incredibly detailed and wondrously constructed exploration of the modern airport.
Are We There Yet? by Dan Santat (Little, Brown): A rollicking time travel adventure that (literally) turns the reading experience on its head.

Chicken in Space by Adam Lehrhaupt, ill. Shahar Kober (Harpercollins): A tribute to that special friend (we all have one) who refuses to let life be ordinary... and always makes sure to take you along for the ride.
Explorers of the Wild by Cale Atkinson (Disney-Hyperion): A boy and a bear each separately set out to explore the woods around them and discover something unexpected: a kindred spirit.
Friend or Foe? by John Sobol, ill. Dasha Tolstikova (Groundwood): For readers who tire of picture books with tidy endings, this one eschews the convenient resolution in favor of a delightfully open-ended finale.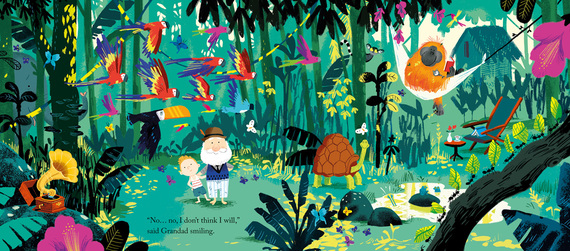 (GRANDAD'S ISLAND. Copyright © 2015 by Benji Davies. Reproduced by permission of the publisher, Candlewick Press, Somerville, MA.)
Grandad's Island by Benji Davies (Candlewick): A gently magical story about bidding farewell to a grandparent, Davies' vibrant palette infuses the story with a hopeful spirit.
Horrible Bear! by Ame Dykman, ill. Zachariah OHora (Little, Brown): The team that brought you last year's wonderful Wolfie the Bunny returns with another charmer. Dykman is an expert at portraying characters when they are not behaving their best, but without a judgmental eye. OHora's thick and colorful hand keeps the tone playful, even when characters are raging up and down mountains.
How This Book Was Made by Mac Barnett, ill. Adam Rex (Disney-Hyperion): The mad geniuses behind Chloe and the Lion are back to push picture book metafiction to its hilarious limit.
I Dissent: Ruth Bader Ginsberg Makes Her Mark by Debbie Levy, ill. Elizabeth Baddeley (Simon & Schuster): A biography of the iconic Supreme Court Justice, Baddeley's ornate typography emphasizes the power of her words, which have been the Notorious RBG's weapon of choice in her lifelong fight for justice.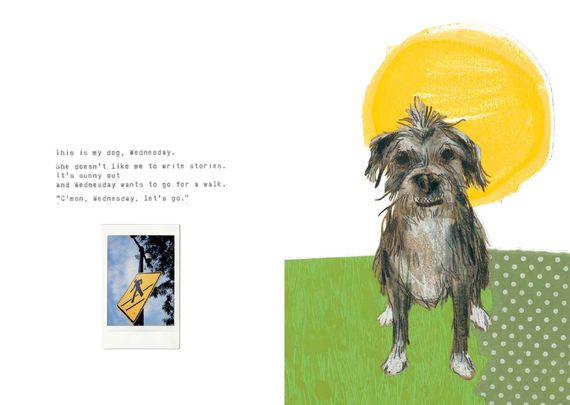 Ideas Are All Around by Philip C. Stead (Macmillan): As a first time author, I'm quickly learning that the first question children ask is "How do you get your ideas?" Now, instead of fumbling awkwardly with clichés, I'll just tell them to read this beautiful and thoughtful meditation on the creative process.
In Plain Sight by Richard Jackson, ill. Jerry Pinkney (Macmillan): A playful portrait of the daily ebb and flow between a grandfather his granddaughter, the story is brought to life with painstaking detail by the legendary Pinkney's warm illustrations.
Jazz Day: The Making of a Famous Photograph by Roxane Orgill, ill. Francis Vallejo (Candlewick): The worthy winner of this year's Boston Globe-Horn Book Award for best picture book, Jazz Day is the behind the scenes tale of the legendary photograph, a process which apparently took as much talent, improvisation, and serendipity as an improvised Saturday night set at Birdland. (For book nerds, the book also features my favorite use of a "gatefold" in recent memory.)
The Knowing Book by Rebecca Kai Dotlich, ill. Matthew Cordell (Boyds Mill Press): Next time graduation season rolls around, give the graduate in your life this book instead of yet another copy of Oh, the Places You'll Go.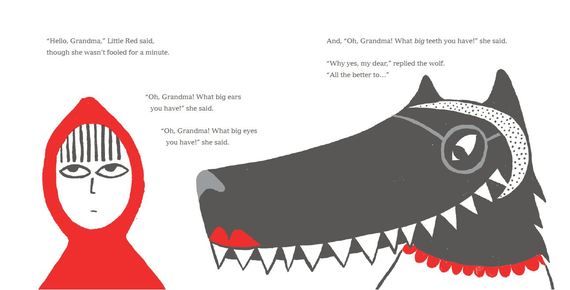 Little Red by Bethan Woollvin (Peachtree): A bold (both graphically and narratively) reimagining of the classic fairy tale, Little Red is truly subversive in that it subverts the concept of victimhood with a deliciously dark twist.
Maybe Something Beautiful: How Art Transformed a Neighborhood by F. Isabel Campoy and Theresa Howell, ill. Rafael López (Houghton Mifflin Harcourt): A young artistic girl and a muralist team up to infuse their community with beauty, inspiring their neighbors one magical brushstroke at a time.
Mr. Moon Wakes Up by Jemima Sharpe (Child's Play): I love surreal picture books and this one is both weird and comforting... like a glass of warm milk with a splash of absinthe (non-alcoholic, of course).
Preaching to the Chickens by Jabari Asim, ill. E. B. Lewis (Penguin): A gentle treatment of Representative John Lewis's childhood, readers can see that from a young age Lewis was compelled to make his voice heard. As a funny aside, I had the honor of hearing him speak recently and when he discussed preaching to chickens as a child, he remarked that they "listened to me better than some of my colleagues."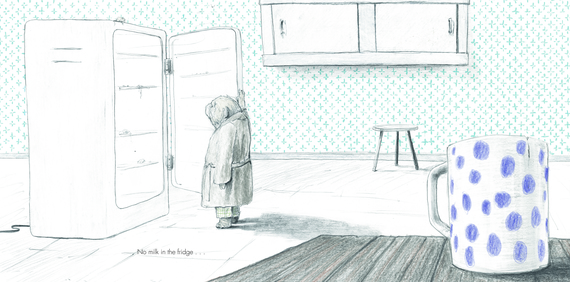 Pug Man's 3 Wishes by Sebastian Meschenmoser (NorthSouth): A master of wry humor, Mechenmoser's latest about a grumpy pug who meets a magical fairy is an irreverent mix of William Steig and Charles Bukowski.
Return by Aaron Becker (Candlewick): A thrilling conclusion to the trilogy that began with Becker's breathtaking Journey. The word "epic" is tossed around too often these days, but in this case, it's the only word that fits.
The Sound of Silence by Katrina Goldsaito, ill. Julia Kuo (Little, Brown): One of my absolute favorite books of the year, I'll tell anyone who will listen that The Sound of Silence is like a dharma talk led by Christopher Robin. Which is about as high a compliment as I can give.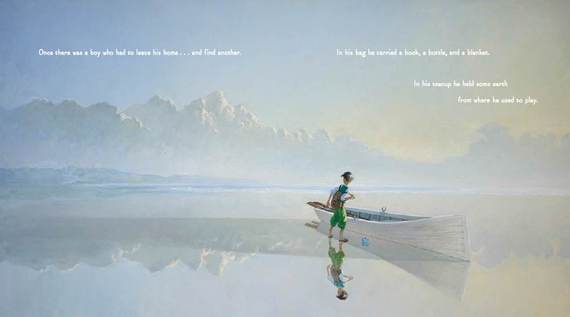 Teacup by Rebecca Young, ill. Matt Ottley (Penguin): A young boy sets out to sea seeking refuge in a new land, taking a piece of home with him. Young's spare but poetic text hovers like a delicate bird above Ottley's gorgeous and powerful oceanscapes.
The Thank You Book by Mo Willems (Disney-Hyperion): No, YOU teared up reading this curtain call for one of kidlit's most endearing (and enduring) duos.
They All Saw a Cat by Brendan Wenzel (Chronicle): Both simple and ingenious in concept, Wetzel's book feels like a gamechanger. Showing one cat as seen through the eyes of different characters (a mouse, a bee, a person, etc.) this is a stunning visual lesson in the fluidity of perspective. This book, along with one of the best read alouds of the year (One Day in the Eucalyptus, Eucalyptus Tree), makes Wenzel is a frontrunner during award season.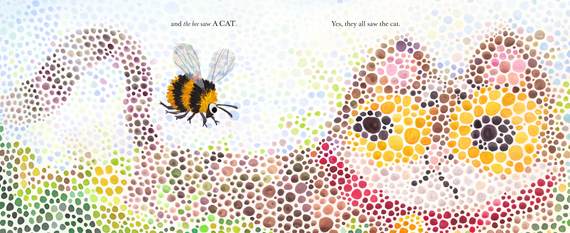 Twenty Yawns by Jane Smiley, ill. Lauren Castillo (Two Lions): Smiley's text uses a skillful repetition of the word yawn (taking full advantage of its contagious nature) to make the reader increasingly more tired with every page turn. Coupled with Castillo's illustrations, which exude the comfort of a handknit wool blanket, this is a perfect bedtime book.
We Found a Hat by Jon Klassen (Candlewick): Klassen follows I Want My Hat Back and This Is Not My Hat with another book that grapples with the nature of desire (and fashion). However, while the first two were darkly subversive, this one ends on a dreamy and surprisingly transcendent note.
And we still have almost half the year to go! I apologize to your bookshelves (and your wallets), but since I'm already doing damange, here are even more stellar 2016 titles to look out for:
Ada Twist, Scientist by Andrea Beaty, ill. David Roberts
Be a Friend by Salina Yoon
A Brave Bear by Sean Taylor, ill. Emily Hughes
The Bear and the Piano by David Litchfield
A Child of Books by Oliver Jeffers and Sam Winston
Du Iz Tak? By Carson Ellis
Ella and Penguin Stick Together by Megan Maynor, ill. Rosalinde Bonnet
A Family is a Family is a Family by Sara O'Leary, ill. Qin Leng.
Good Night Owl by Greg Pizzoli
Henry and Leo by Pamela Zagarenski
Little One by Jo Weaver
The Mixed-Up Truck by Stephen Savage
The Night Gardener by Terry and Eric Fan
Ooko by Esme Shapiro
The Opposite Zoo by Il Sung Na
One Day in the Eucalyptus, Eucalyptus Tree by Brendan Wenzel
Pink is for Blobfish by Jess Keating
Poor Little Guy by Elanna Allen
The Quickest Kid in Clarksville by Pat Zietlow Miller, ill. Frank Morrison
Secret Tree Fort by Brianne Farley
Shy by Deborah Freedman
Snappsy the Alligator (Did Not Ask to Be In This Book!) by Julie Falatko, ill. Tim Miller
Steamboat School by Deborah Hopkinson, ill. Ron Husband
This is Not a Picture Book! By Sergio Ruzzier
Tokyo Digs a Garden by Jon-Erik Lappano, ill. Kellen Hatanaka
The Uncorker of Ocean Bottles by Michelle Cuevas, ill. Erin E. Stead
Where's the Elephant? by Barroux
Where's the Party? By Ruth Chan
The White Cat and the Monk by Jo Ellen Bogart, ill. Sydney Smith
Worm Loves Worm by J. J. Austrian, ill. Mike Curato
Calling all HuffPost superfans!
Sign up for membership to become a founding member and help shape HuffPost's next chapter