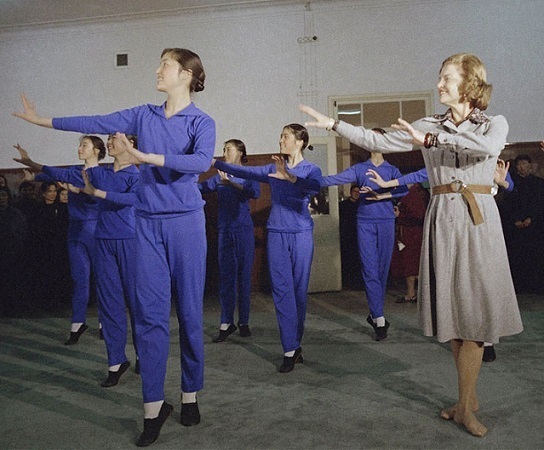 Betty Ford kicked off her high heels to join a communist academy ballet rehearsal in December of 1975. (Gerald Ford Presidential Library)
Michelle Obama is currently on an official visit to China, which began on March 19 and continues through March 26. The fifteenth First Lady of the United States to visit the vast land that was once viewed as being so "mysterious" by westerners, the incidents experienced by her predecessors offer context to Mrs. Obama's activities and tell the story of China's evolution from iron rule by dynasty to a nationalist republic to a communism monolith dictated by the personality cult of Mao to an economic super-power.
Six First Ladies first visited China as incumbents of the White House. Six did so in their post-presidential periods, and two before their husbands had been elected Presidents. Among them, seven have been to China on multiple occasions and two have actually lived there.
In the previously untold narrative of U.S. First Ladies in China are the tales of how Betty Ford made world news by kicking off her high heels to join a dance class of young communist ballet students, Julia Grant was conveyed on a satin-curtained sedan chair to a Viceroy's palace, Lou Hoover got a gun to protect herself during the bloody Boxer Rebellion attacks on westerners, Pat Nixon wore a bright "Chinese Red" coat that kept her the focus of live news reports during her husband's historic trip there, Hillary Clinton became the first foreign official to tell the truth about human rights violations on Chinese soil, Nancy Reagan became the crush for a communist leader, Edith Roosevelt was feted by the son of the "Father of the Chinese Republic," and Jackie Kennedy Onassis found herself, as she put it "kidnapped" in an armored car for a day by the propaganda ministry.
To read the details about the unique and untold stories of U.S. First Ladies in China , illustrated by dozens of photographs, go to the three-part National First Ladies Library Blog series: