Six days before Christmas, I had a lot to be thankful for that I wanted to share in my blog. But it was such a gorgeous day in South Florida - near 80-degrees, brilliantly sunny - that I wrestled with whether my day might not be better spent in thanksgiving on the beach. The beach won out and I had a lovely time relishing the perfect weather, the thundering of the waves, the cloudless sky, the sounds of laughing children and two female Magnificent Frigate Birds lazily circling overhead. I was pleased to have made the right choice.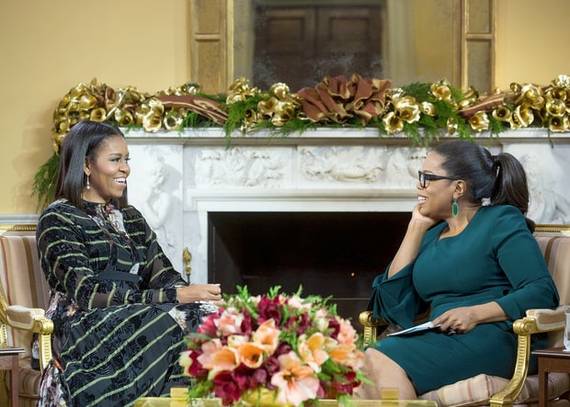 First Lady Michelle Obama's interview with Oprah Winfrey Monday night promises great things for the future of our national parks.
But by 9 pm Monday when my email and Facebook began blowing up with the news that, not only had Oprah invited First Lady Michelle Obama to go "glamping" with her in Yosemite, but the First Lady said yes, I started thanking divine intervention.
"Consider the parks saved!" gloated one friend.
"Imagine you, Rue Mapp, Oprah and Michelle on a glamping trip! This needs to happen!" raved another.
Yes! My thoughts exactly. And if I hadn't gone to the beach, I wouldn't be able to share the great news with you. I felt like the greatest present just landed under my Christmas tree.
I know how much our First Lady loves our national parks - she's visited many with President Obama and their family. I also know how much Oprah loves the parks - some years ago when our friend Ranger Shelton Johnson invited her to Yosemite to learn about the Buffalo Soldiers, she was so inspired she said she'd love to visit them all. Former First Lady Laura Bush is also an avid fan of our natural, cultural and historic treasures in the National Park System.
A big part of my focus over the past 21 years has been to show that our national parks are among the most desirable vacation destinations on Earth. I think that point is made when our First Families and Oprah who can vacation anywhere in the world choose our parks.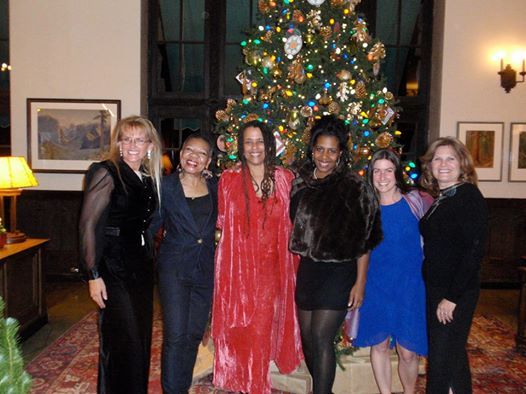 'Glamping' in the Ahwahnee: From left Melody Anderson, Carolyn Finney, PhD, Rue Mapp, Cintia Ramaciotti and Pamela enjoy Yosemite and Bracebridge Dinner from the luxury of the lodge in 2010 when Frank and I served as "Visiting Squire and Lady."
"Glamping" is an upscale version of camping, but in Yosemite I much prefer to "camp out" at the Five Star Ahwahnee Lodge where US Presidents and Queen Elizabeth have stayed. (Disclaimer - we got that privilege because I served on an advisory board of concessionaire Delaware North Parks & Resorts.) The point is, lodging options range from a minimally priced tent to the Ahwahnee and all points in between. If the First Lady and Oprah choose to glamp, I'd happily hang out with them though I'd much rather enjoy all the comforts of home at the Ahwahnee or at Yosemite Lodge.
Another wonderful Christmas gift arrived in the form of photos from our Volunteer Vacations with the American Hiking Society when our longtime friend and colleague Nadine Patrice sent reminders of our work maintaining trails and repairing a bridge in Mount Rogers National Recreation Area, W. V. In 2006 our Volunteer Vacation took us to the Presidio of San Francisco, where 12 of us aged 21-80 pitched in with pickaxes, shovels and wheelbarrows to build part of a trail in the Tennessee Valley.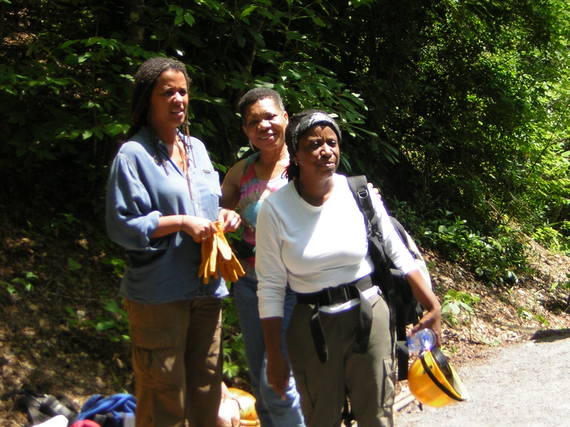 Carolyn Finney, PhD and I are members of the Next100 Coaltion doing trail work at Mount Rogers in 2005 with Iantha Gantt-Wright, then Cultural Diversity Director at the National Parks Conservation Association
It's awesome to know that pieces of our lives and energy remain in public lands across the country. I still remember Frank laughing out loud as he swung a pickaxe in the Golden Gate National Recreation Area and said, "My father must be turning over in his grave right now. 'Boy, you think I worked so hard to send you to college so you can be out here doing manual labor for free?' "
The appreciation of the trail users put a high point on our efforts, only exceeded by the opportunity to stay in quarters near where the Buffalo Soldiers were bivouacked around 1903. We woke up every morning to the Golden Gate Bridge hanging like a jewel a stone's throw away from the Presidio.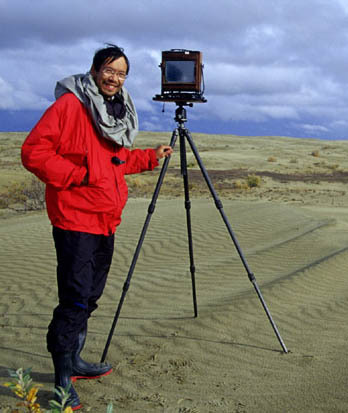 Scientist, climber, mountain guide and photographer par excellance, QT Luong has produced the definitive volume of images of all 59 national parks.
People who love our national parks and public lands really, really love them. One of the most devoted park fans is our friend QT Luong, who has invested his life and talent capturing the magic, mystery and timelessness of our national parks. His signature work Treasured Lands recently landed in my mailbox, and I'm thrilled beyond words to recommend it.
As we celebrate the holidays this year, I'm most grateful for the lasting bonds of friendship and the joy of knowing our efforts past and present will benefit the future. Our national parks really are a foundational value for so many of our friends and collaborators. Many of us are striving to expand the benefits of the parks to all Americans through our work with the Next100 Coalition.
So I'm yearning for the First Lady and Oprah to visit our national parks in 2017 and shine a light on them for millions more Americans to discover and cherish. If you're new to the parks, I produced a great guide for you - Our True Nature, focusing on the black and brown history in 59 of my top favorite parks and sharing when to go where, and what to do when you get there.
May these be your happiest holidays ever! Allow our treasured lands to inspire and reinvigorate you to work for the good of all and the wholeness of our country.
Related
Popular in the Community