They don't make them like that anymore.
The First Lady of Arab cinema and its Golden Age, legend Faten Hamama, is gone, leaving a rich heritage that helped turn her country, Egypt, into a Hollywood on the Nile.
My reaction on hearing of Hamama's passing Saturday morning was to dig up pictures I shot when I interviewed her in 1985 and notes of the indelible impression this epitome of a lady left on me.
I was visiting Cairo and a mutual friend arranged the meeting at Hamama's tastefully decorated penthouse apartment overlooking the Nile on the island of Zamalek.
She was getting ready for an evening out with her third husband, radiologist Mohamed Abdel Wahab, and film director Henri Barakat.
Recalling her start in cinema, she told me early actors came from well-to-do families and took part in all aspects of movie making -- acting, directing, and producing.
"They were driven by the passion of it," almost to the point of being disowned by their families, who viewed movies with disdain, she said.
Hamama's family, on the other hand, sought a career for her, and her teacher father, who had suppressed his own stage ambitions because of the stigma attached to it, transmitted his hopes to his daughter who appeared on film at age seven and was paid 10 Egyptian pounds ($1.40 in today's currency) for her first role.
Part of the octogenarian's longevity in a career that included some television in later years and a bit of radio was that her on-screen portrayals mirrored contemporary societal concerns.
She had evolved from light Cinderella-type characters to more substantive roles in the 1950s, broaching controversial themes of conscience and social obligation like rape, workers' rights, and society's treatment of divorced women.
"Women then were invariably portrayed as passive, controlled by their fathers or husbands," Hamama told me.
Her on-screen metamorphosis coincided with the change in the scope of women's activities in society at large. Film roles began to assume some depth when women were seen, for the first time, as multi-dimensional characters.
But this new activism had its price and Hamama admitted to receiving hate mail from men who accused her of agitating their wives to the point that men lost control of their households.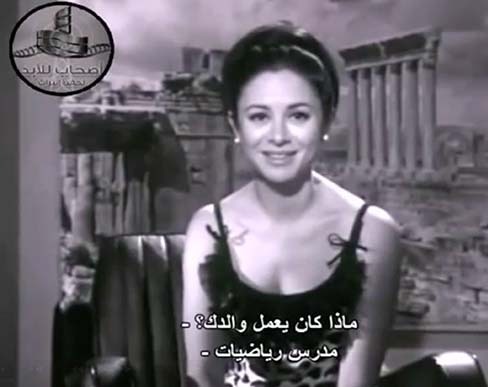 Screen shot of a 1964 French TV interview at a Beirut film festival
The highly disciplined actress was noted for carefully picking her roles and demanding the highest professional standards from her co-workers. Punctuality was almost an obsession in a country where staying on schedule was impossible.
After living for a while in the mid-1960s in Paris and London, she returned to Egypt in 1970 and acted regularly in Egypt's thriving film industry.
She had married, and eventually divorced, Omar Sharif -- her second husband and father of her son Tarek -- whose career she helped launch, and with whom she co-starred in films before he went on to international stardom.
Only a handful of her 100-plus movies were box office failures. But even those became successful years later as TV reruns, videos, and DVDs.
"It's hard to please everybody," she told me of her abundant film heritage that prompted requests for the movies from Europe and North America. "Some people even have whole libraries of them, which I haven't bothered to assemble."
Hamama was involved in shaping the movies in which she appeared from early on, never afraid to voice strong opinions about her scripts and production questions in general.
"But that's a relationship built on trust," she noted. "I share my views with the scriptwriter and director in a very friendly and informal setting. However, I've been known to make comments during the filming as well."
Once, an actress portraying her sister, cast as the impoverished mother of nine, appeared on the set clad in a beautiful new dress -- a far cry from what would be realistic, given the economic circumstances of the character.
"I pointed out that discrepancy to her and she graciously accepted the criticism," Hamama said.
Garbed in a more appropriate costume, the woman went on to win an award and critical acclaim for the realism of her role.
On a more personal level, Faten Hamama insisted on roles she considered suitable for a woman of a certain age and was known to frown on nudity. She was already in her fifties when I interviewed her.
"It's just not acceptable in the Middle East," she told me. "Even Ingrid Bergman admitted to being 'old fashioned' and wouldn't agree to nudity. There are limits."
In The Night of Fatma's Arrest, she played a woman over a period of 35 years and found she had to overcome vanity and an initial reluctance but went on to render a superb and convincing performance, including on close-ups.
She was used to hectic shooting schedules -- eight hours on average, plus two for make up and costume fitting. Some days were longer, when actors and directors wanted to sustain a given mood. She also usually filmed without a double.
But juggling schedules once backfired when she collapsed from exhaustion after shuttling back and forth between two separate films while preparing for a third.
I first met Faten Hamama in the 1960s when I spent some vacations at the summer home of family friends in Agamy (then a sleepy, dusty but up-and-coming resort near Alexandria that attracted a few stars, foreign expats, and some Egyptians).
The friends' place was a couple of houses away from Hamama's villa where she and her daughter Nadia - from first husband director Ezzedine Zulfikar whom she divorced - also spent time off.
I was the kid on the block who was in awe of this very famous person and tagged along with Nadia and my friend Djihan, both older, for walks on the beach. They were memorable days.
Popular in the Community