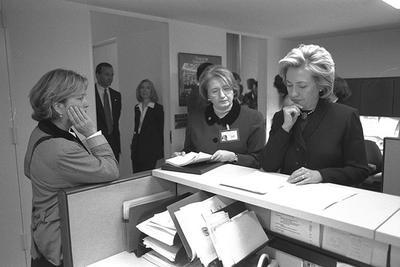 Hillary Clinton in her First Lady staff offices with Chief of Staff Melanne Verveer, 1999. (National Archives)
So much has been said about her.
And yet, so much has barely been uttered.
Specifically, the fact that even after four years as Secretary of State and six years as a United States senator, the most practical experience which provides Hillary Clinton with an unparalleled grasp of the nuances, conflicts and realities of what the American Presidency in the 21st century entails may well be the eight years she spent as First Lady.
She's been one of sixty-eight Secretaries of State, but one of only eight spouses who lived in daily, intimate contact with the President of the United States for eight or more years thus far (the others being the wives of Madison, Monroe, Grant, Franklin Roosevelt, Eisenhower, Reagan, and W. Bush).
Even if people absolutely, insanely despise her, or more fairly make a rational argument against the value of any of her "official" public service, nobody can deny that Hillary Clinton has achieved the rarest of statuses, that of a living legend: the first presidential spouse elected to any public office and furthermore appointed to serve in a president's cabinet. She's an established figure in American history. Children's books have been written about her. She's depicted in wax museums. She's been on and off mugs and t-shirts for over two decades.
Now, she's a living legend intent on making even more unprecedented history. Having served in two official capacities, one focused on domestic policy, the other on foreign policy, her breadth of knowledge and experience is even wider than it was in 2008. The closest analogy to what is occurring in the larger public imagination and popular culture by Hillary Clinton running for president in 2016 is that of World War II hero Charles De Gaulle running for president of France in 1958, or former British Prime Minister Winston Churchill elected back to that position in 1951.
As was true during her failed candidacy for the 2008 Democratic presidential nomination, however, the print, broadcast and online mass media seems intent on yet again willfully ignoring the invaluable political skills, and one-of-a-kind professional experience she gained during those crucial first eight years she was a public figure, from January 20, 1993 to January 20, 2001.
At this point, it certainly seems to be a willful decision -- but why?
Read the rest of this article and see rare photographs of Hillary Clinton as First Lady with other First Ladies at carlanthonyonline.com.
Calling all HuffPost superfans!
Sign up for membership to become a founding member and help shape HuffPost's next chapter