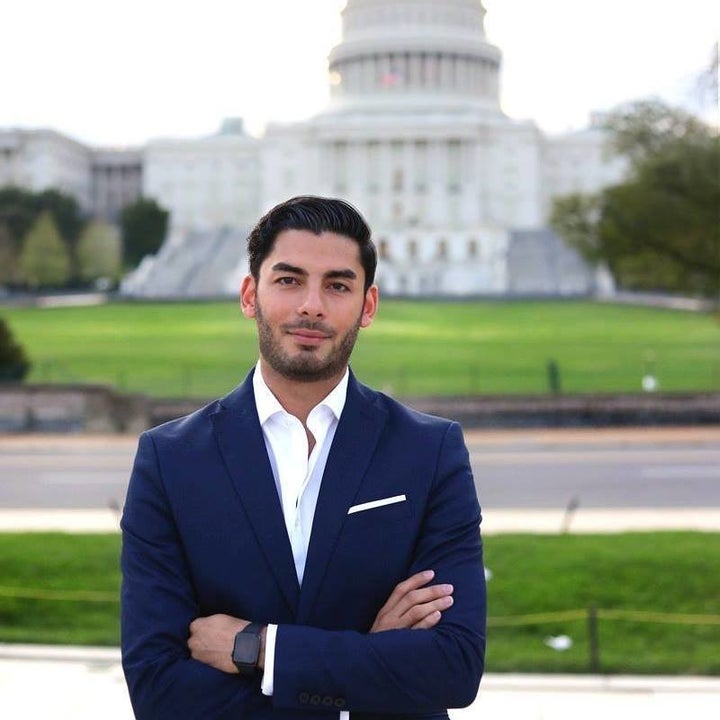 Ammar Campa-Najjar is hoping to draw from his American, Mexican and Palestinian heritages to unite the communities in California's 50th Congressional District, which has voted Republican for over 30 years.
The 28-year-old communications specialist behind the Washington D.C-based consulting firm ACN Strategies became the first Latino Arab-American to run for a congressional spot when he announced his candidacy on April 5. He wasn't sure about running but was encouraged by members of the community who he met as a field director for the 2012 Obama campaign.
"I know it's a tough sell,' Campa-Najjar told HuffPost, in reference to having someone of his background win an election.
Campa-Najjar grew up in San Diego with a Mexican mother and a Palestinian father and says it took years for him to reconcile his Latino and Arab identities. Now the congressional candidate hopes to use that personal experience to try to find common ground within the current divisive political climate. Campa-Najjar is willing to work with anyone, even Trump, in order to push through policies that he feels will benefit all Americans. That includes expanding job programs like ApprenticeshipUSA.
"There's braindead politics on both sides," Campa-Najjar said. "There are certain situations, that for the sake of the American people, we need to put our differences aside and work together."
But there are issues that Campa-Najjar says he won't compromise on, including Trump's travel ban. Having grown up in a post-9/11 world, he feels we can't undermine our liberty for the sake of security.
Trump's newest executive order might be legal in its language, he adds, but it is the spirit behind it that has lost Trump the trust of the Muslim community.
"We were persecuted [after 9/11]," Campa-Najjar said. "I cannot imagine what would happen if that were allowed to happen under this administration."
"I want people to think about my ideas," Campa-Najjar said. "[My community is] so hopeful. I can't let them down by making this a silly thing.""
Campa-Najjar's family left San Diego for Gaza when he was 9 years old, only to leave a few years later when the second war between Palestinians and Israel broke out. The war went on from 2000 to 2005, killing more than 4,000 Palestinians and Israelis.
"Why were me and my family left to live?" he said, in reference to the years he spent living in the war zone.
His mother moved him and his brother out of Gaza and back to the U.S. just months before the September 11 attacks happened in New York City, and he recalls struggling to find his place in the world as a young Latino Arab-American. Campa-Najjar was often told he was "too American" to be Palestinian and, in the heavily-Hispanic San Diego area, he sometimes simply didn't feel Latino enough.
"As a Hispanic and an Arab, God gave me these really different experiences for a reason," Campa-Najjar said.
The reason, as he sees it, could be to bring people across political and cultural divides and figure out what issues and common interests exist. Campa-Najjar explained that families across the country, regardless of race, are struggling to find viable careers and pay for healthcare. Half of the U.S. is living paycheck-to-paycheck, only one health scare or emergency expense away from losing everything. And that fear is often channeled into anger, Campa-Najjar says, rather than becoming engaged in finding solutions.
"You can find purpose in your pain," he said. "That's the alchemy of America, I think."
Since announcing his congressional bid, Campa-Najjar has also garnered internet attention over his looks. Headlines on websites like Buzzfeed and Mitú have focused on his appearance, but he says he'd rather have people focus on the issues.
"I want people to think about my ideas," Campa-Najjar said. "[My community is] so hopeful. I can't let them down by making this a silly thing."
But not everyone is so comfortable with him. Campa-Najjar says he was once speaking to a Trump supporter in his district who said he didn't want Campa-Najjar to bring in "Sharia law" to the area. Racial tensions have spiked since the beginning of the 2016 election. The Southern Poverty Law Center recorded 1094 hate incidents in the month after the election and anti-Islam hate crimes were up 64 percent in 2015.
"There is a way to pave a path to a unified future," Campa-Najjar told HuffPost. "As Americans, we're all fully contributing to our economy and way of life."
Financial security is the common thread Campa-Najjar focuses on to bring these very different communities together. He feels a rural family that loses their world when a manufacturing plant closes down isn't that different from the immigrant family struggling to make a life in a new country.
Campa-Najjar knows bringing attention to one community versus another can bring tension, but he's learned from his experience in Gaza that it's important for both sides to find sympathy.
"I've seen people who are so similar find their differences and destroy each other over it," he said. And the congressional candidate is hoping for a different reality in his district.
"I'd rather lose exploring every opportunity to unite than win exploiting every opportunity to divide," he added.
Popular in the Community