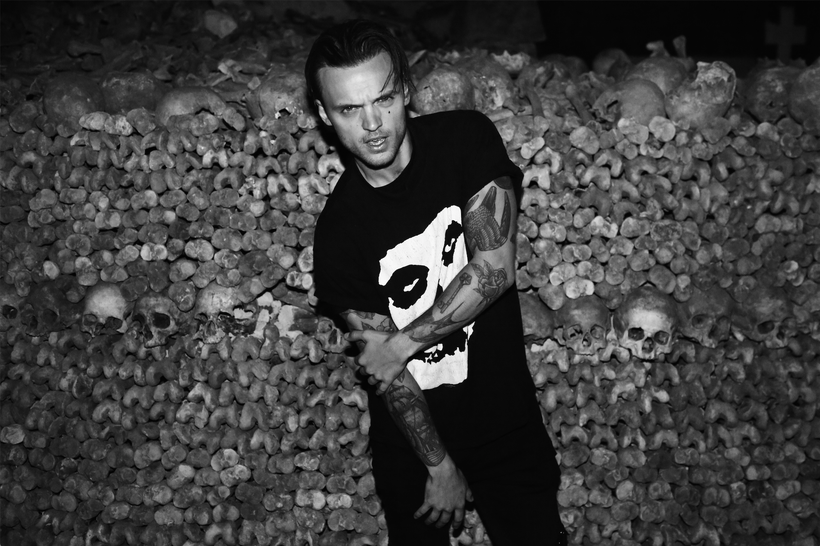 When Alexander DeLeon (former frontman of The Cab) embarked on a solo career and began releasing music under the moniker Bohnes, it's safe to say listeners were intrigued. Fans have been patiently waiting to see what the musician has been working on and have been given a taste of what's to come with the release of his singles "Middle Finger," "Six Feet Under," and "702." So what is Bohnes? DeLeon explains, "Underneath it all, what is your core? What makes you strong and holds you together? What makes you break and fall apart? These are all apart what Bohnes is...It is authenticity. Me, behind the curtain. Fully exposed. Fully vulnerable." This new chapter of DeLeon's career represents figuring out who you really are while showcasing who he is as a musician - authentic, real, and passionate.
With a debut album on the horizon, DeLeon shares with us what fans can expect to hear from Bohnes. "The album's theme is life and death, whether it's literal or metaphorical. There are tracks speaking on how death drives you to live, tracks on the death and resurrection of love, and also the fear of not being remembered when you go etc." Needless to say, this is a more vulnerable side of the artist that many may have never seen before. "These songs may as well have been ripped from my journal or from the most dark and insecure pages of the book that is my mind." Showcasing this bare and honest side of his music, today we are thrilled to share the acoustic version for "Six Feet Under."
One of many acoustic tracks from the upcoming release, DeLeon explains why he decided to incorporate these on his upcoming release. "Instead of releasing just an album, why don't I release both a regular version and an album of acoustic versions and covers as well? And not only that, let's release remixes of every song! And while we're at it let's try to do a video or TWO for every song!" He continues, "I just want to show everyone how much I care about this project and what I'm writing about, what it means to me, and what the fans and their patience have always meant to me. "Six Feet Under" is just the beginning of all of that and it's about bringing emotion back from the dead."
Give the track a listen in the player below!
So what goes into the creative process behind Bohnes and how does the music DeLeon has created for it compare to the work he is most known for with The Cab? He shares:
"It's different and it's the same. It's more of a lonely process now which allows myself to step more into the shadows of my brain and not just the light. I have a little more freedom and can speak from more than one point of view. The Cab was more of a collaborative effort. Bouncing ideas off of my best friends, hearing the opinions of others. For better or for worse Bohnes is exactly what I want it to be and exactly what goes on in my head. In audible version of all of that. Bohnes songs mostly began with a lyric or a concept to where The Cab began with melodies predominantly. when It comes down to it though the process starts, and has always started, with the simple love of music and for singing."
We are looking forward to see what else DeLeon has in store and cannot wait to hear the debut album from Bohnes. For more information and to stay in the loop, head on over to http://www.bohnesofficial.com/.
This post was published on the now-closed HuffPost Contributor platform. Contributors control their own work and posted freely to our site. If you need to flag this entry as abusive,
send us an email
.