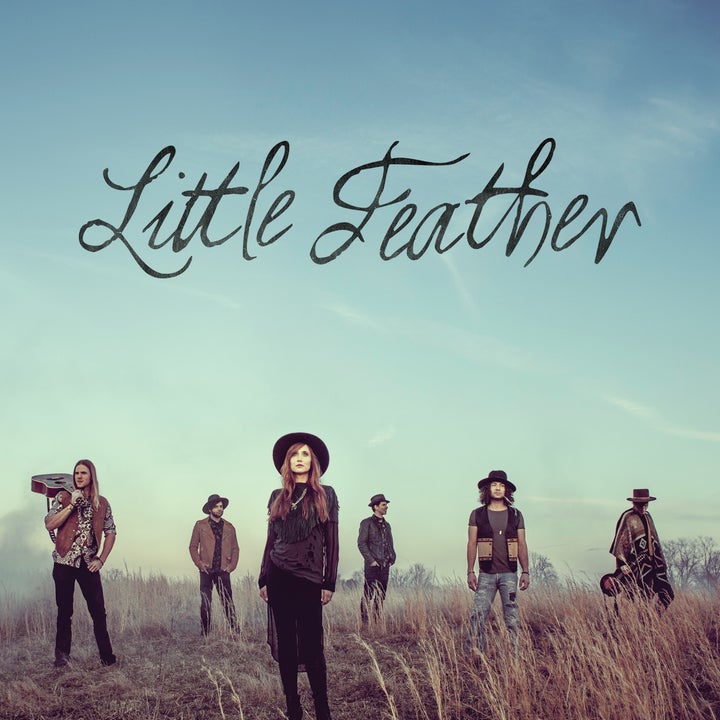 If you took a salt shaker and threw in some Loretta Lynn, Patty Loveless and Little Big Town and shook it up, what just might come out is the sound of Curb Records' newest act, Little Feather.
I have the pleasure of releasing the award-winning group's debut single today, right here, right now.
"Hillbilly Love Song (Hey Y'all)" at first listen is an upbeat, fun tune that showcases lead singer Liz Sharpe's vintage-modern vocal skills along with the band's organically optimistic acoustic playing.
The almost jauntiness of the genre-defying tune, however, belies the sadness and longing reflected in the lyrics and the rich harmonies. "I was born a miner's daughter, how did i lose the girl I used to be?…Tonight I want to hear a hillbilly love song. I've been an uptown girl for way too long … I want to dance with nothing but my boots on."
Makes you want to listen, doesn't it? And you're in luck because you can hear it first here.
You can hear more from Little Feather on the band's forthcoming self-titled album that will be released Sept. 29.
Sharpe is steeped in tradition, with a family lineage that connects the young Pikeville, Kentucky, singer to award-winning traditionalist Patty Loveless as well as to the Queen of Country herself, Loretta Lynn.
Sharpe has lent her lush harmonies to such diverse acts as Holly Williams and Michael Bolton. According to a release, she penned a song titled "Float Along, Little Feather," and upon careful listening she knew she was onto a sound that she wanted to explore deeper. She and her husband, Aaron Spraggs (drums), approached Dylan Rowe (bass player), Sam Brooker (rhythm guitar and harmony), Shannon Campbell (guitar, mandolin, banjo, harmony and Glen Campbell's son), and Pat Boyer (guitar and slide).
Little Feather was born. The easy-going, fun-loving band has been blowing up social media with their innovative "Drive-Thru Concert" series on Facebook and YouTube. They literally pile into a van, order a meal and then pick and sing their way to the drive-thru window causing impromptu reactions by employees who can't help but start dancing and singing along with them.
The videos, which have amassed nearly 2 million views, have gone over so well that earlier this month Little Feather enjoyed their first taste of success by winning a Silver Telly Award in the Music Video category at the 38th Annual Telly Awards that honors the best in film and video.
"Words can't express how happy my band and I are to share our music with the world," Sharpe says. "The music has been incubating for awhile now, but Little Feather is getting ready to fly!"
The ability to craft their own songs is something Sharpe says Little Feather takes a great degree of pride in. "I think it gives us authenticity as a band. There's a truth that runs through it. When we're playing live, we're telling a story that we all wrote together."
Little Feather's music comes across so well because of the kinship the band shares, according to Sharpe. "We all love spending time together," she says. "We are like musical brothers and sisters, a family. We eat together, drink together, hang out together and rock the stage together.
"We can walk into a room right now, play, and it will sound the same as it does when you put it on in your car. We don't want people to go 'Man, I paid all this money to see these guys live, and they don't really sing or play like that. We're not always perfect. We're going to have our moments, but we can walk in and play for you, and it will sound just like the record. We're very proud of that."
Evoking the ghosts of Sharpe's Appalachian/Cherokee past, the modern-vintage yodel and stomp of Little Feather is creating quite a buzz in the Nashville community and beyond. "We are a spiritual band," Sharpe adds. "We wanna make people happy, we wanna give them hope. We're talking about getting a sponsor so we can drive around and play from New York to California."
Support HuffPost
The Stakes Have Never Been Higher
Related
Popular in the Community