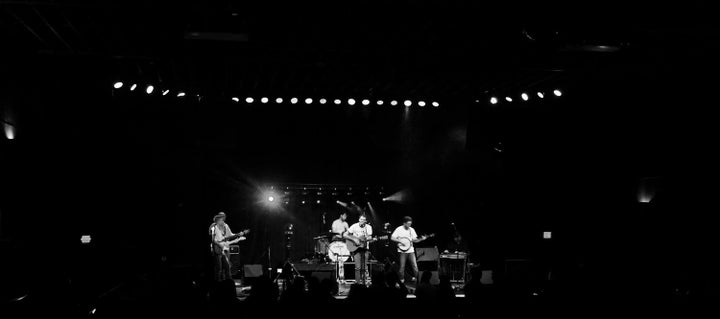 If you are a fan of the Marshall Tucker Band and similar sounding '70s "Southern Fried Rock" groups, you are going to be a fan of Time Sawyer and this alt-country, folk-rock band's newest release, "Wildest Dreams."
After a four-year hiatus, the Charlotte, North Carolina-based band is introducing its sixth studio album as a follow-up to its well-received, "Disguise the Limits."
"Wildest Dreams" is being touted as the band's most mature work to date, perhaps thanks in part to recording for the first time under the direction of Grammy-award winning producer Mike Ashworth of Steep Canyon Rangers fame and inside the walls of the acclaimed Echo Mountain Studio in Asheville, North Carolina.
I can't stop listening to this album that is made up of real songs about real people and real events, including "Queen City on Fire," written about the wildfires in the North Carolina/Tennessee mountains in 2016 that lit up the skies.
Lead vocalist/guitarist Sam Tayloe says, "It's about being able to see the affects of something so devastating travel such a great distance. Of course, it wears two hats and brings that old 'love and loss' side to the party as well. It highlighted, for me, how all of our actions and reactions are connected, especially today with our digital capabilities." 
If you are interested in hearing more, and I am sure you are, make plans to attend the album release party on Saturday, March 18, in Charlotte's NODA Neighborhood Theatre, 511 East 36th St. For more information or to purchase tickets, visit www.neighborhoodtheatre.com
I first had the chance to hear Time Sawyer open for alt-country-folk-rock Annabelle's Curse at a winery near Elkin, North Carolina, two summers ago and most recently when both bands performed at The Garage in Winston-Salem. Founders Tayloe and  vocalist/banjo player Houston Norris and company didn't disappoint at either show and left me wanting to hear more. I promise if you give them a listen, you will feel the same way, too.
Time Sawyer's website describes the band best:
"Time Sawyer blends a grassroots feel with heart-felt lyrics to put on an entertaining show. From introspective ballads to high-energy crowd-pleasers, Time Sawyer's songs land in that rootsy sweet spot where folk, alt-country, and rock gather for a good time.
"The folk rock band's name reflects the pull between the past and the future. The character Tom Sawyer evokes the rural background and love of home that lead vocalist/guitarist Sam Tayloe and vocalist/banjo player Houston Norris, share. Time is a muse for songwriting; it's the thread that runs through life, bringing new experiences and giving us a sense of urgency, while still connecting us with our past.
"Time Sawyer has performed on the stages of some of the Southeast's most iconic festivals, including MerleFest, FloydFest, Bristol Rhythm and Roots Reunion, Rhythm n' Blooms, Carolina in the Fall and IBMA's Bluegrass First Class. They've shared bills with Langhorne Slim, Phil Cook, Steep Canyon Rangers, The Wood Brothers, Joe Pug, Holy Ghost Tent Revival, and many more.
"The band's original members, including guitarist Kurt Layell and drummer Clay Stirewalt, along with Tayloe and Norris, started performing and recording together while they were all students at University of North Carolina at Charlotte. They went on to record five albums together, each demonstrating growth, with more skillful instrumentation and more sophisticated arrangement, all while retaining the honesty and directness that has been a hallmark of their music from the start.
"Today Time Sawyer is Tayloe and Norris, who are joined by some of the region's most talented instrumentalists, allowing the band the flexibility to perform as an acoustic duo, a six-piece band, or anything in between.
"The memorable lyrics and strong melodies result in songs that will stay in your head long after the music stops. Time Sawyer continues to develop a loyal and growing fan base. Whether they're playing in an intimate listening room or a large outdoor festival, their goal is to forge a face-to-face connection with the audience so that they become friends who happen to be fans."
Become a fan and a friend at one of the following upcoming Time Sawyer tour dates:
March 10 – The Dinghy, Isle of Palms, SC
March 11 – Palate, Wilmington, NC
March 18 – Neighborhood Theatre, Charlotte, NC (Album Release Party)
March 24 – Wolf Hills Brewing, Abingdon, VA
March 25 – Salvage Station, Asheville, NC
April 7 - Angry Troll Brewing's Grand Opening, Elkin, NC
April 15 – NC 'Cuegrass Festival, Raleigh, NC
May 6 - Budbreak Wine Festival 2017, Mount Airy, NC
May 6 - Muddy Creek Music Hall, Winston-Salem, NC
May 19 - Carolina Roots MusicFest, Statesville, NC
May 23 - Beer & Banjos (Tuesday night get down), Raleigh, NC
May 24 - The Tin Pan, Richmond, VA
May 25 - Gypsy Sally's Vinyl Lounge, Washington, DC
May 26 - Purple Fiddle, Thomas, WV
This story originally appeared on https://musicreporterblog.wordpress.com/
Calling all HuffPost superfans!
Sign up for membership to become a founding member and help shape HuffPost's next chapter