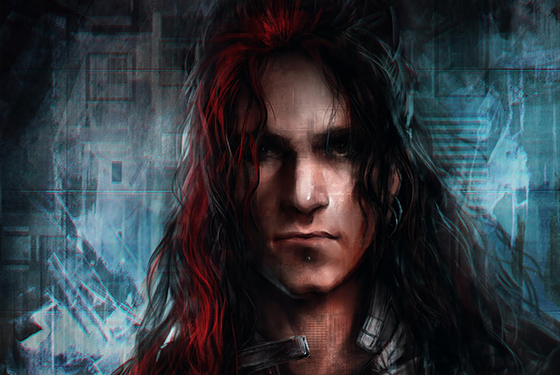 Currently residing in Detroit, electronic music artist Klayton has been releasing music since the early 1990s when he was still living in his birthplace of New York City, and this is when he formed the the industrial metal band Circle Of Dust, which would go on to release five full length projects. After all of these years, Klayton is back in control of the Circle Of Dust material and is ready to re-release all of it starting with the 1992 self-titled debut album, and each release will also include unreleased demo material and new tracks.
To kick things off, we have the first listen to a new Circle Of Dust track "Neophyte" that will be featured as a bonus track on the self-titled re-release as well as on the new upcoming Circle Of Dust album, tentatively due out in December. Along with the new track, we have a short Q&A with Klayton about the re-release of this album.
After these years, why are you re-releasing the back catalogue now? How do you think this material holds up now in 2016?
The one and only reason ​I​ am re-releasing all of my original albums is that this is the first time ever that ​I​'ve actually owned them. Those rights were signed away when ​I​ was young and stupid. Or at least less knowledgable. I was only able to buy back exclusive rights to these 5 albums at the end of 2015. It's still a bit surreal to be honest. I'm not sure how they hold up. I'm never the one to ask to criticize his own music. The review would be scathing ​I​'m sure, so I just make what I make and leave that to all the awesome people who appreciate it. I will let them decide how it stands up after 20 years. :)
Looking back when the self-titled Circle Of Dust album was released in 1992, what was your memories of recording the album?
Unparalleled excitement and abject fear. The excitement came from a place where I was fulfilling the most important dream I had ever had. The fear from a place of me having no idea what I was doing. In retrospect I'd say it all worked out.
Also looking back, what was your life like personally at that time and what was the music scene like from your perspective?
Personally, life was much more overwhelming. When you're staring at an empty bank account and almost certain failure, you question every move. The great thing is that the passion ​I​ felt for what ​I​ was doing overrode that fear and I was lost in the excitement of creation. I couldn't believe I was able to get a chance to do this, so failure and finance were ​two​ things that never entered my mind as something ​I​ needed to worry about. There was no backdoor exit - straight ahead was the only path ​I​ could see.
I'm a New Yorker, so being there and soaking up the rave culture that exploded in the 90's and the industrial scene that was ubiquitous compared to many other places in the US shaped and fed my musical desires. I was hanging out frequently at the Limelight and the Tunnel - places where electronic music was exploding. There was so much excitement in music at that time. An excitement that I have unfortunately not experienced since. I focus more on creating my own excitement and that is what fuels me to constantly be creating something new.
The Circle Of Dust self-titled re-release is due out Friday, March 4th. For more information on Klayton and Circle Of Dust, visit fixtonline.com.
Calling all HuffPost superfans!
Sign up for membership to become a founding member and help shape HuffPost's next chapter