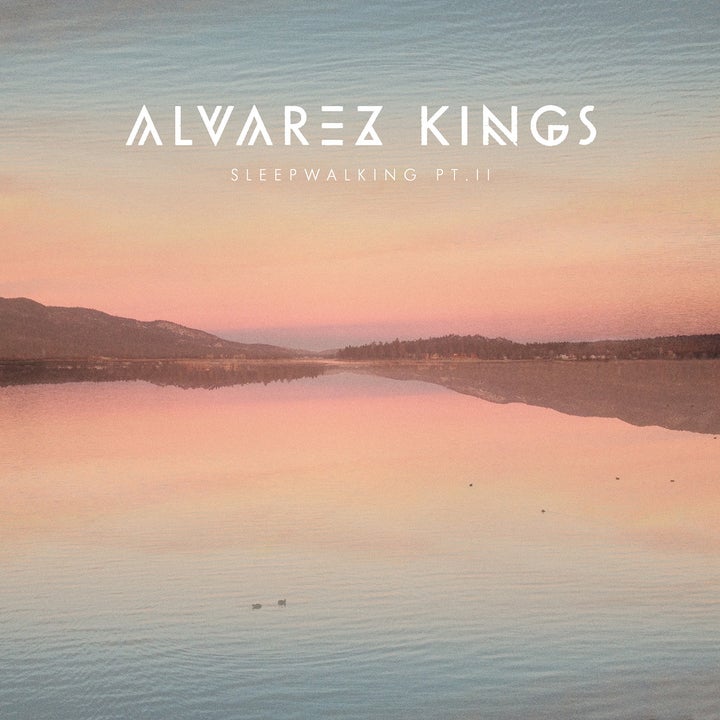 The South Yorkshire-based four-piece band Alvarez Kings has spent most of 2016 touring the globe with pop star Melanie Martinez, impressing crowds everywhere since joining the Sire Records family with the release of their 2015 EP Fear to Feel. Earlier this year, I caught up with the band's lead singer Simon Thompson to talk about the band's inception into signing the major record deal. Now, we have a first listen to their new single "Sleepwalking Pt. II" from their forthcoming album Somewhere Between, due out in March, along with a short Q&A with Thompson about the song, touring with Melanie Martinez, and some tidbits on the new album.
What's the story behind the song "Sleepwalking PT. II"?
The original "Sleepwalking" came about on my acoustic guitar between touring. It describes how I was feeling at the time. A half-state, morning after feeling. Not really knowing where you're going or belong both emotionally and physically.
When we were recording the album in LA we always wanted it to feature on the album but subconsciously we knew it wouldn't fit right sonically. Whilst working on pre-production we had the idea of making it sound more current with a Tears For Fears vibe, which isn't a current band at all but we spent most of our commutes to the studio listening to for a bit of synthsperation! It became a perfect accident.
The Alvarez Kings have long been touring with Melanie Martinez this year. How has that experience been?
We've toured with Melanie in America and Europe this year and it has been an amazing opportunity for us to get out there and showcase our songs. The feedback has been mind blowing.
Just walking on stage every night to an elation of screaming fans is something that we will forever hold close to our hearts.
We can't wait to get back out there on our own shows and play to the same people who we are now happy to call our fans and friends. Mel is a great person and we can't thank her enough to have invited us on tour so many times this year.
What's going on with the upcoming full-length album? Any details you want to share about what you wanted this album to signify?
Well the album is called Somewhere Between which is also a title track to the last song on the album. We argued like cat and dog for a while on the album title but for me it was always going to be this and was always a matter of time before the rest of the guys saw the light. Hahaha.
When recording the album I remember feeling that our songs had finally come to life and had some kind of identity which was amazing to be a part of when originally, they started out as voice notes on my phone.
The album is due for release in March 2017 and we can't wait for the whole world to hear it. It's something we are most proud of and something we cannot wait to share.
The new single from the Alvarez Kings "Sleepwalking Part II" is now available. For more information on the Alvarez Kings, visit alvarezkings.com.