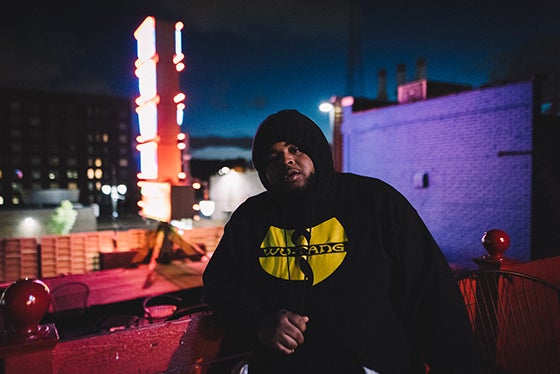 Nolan The Ninja has quickly become part of the fabric of Detroit's current era of hip hop culture by simply bringing new school energy to old school ideals. After releasing his debut full-length album he(art) last year through Left of Center Records, Nolan is prepping his sophomore effort YEN for a release later this year. As much as Nolan's music gives that hard hitting hip hop sound, he also offers words of upliftment through his words.
While we wait for the project's release, we have a first listen to the track "14K" from YEN, along with a short interview with Nolan The Ninja about the song and what to expect from the album.
What's the song "14K" about?
When I started working on YEN, "14K" was the first song that I made. It helped lay the foundation for the direction that I wanted to go in. After releasing my debut album last year, I've been blessed to be a part of things that was just a mere dream not too long ago. Because of that, my goals have become bigger. On the track, I said "I'm trying to get a Grammy to Granny before she transcends". I wasn't thinking like that before. It's all about progression and going for yours. Gold is associated with the idea of high achievement. As kids, we all wanted a gold star in school. So that's what it's about. Executing for what you seek. I want the "gold" for not only me but my people.
The song has two parts. The first part is a lot of dialogue and the second part is straight up rhymes. What's the idea behind that?
It opens up with a clip from the movie, Fresh. It's the main character telling a girl what cars he would buy if he had a million dollars. The girl immediately shows doubt by telling him that he'll never have a million dollars. Besides it being one of my favorite films, I felt like that scene assisted "14K" perfectly. Again, the song's meaning is about willpower. The thought of controlling your destiny despite negativity around you. That was me growing up. I was always a big dreamer. I never sought to do "normal things". My vision is big just like the character in the movie. I know what I want & I'm getting it. It may not happen today but someday, I'll get mines.
What's the main theme behind the album YEN as a whole?
It deals with the idea of everlasting bliss. The verb 'yen' means to want something or have a desire. The title also has a double meaning because on the album, I abbreviated it to 'Yearning Eternal Nirvana'. It expounds on the album's theme of joy. Yearning means to want, eternal is forever & nirvana deals with the thought of being free. We all have desires of enhancing our conditions. Whether it's financial, spiritual, personal, whatever the case. It all boils down to us being happy in who we are and what we do.
For more information on Nolan The Ninja, follow him on Twitter: @NolanTheNinja.
REAL LIFE. REAL NEWS. REAL VOICES.
Help us tell more of the stories that matter from voices that too often remain unheard.
This post was published on the now-closed HuffPost Contributor platform. Contributors control their own work and posted freely to our site. If you need to flag this entry as abusive,
send us an email
.