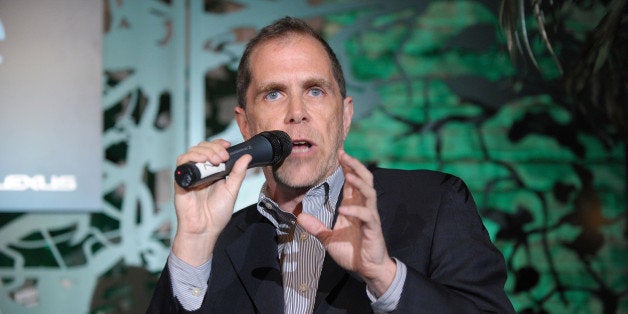 NEW YORK -- After a couple months on the job, Eric Bates doesn't yet have a title at First Look Media.
"We're all working very collaboratively now," Bates said in an interview with The Huffington Post. "We're not worried about titles or positions. There's so much work to be done and we'll be bringing so many talented people on board."
With Omidyar suggesting he'd spend upwards of $250 million to launch a new company, First Look Media has been a hot topic in media circles, despite that little is known about what it'll even look like. That's still not exactly clear. But on Monday, the company offered new launch details in a three-minute animated video, and Bates elaborated Tuesday on the most recent developments.
Right now, the plan is to launch a flagship general interest site later this year, covering politics, sports and entertainment. The still-unnamed flagship site will have three streams of content, Bates said. There will be an in-house aggregation and curation operation, along with investigative journalists, long-form magazine writers and video producers supplying a second stream of content. The third will come from a constellation of digital magazines focused around different subject areas.
It's possible there could be a digital magazine focused broadly on national security, or perhaps more narrowly geared to a more specific issue. That's also yet to be determined. Each digital magazine is expected to have its own editorial leadership and they can vary in tone and style from one another and the flagship site, according to Bates.
What First Look Media is now seeking, he said, are journalists deeply experienced in specific subject areas who "would want to take on the task of building a digital publication with the resources that we can provide and the freedom we would provide to pursue it in its own way." After First Look Media finds the right editor, followed by the team, then the individual digital magazines can launch.
Unlike new media startups that need a business plan in hand in order to get financial support, First Look Media already has significant backing through Omidyar, who is worth an estimated $8.5 billion. That financial cushion provides a rare luxury for early staffers to consider a variety of ways to build a 21st-century news organization.
Bates said he and others have taken the opportunity to "rethink every aspect of what we do as journalists."
"We're not interested in innovation for the sake of innovation," Bates said. "But if we see a way to structure things differently, or to do the work differently that seems like it might produce a better outcome, that's something we're interested in pursuing."
Bates, who saw the magazine industry's downsizing up close and was laid off from Rolling Stone last year, said that the "opportunity to build something from the ground up, and to have the resources to do it in a big, ambitious way, is really incredible."
"And on top of that, to be able to do it without the daily pressures of producing content just feels like a gift," he continued. "It's very rare to step back and look at the big picture and say, 'If we were going to start from scratch today for the digital age, what would be the best way to do it?'"
In addition to a news organization, First Look Media is also launching a separate technology company, which Bates said he hopes will enhance the journalistic side of the company.
"In a way, technology has played such a big role in disrupting journalism and creating many of the problems that we're facing," Bates said. "It's interesting to think about whether it could also be part of the solution, if there's a way that applied differently, or married to editorial judgment in a different way, that you might be able to create some tools and some tech in the world that could support the journalism financially."
First Look Media is also expected to boast an aggressive legal team, which falls in line with Omidyar's advocacy for more government openness. Omidyar launched the public affairs-focused news site Honolulu Civil Beat in 2010, and a transparency-focused state law center last year. In an October interview with HuffPost, Omidyar said the new venture needs to provide legal support so that journalists like Greenwald, Poitras and Scahill -- all of whom have reported aggressively and critically on the National Security Agency, civil liberties and foreign policy -- can do their jobs.
Bates has dealt with government pressures before, having edited Rolling Stone's blockbuster profile of Gen. Stanley McChrystal by the late Michael Hastings. On Tuesday, he said the legal team should "have a very pro-publish approach to the journalism" and not be thinking about how to "ratchet down the legal risk as close to zero" to appease a publisher.
Bates stressed that stories will be thoroughly vetted and fact-checked and journalists will take government requests to withhold information seriously.
"At the same time, I think you don't approach that interaction with the government as a negotiation," he said. "You approach it as journalists asking questions, seeking information. You go in there to be fair, to be honest and to have an open mind."
But it's the government, he added, which "really has a burden to show you and explain why something should be kept from the public."
Popular in the Community