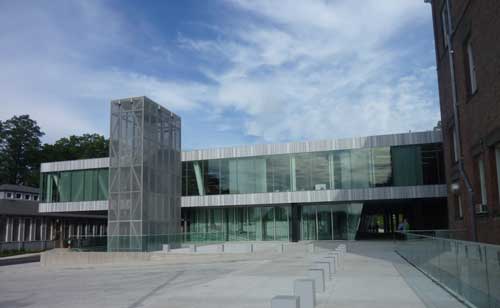 Cornell University's new Milstein Hall for architecture studies, designed by Rem Koolhaas
It's not entirely finished yet, and it's been under the radar in terms of press coverage. But Rem Koolhaas' new Milstein Hall, tucked behind the Arts Quad at Cornell University, has opened for the new school year, providing much-needed studio space and meeting areas for students in Cornell University's architecture program.
This highly anticipated, 47,000-square-foot facility is part of a sudden burst of starchitects on the Ithaca campus: I.M. Pei, Richard Meier and Thom Mayne, all Pritzker Prize winners, are helping to shape my alma mater for the 21st century.
The I.M. Pei firm's mostly underground addition to the Johnson Art Museum opens next month. You can get a sneak peak at its exterior at the beginning of my video, below, which focuses chiefly on the Koolhaas project.
Meier's massive, Lego-like life sciences building, Weill Hall, opened in 2008. It strikes me, both inside and out, as antiseptic, almost hospital-like, unrelieved by the graceful curves that make other Meier buildings (including those at the Getty Center) more enticing: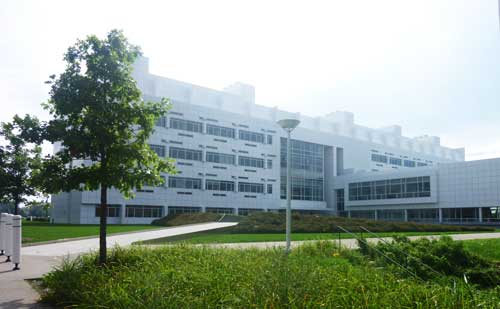 Cornell University's 2008 Weill Hall for life sciences, designed by Richard Meier
The new William H. Gates Hall for computing and information science (yes, that Bill Gates, who kicked in $25 million) is in the process of being designed by Mayne of Morphosis and is scheduled to open in 2014.
Koolhaas' new facility is particularly newsworthy because the radically audacious Dutch architect and theorist (who studied at Cornell in 1972 and 1973) has managed to plant relatively few buildings in this country. Perhaps his highest-profile U.S. project is Seattle's much-acclaimed Central Library, which I found alluring on the outside...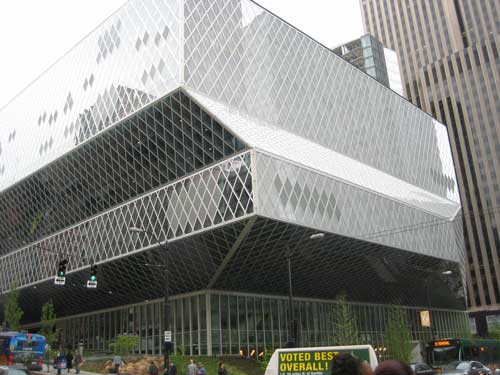 But not so attractive or reader-friendly on the inside: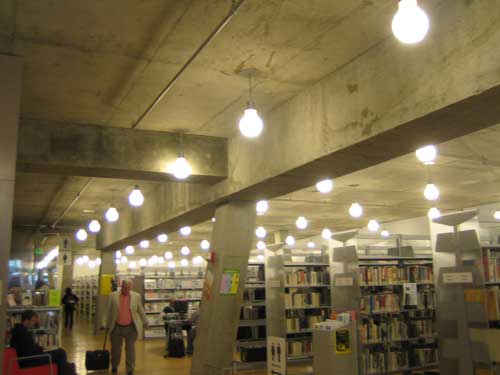 Koolhaas endured two notable setbacks involving American art museums: his design for an aborted expansion of the Whitney Museum on Madison Avenue (under the directorship of Max Anderson, who strongly endorsed it), and his master plan for the campus of the Los Angeles County Museum Art (later reassigned by LACMA to Renzo Piano and, after him, to Peter Zumthor).
In another case of architectural musical chairs, Koolhaas took over Cornell's Milstein project after a design by Steven Holl was rejected (and a subsequent design by Barkow Leibinger Architects was similarly scuttled).
Koolhaas' Milstein is a winner: a muscular yet engaging building, with a glorious open, sun-filled "studio plate" that accommodates the majority of the school's 200 students. Its bulky, tough concrete forms and large expanses of glass are softened with unexpectedly elegant touches: striated Italian marble that decorates the borders of two large cantilevers; light rods that enliven the glass wall beneath an overhang; white-aluminum-paneled ceilings, dotted with lights and embellished with a stamped pattern, that extend into the building from the underside of the cantilevers.
Boldly and inventively contemporary, Milstein stands in sharp, energizing contrast to the traditional Ivy League buildings that abut it and connect to it on two sides. Notwithstanding its distinctiveness, it is unimposing and unobtrusive -- barely visible from the Arts Quad, the historic heart of Cornell's sprawling campus.
In a 2006 interview with The New York Times' Robin Pogrebin, the architect accurately characterized his design as "an exercise in modest, discreet intervention":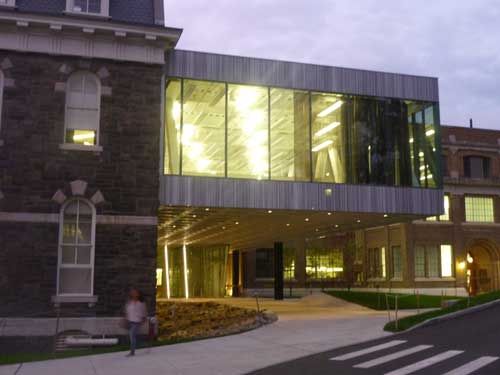 View of Milstein Hall from the Arts Quad, where only a small portion of the building peeks out from one corner of Cornell's academic hub. On the left is Sibley Hall, the architecture program's old headquarters (still in use).
One 12-minute video is worth a thousand words. Join me now for a ramble in and around this architecture for future architects. My narration is informed by the tour of the building that I received from Kent Kleinman, the proud dean of the College of Architecture, Art and Planning, who preferred not to be videoed but consented to be photographed in the heart of this new, sprawling studio space: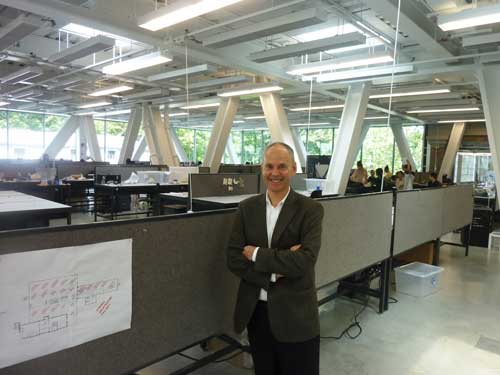 Kent Kleinman, Dean of Cornell's College of Architecture, Art and Planning
Here's my video, which begins with a short introductory look at the I.M. Pei firm's Johnson Art Museum expansion, officially opening on Oct. 15, within sight of Koolhaas' new building:
All photos by Lee Rosenbaum
Popular in the Community