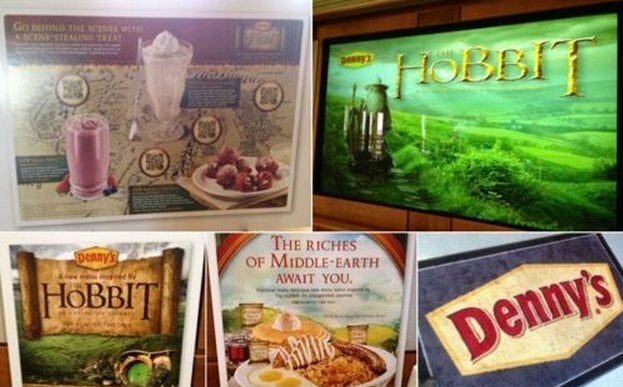 If you follow GrubGrade on Twitter, you've probably noticed an onslaught of tweets from my recent trek to Denny's headquarters in Spartanburg, South Carolina. A pretty big product launch is heading to Denny's diners nationwide in just a couple of weeks. The sure-to-be blockbuster hit of the holiday season, The Hobbit, has a promotional menu tie-in with Denny's in preparation for the movie.
For someone who owns two versions of The Lord of the Rings trilogy (books and movies) and four versions of The Hobbit book, this new themed menu surrounding the upcoming movie has my inner-geek excited. The Hobbit: An Unexpected Journey hits theaters December 14th and this big new menu of Middle Earth grub will be hitting Denny's tables on November 6th. Could this be the biggest thing since Baconalia? I've tried everything on the new menu and here's a look at the goods.
From the menu: "Welcome to Middle-Earth's Diner: Discover many new items inspired by The Hobbit: An Unexpected Journey. Whether you're here for First Breakfast, Lunch, Dinner or Second Breakfast, every bite's a treasure. So lift up your fork and let the adventure begin. "
Pumpkin Patch Pancakes: Feast on this. Two fluffy pumpkin pancakes topped with a pumpkin whipped topping and sprinkled with cinnamon sugar. Part of the "Build Your Own Hobbit Slam" where you can pick four a la carte items for $6.49. (49¢ up-charge for premium items such as Shire Sausage and Seed Cake French Toast)
Hobbit Hole Breakfast: Our Hobbit Hole Breakfast means only one thing-comfort. Two eggs fried right into the center of grilled Cheddar bun halves. Served with two slices of bacon and crispy hash browns topped with melted shredded Cheddar cheese and bacon. $5.99
Shire Sausage Skillet: Breakfast, Lunch or even Elevenses-anytime is a good time to enjoy a savory Shire sausage with seasoned red-skinned potatoes, sautéed mushrooms and fire-roasted peppers and onions served on a sizzling skillet. Topped with shredded Cheddar cheese and two eggs cooked the way you like them. $7.49
Frodo's Pot Roast Skillet: Hobbits love their comfort food. Slow-cooked pot roast, herb-roasted carrots, celery, mushrooms and onions over broccoli and seasoned red-skinned potatoes served on a hot sizzling skillet. Topped with shredded Cheddar cheese and served with dinner bread. $8.99
The Ring Burger: A hand-pressed burger topped with Pepper Jack cheese, bacon, sautéed mushrooms and mayo on a grilled Cheddar cheese bun. Crowned with three crispy onion rings and served with lettuce, tomato, red onions, pickles and a side of wavy-cut French fries. Dwarves and Hobbits, dig in! $8.49
Gandalf's Gobble Melt: Only a Wizard could dream up a sandwich this good. Tender sliced turkey breast and savory stuffing topped with melted Swiss cheese placed on grilled potato bread with a cranberry honey mustard spread. Served with your choice of side and gravy for dipping. $7.49
Dwarves' Turkey & Dressing Dinner: Tender sliced turkey breast, savory stuffing, gravy and cranberry sauce served with your choice of two sides and dinner bread. Feeds a band of Dwarves. Or one hungry human. $8.99 (Senior Size Turkey Dressing & Dinner. $7.59)
Lonely Mountain Treasure: Behold the treasure: our delicious Seed Cake French Toast cut into nine squares and served with a side of cream cheese icing for dipping. Perfect for sharing on your adventure. $2.49
Radagast's Red Velvet Pancake Puppies: Start off your First Breakfast-or Second Breakfast-with six bite-sized round red velvet Pancake Puppies made with white chocolate chips and sprinkled with powdered sugar. Served with a side of cream cheese icing for dipping. $1.99 Also available, not pictured: Radagast's Red Velvet Pancake Puppies Sundae: Three Red Velvet Pancake Puppies made with white chocolate chips and tossed in powdered sugar. Served with a scoop of premium vanilla ice cream drizzled with cream cheese icing and topped with whipped cream. $2.00

Bilbo's Berry Smoothie: Made with a delicious blend of raspberries, blueberries, pomegranate and nonfat yogurt, it's a refreshing treat after a long day's journey. $2.99
Lone-Lands Campfire Cookie Milk Shake: Traveling through the Lone-Lands? Be sure to bring this yummy milk shake along. Our hand-dipped milk shake is a delicious blend of premium vanilla ice cream and s'mores cookie pieces topped with a dollop of whipped cream. Served with a little extra in the tin. $3.79
So there you have it, The Hobbit menu coming to Denny's on Tuesday, November 6th. My favorites from the new items would have to be The Hobbit Hole, Gandalf's Gobble Melt and the Lone-Lands Campfire Cookie Milk Shake. I also found Frodo's Pot Roast Skillet to be right up my alley. I'm a sucker for these kinds of things to be perfectly honest... those who know me well know my love for fried onion rings so I'll be seeing you again Ring Burger. Need some more evidence of my inner-geek? I had to make it a personal mission to not leave Houston, Texas once without visiting The Hobbit Cafe, strictly for the name. Oh and did I mention that I have more Tolkien-inspired t-shirts than I own ties? And a Frodo doll? And does anyone remember the Middle-Earth Collectible Card Game from the mid-90's? Yes, I'm a child... but a hungry child.
It was nice to see the menu went a little beyond just calling simple regular everyday menu items new names. There was some thought put behind the food that helps tie in the story of The Hobbit and the world of Middle-Earth. These new creations should please the fans of The Hobbit and fans of just good diner grub in general. Anyone who knows all things Hobbits and Dwarves knows that they love to eat.
A menu inspired by one of my favorite books is something I can get behind and I'm hoping the movie(s) can live up to my expectations. The new menu inspired by The Hobbit will be available through mid-January 2013. Look out for various promotions with Denny's and The Hobbit coming up along with the new menu launch. Character trading cards will be available along with the menu launch and be sure to check out the Hobbit Hub online which includes Hobbit trivia, games and a personal character generator. So what looks good to you?
Support HuffPost
A No-B.S. Guide To Life
Related
Popular in the Community