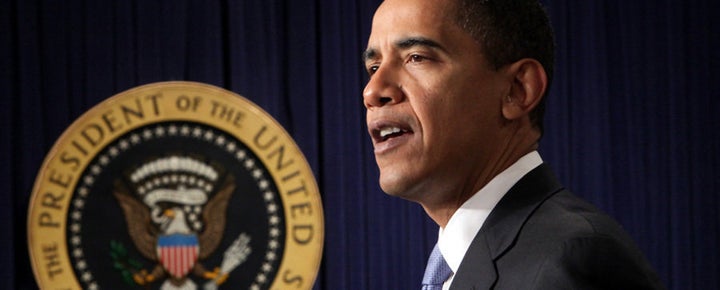 According to ABC News, Commander-in-chief Obama has launched his first missile attacks...
The CIA's bombing campaign against al Qaeda leadership in Pakistan continued with two more attacks today, an indication, senior officials say, that President Barack Obama has approved the U.S. strategy that has killed at least eight of al Qaeda's top 20 leaders since July 2008.

The two attacks today in Pakistan's were the first since President Obama took office on Tuesday.
At least 18 people were killed in a suspected American missile attack in the North Waziristan agency of Pakistan on Friday.

It was believed to be the first attack that took place since President Barack Obama took office. Pakistani officials had previously expressed hope that once Obama became president he would stop the attacks.

According to local officials, at least three missiles targeted a house in Mir Ali, North Waziristan, killing over ten people, including Arab nationals, and wounding many more.
Suspected U.S. missiles killed 18 people on the Pakistan side of the Afghan border Friday, security officials said, the first attacks on the al-Qaida stronghold since President Barack Obama took office. At least five foreign militants were among those killed in the strikes by unmanned aircraft in two parts of the frontier region, an intelligence official said without naming them. There was no information on the identities of the others.

Pakistan's leaders had expressed hope Obama might halt the strikes, but few observers expected he would end a tactic that U.S. officials say has killed several top al-Qaida operatives and is denying the terrorist network a long-held safe haven.

The United States has staged more than 30 missile strikes inside Pakistan since August last year _ a barrage seen as a sign of frustration in Washington over Islamabad's efforts to curb militants that the U.S. blames for violence in Afghanistan and fears could be planning attacks on the West.
The New York Times, which confirms that Friday's missiles were launched from American aircraft, reports that similar attacks in the past have angered the Pakistani population.
But the attacks have also killed civilians, enraging Pakistanis and making it more difficult for the country's shaky government to win support for its own military operations against Taliban guerrillas in the country's lawless border region.
A piece in Vanity Fair predicts that the strikes and Obama's "hawkish" stance on Afghanistan will bring the president into conflict with the anti-war left.
Obama can't be expected to pander to liberals for the next four years. But the decision to double down in Afghanistan carries considerable risk. Like the economy, it is a huge problem. But even the economy can be expected to bounce back sometime in the next few years. If Afghanistan turns into Obama's Iraq, he may miss the support of the anti-war left, which, it's worth remembering, helped propel him past Hillary Clinton not so very long ago.
Calling all HuffPost superfans!
Sign up for membership to become a founding member and help shape HuffPost's next chapter