Meet Stephanie Kurlow. She's a 14-year-old girl from Sydney, Australia, who, like many other young women her age, dreams of becoming a professional dancer.
According to The Sydney Morning Herald, however, Kurlow -- who's been performing on stage since she was 2 years old -- felt the need to quit ballet after converting to Islam with her father, mother and two brothers six years ago. Living in the southwest suburbs of Sydney, she said that she couldn't find a school who would accept her wearing a hijab to class.
Today, Kurlow is again working to become the first Muslim hijabi ballerina in the world. She's created a LaunchGood campaign with the hopes of raising enough money to pay for tuition and fees associated with one year of ballet school. But her ultimate goal is grander than a crowdsourced education. Kurlow wants to use her expertise to eventually open a diverse performing arts academy that caters to children and teenagers of different religions, races and backgrounds.
"This school will have special programs for specific religions, support groups for our youth and people who are from disconnected communities," she outlines in her LaunchGood campaign. "I will provide for our future generations a chance to express and heal themselves and others through the magnificent art of performing and creativity."
Kurlow was initially inspired by what she sees a broader "lack of facilitation for youth who are disengaged or of a different religion or race." Be succeeding as the first Muslim ballerina, she aims to "inspire so many other people to believe in themselves and pursue their dreams."
While she's encountered some negative feedback online, particularly strict followers of Islam who believe dancing is "haram" or forbidden, she remains committed to her goals. She draws inspiration from African-American ballerinas Michaela De Prince and Misty Copeland, as well as hijabi Emirati lifter Amna Al Haddad and hijabi American television news anchor Noor Tagour -- other "firsts" in their field. Not to mention Kurlow's mother, Alsu, who has already opened a performing arts academy in the Sydney suburb of Bankstown, teaching ballet, martial arts and aboriginal art classes to the local community.
"The hijab is so important to me because it's a part of who I am and represents the beautiful religion that I love," Kurlow told Mashable Australia. "If people have the right to dress down then I have the right to dress up and my hijab is my expression of love to my creator and I believe it covers my body but not my mind, heart and talent."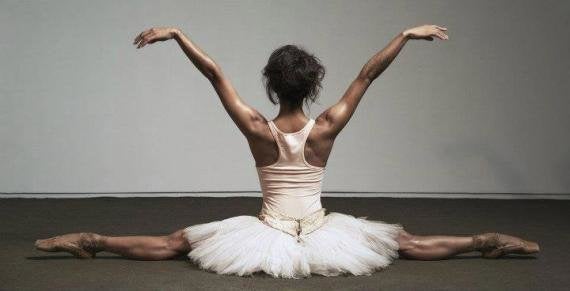 Ballet Dancers Changing the Landscape
Related
Popular in the Community