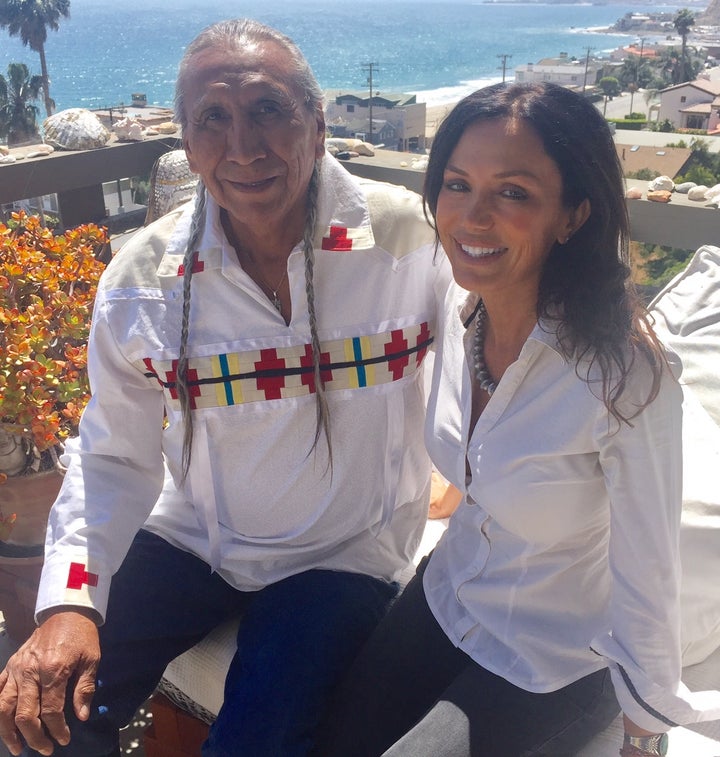 Chief Arvol Looking Horse, who led the protests against the Dakota pipeline at Standing Rock, will narrate the documentary film, "The White Snake", about alternative energies to oil.
Chief Arvol became chief of all Stars Nations and the 19th keeper of the Original Sacred White Buffalo Calf Pipe of the Lakota, Dakota and Nakota Nations of the Sioux at 12 years old, the youngest to ever hold this exalted position known as the "sacred bundle keeper."
Throughout First Nation history, they have talked about the black snake coming over the earth when man will be faced with global disaster.
"There are signs that Grandmother Earth is sick with a fever and man has gone too far," said Chief Arvol. "If we are going to survive, we need to stand on our spiritual ways and bring compassion back to the earth."
The story of Standing Rock features prominently in the film. "It's humbling to stand in front of Chief Arvol, this iconic figure who embodies such dignity, grace, spirit and a sense of history," said "The White Snake" producer, Valentina Castellani.
What happened at Standing Rock is an important tale to tell. It was humanity against technology. The protests spoke loudly to the world about the importance of respecting the planet and the environment but, more importantly, to remember who we are as human beings, resonating together as one with the planet, with each other, and our soul. New technologies are out there that have proved successful in other countries that will ignite a new 'system' which beats in harmony with the heartbeat of the planet.
The Black Snake represents the dark destructive consciousness of humankind up to now. "But all of this is about to change and the era of the White Snake is coming. An era of a return to the origins, to consciousness and renewed ethics," said Chief Arvol.
Directed by Isaac Hertz, "The White Snake" will examine the human, environmental, and economic consequences of our strategic dependence on oil and explore viable alternatives.
"I believe we can build The White Snake era if we work together as citizens of the world," said Castellani. "Senior experts we've interviewed in the film agree that our reliance on oil for transportation fuel is the primary U.S. security concern of our time. They also agree that we have the means right now to proactively address this concern without going to war or supporting war. As filmmakers, we want to motivate realistic policy change that can create a safer world."
Related
Popular in the Community