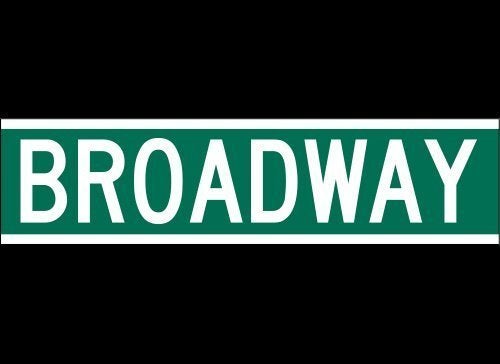 Not to put too fine a point on it, the Alex Timbers-Michael Friedman Bloody Bloody Andrew Jackson is a failed mess (mash-up?) of a satire. To call the musical -- praised on its way to Broadway's Bernard B. Jacobs Theatre and additional kudos -- "sophomoric" is to flatter it. "Freshmanic" might be closer to describing its juvenile quality. Or maybe just plain "manic."
Cribbing from predecessors like the superlative Spring Awakening, it melds a volatile chapter in history with contemporary send-up. This chapter, lifted from American history, focuses on the eponymous seventh president of the United State, his rise to that position as a successful expansionist and man of the people (of the newcomers, that is, not of the Native-Americans) and his subsequently less successful administration.
When I saw the piece last spring in its incarnation at the Public Theater (one of the current producers, along with busy Jeffrey Richards and others), I was so appalled that I didn't pay enough attention to the breadth of its intentions.
When so much humor is meant to be extracted by inserting four-, seven- and 12-letter words Deadwood-like into as many lines of dialogue as possible, when so much of the so-called score by the vastly overrated Friedman is loud but piddling, it was difficult for me to concentrate on what the songwriter, librettist-director Timbers and choreographer Danny Mefford were trying to say with their theatrical morass.
Sitting through it this time, I began to discern -- as I only suspected during the earlier viewing -- that the creators are out to draw shocking parallels between the Jacksonian era and politics today. A lyric like "We'll take back the country" and an aside like "we hate terrorists" more than suggest that Timbers and Friedman are mocking frightening current events. As Tea Partyers gain prominence, the BBAJ creative team may have even intensified their criticism in the uptown transfer.
But is the message they're hoping to get across actually registering as the 14 cast members give it the old college try? Nope. What the audience takes in -- some ticket buyers enthusiastically, others not so, from what I could tell -- is an in-your-face belittling of part of the land's checkered past. Led by strapping Benjamin Walker wearing eyeliner and a dash of lipstick as the title figure, the actors mug, ham and overdo the many roles through which most of them double -- director Timbers the culprit for his obvious encouragement. New addition to the downtown cast Kristine Nielsen, as the historian recounting Jackson's reign, gives her standard dithering, hands a-flutter performance, only this time in a wheel-chair.
Walker's Andrew Jackson, after leading the over-eager troupe through an opening number that repeats the words "Populism yea yea," is next seen playing with wooden dolls as a child who loses his parents to either cholera or Indian attacks. I'm still not certain which, although Bart Fasbender's sound effects give weight to the latter. Growing up hating Indians, the Spanish, the British (no mention here of Jackson's attitude towards blacks in the slave-owning atmosphere), the man falls in love with already married Rachel (Maria Elena Ramirez), raises abandoned child Lyncoya (Cameron Ocasio), all the while behaving like a wired rock star.
Once in high office as a result of tricking numerous tribes to forsake their home territories and of ousting the Brits for the last time in the Battle of New Orleans, this Jackson presides over a roomful of flunkies and bimbos reading glossy magazines and vacantly yes-ing him. References to, for instance, Susan Sontag and her Illness as Metaphor are calculated to lend intelligence to the proceedings. They don't. Neon, strings of red Christmas bulbs that change to blue, and laser lights -- all supplied by Justin Townsend -- dress up Donyale Werle's set, which looks like a faded Victorian game room spilling into the auditorium.
Throughout the commotion, a three-man band -- Justin Levine, Charlie Rosin, Kevin Garcia -- sometimes supplemented by instrument-accomplished players -- bang out the raucous Friedman songlets. Supposedly, this is emo. And it is, if emo is defined as uninspired heavy metal.
What's most disturbing about Bloody Bloody Andrew Jackson (our hero wears a bloodied T-shirt through much of the intermissionless 90 minutes) is what it confirms about today's prevailing attitudes towards history. As the denouement draws near, Nielsen's narrator, who's earlier been shot in the shoulder by Jackson, says, "You can't shoot history in the shoulder."
Yet, that's what the tuner does. At a time when there's little regard for history in a country which has such a short history (if the Indian nations aren't taken into account), the Les Freres Corbusier-based Bloody Bloody Andrew Jackson makes another of its insistent cases that if you're going to be so stuffy as to consider history at all, the only awesomely cool thing to do is make fun of it. Once you've punk'd it, you've given yourself an excuse not to respect it.
REAL LIFE. REAL NEWS. REAL VOICES.
Help us tell more of the stories that matter from voices that too often remain unheard.