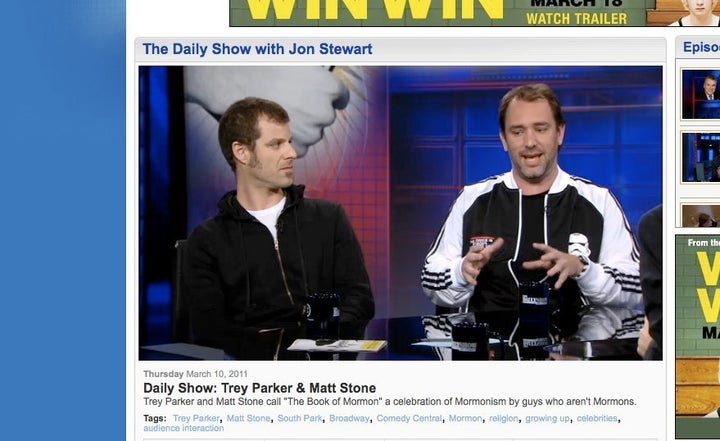 There's a respected position on satire that holds if it doesn't offend someone, it's not worth the effort spent perpetrating it. In their lengthening collaboration, South Park creators Trey Parker and Matt Stone have advanced that theory to a tease and a taunt. And bless their iconoclastic hearts for it! In The Book of Mormon, their hilarious first Broadway musical now enlivening a so-so season in the Eugene O'Neill, they poke fun at an entire religion, a bold act that may offend thousands, if not more. It could even be said they're going after Christianity as a whole with the appearance of a slang-spouting Jesus in a lustrous blond wig.
The production -- directed and choreographed with concomitantly amusing disrespect by Casey Nicholaw -- is hardly a surprise attack by the nose-thumbing partners. They've covered similar ground with their long-running Comedy Central series, and just as there have been complaints about those weekly comical affronts, walk-outs can be expected here by ticket buyers who don't know what they're letting themselves in for but maybe should.
Those exiting prematurely, however, will be missing out on a whole lotta sung, danced and acted glory. They'll also be forfeiting the opportunity to grasp that Parker and Stone are actually morality-minded believers. The pair, who would seem to have made a career of contending that nothing's sacred, eventually suggest that something definitely is. They send a message that while organized religion -- based on trumped-up dogma, as it too often is -- may be a stultifying and questionable experience for many, there is decidedly something behind truly religious behavior. It's based, they suggest, on conciliatory aspects that draw people together rather than force them apart.
Parker and Stone -- along with composer Robert (Avenue Q) Lopez of the catchy melody -- get their winning point across through a story that follows young Mormon Elders Price (Andrew Rannells) and Cunningham (Josh Gad) on their committed mission to northern Uganda. Joining peers already there but having the locals resist baptism under suppression by a rifle-wielding, female-circumcision-favoring general (Michael James Scott) -- who goes by a name not printable in a tasteful-oriented website -- they make little progress. That's until Elder Cunningham, an inveterate liar, begins reinterpreting the supposedly inviolate Book of Mormon for more immediately effective results.
Sure, Mormons practicing today might take umbrage at the liberties grabbed -- if they're not already exhausted from objecting to HBO's just-ended Big Love stretch -- but then again, the tuner repeatedly insists that the authenticity of Mormon founder Joseph Smith's ubiquitous book might be as unreliable in origin as is gleefully mendacious Arnold Cunningham's adulterated version. Cunningham's Star Wars-Star Trek-influenced extemporization is, of course, another of the tenets about the birth of religion that Parker and Stone are gunning after.
Those heavily loaded guns go off consistently, firing not bullets but uproarious lines and highly entertaining numbers, beginning with as rousing as opener as B'way has seen in too long. It's called "Hello" and depicts missionaries-to-be practicing their door-to-door proselytizing techniques. The cheers following the sequence are echoed repeatedly throughout the two-act show and include instructions about fighting unsettling human instincts -- particularly same-sex impulses -- under the title "Turn It Off."
In the second act, the by-now-converted Ugandans present an obscenity-stuffed show called "Joseph Smith American Moses" that longtime musical fans will recognize as a spin on Jerome Robbins's "Small House of Uncle Thomas" from The King and I. The Book Of Mormon variation doesn't go far towards favorably impressing the visiting mission president (Lewis Cleale), but it certainly grabs the audience by the lapels and won't let go. Earlier, guffaws have greeted "Hasa Diga Eebowai," a four-letter-word-based send-up of "Hakuna Matata," the beloved Lion King uplifter.
Never content with limiting themselves to throwing pies in the face of one subject -- in this case, Mormonism -- Parker and Stone supplementarily go after more than just that and Julie Taymor's Lion King. Keeping as up-to-date as can be, they even get in a stinging dig at Julie Taymor's still-previewing Spider-Man: Turn Off the Dark.
Do comic anarchists Parker and Stone ever slow down? Yes and no. At the end when they've dispensed the message about global bonding, they come close to staying sincere but then at the final fade-out, they can't stop themselves from tacking on one last gag to tickle already abundantly-tickled ribs. Before that, they and Lopez have toyed with a few muted almost-ballads -- at least one for faith-tested and fathomlessly sincere elder Price, one for village girl Nabulungi (Nikki M. James) about paradise-on-earth and tagged "Sal Tlay Ka Siti" (say it fast) and one for Cunningham and Nabulungi dubbed "Baptize Me," which is as naughtily double-entendre a threnody as anyone terminally sacrilegious might hope.
Helping to distinguish The Book of Mormon is a cast of new and relatively new performers, who in the next few months will likely help put the lie to the need for marquee names to start a box-office hopping. Gad, a butterball looking like a contemporary Zero Mostel in the making, wins hearts and strokes funny bones as a hapless fellow ready to do anything to find a best friend. Rannells amusingly slaps on a 64-tooth grin as a model Mormon whose mold is eventually shattered.
James packs a powerhouse voice in her small, game frame. Indeed everyone populating set designer Scott Pask's colorful village (with one dream segment unfolding in a red-flamed Hell) and wearing Ann Roth's black-and-white-drab (the Mormons) and tatters-colorful (the Ugandans) costumes contributes to the infectious, thank-God-whoever-he-or-she-is spoof of whatever the proclaimed gospel truth purports to be.
Popular in the Community