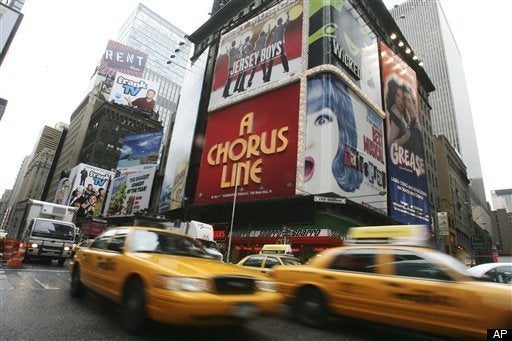 In celebration of Stephen Sondheim's eightieth birthday, his songs are being sung even more this year than they usually are -- which in Manhattan intimate rooms is quite often, to say the least. That may explain why such additional exposure to his canon reveals, even to a casual listener, something about his lyrics previously less noticeable -- less glaring really -- and possibly never remarked upon.
Mr. Sondheim is a man constantly in search of -- seeking after, groping for -- answers. The first lyric of his ever crooned on a Broadway stage (in the opening "West Side Story ballad "Something's Coming") is "Could be -- who knows?"
Is there a more epistemological inquiry? Could there be a more cogent announcement of the wordsmith's intentions during a brilliant career where ambiguity would surface as an abiding theme?
What follows are only some of the urgent questions he has asked over the past fifty-three years in shows like West Side Story, Gypsy, Anyone Can Whistle, A Funny Thing Happened on the Way to the Forum, Company, Do I Hear a Waltz?, Follies, A Little Night Music, Sweeney Todd, Merrily We Roll Along, Passion, Road Show, The Mad Show and the movie Dick Tracy:
You said you loved me, or were you just being kind?
Don't you love farce?
Could I leave you?
Why complain about the time we're given?
Small world, isn't it?
What can you lose?
Who's that woman?
Liaisons!--What's happened to them?
Is a parade in town?
Oh, oh, wouldn't she be delightful, sweeping out, sleeping
in?
Do I pick you up or do I meet you there or shall we let it go?
And if I wanted too much, was it such a mistake at the time?
Weren't we chuckleheads then?
Would I leave you?
Haven't you got poet, or something like that?
Does no one know it's like I'm losing my mind?
What do you think? Who can it be?
Where was I?
Isn't it rich? Isn't it queer, losing my timing this late in my
career?
How could I ever wish you away?
What are we to do?
As I was getting ready, did a parade go by?
What if I had to choose?
I chose and my world was shaken--so what?
A weekend with that woman?
Do I pick you up or do I meet you there or shall we let it go?
Would I think of suicide?
What if none of those souls were saved?
Do they think that walls will hide you?
Whatever happened to her?
How is it you sing?
Where is style? Where is skill? Where is forethought?
Where's discretion of the heart? Where's passion in the
art? Where's craft?
How do you wipe tears away when your eyes are dry?
What's your rush?
Isn't it bliss? Don't you approve?
May I kiss you?
Are you screaming?
Someone tell me, why can't I?
Are there drums without me?
Could I leave you and the shelves of the World's Best
Books?
Aren't they too much? Aren't they a gem? Aren't they the
best?
Can we see each other Tuesday if it doesn't rain?
Come on, Papa, what do you say?
Do you want the world?
Isn't he something?
Are we or are we unique?
But us, old friend, what's to discuss, old friend?
Do I hear a waltz?
Is everybody here?
And if it wasn't for me, then where would you be, Miss Gypsy
Rose Lee?
Where are we to go? Where are we ever to go?
Where are the clowns?
No, the point is, could you leave me?
What's the sound of the world out there?
Why is nobody listening?
Does anyone still wear a hat?
Why are his trousers vermillion?
Where will it end?
Why look for answers when none occur?
Funny, isn't it?
Calling all HuffPost superfans!
Sign up for membership to become a founding member and help shape HuffPost's next chapter