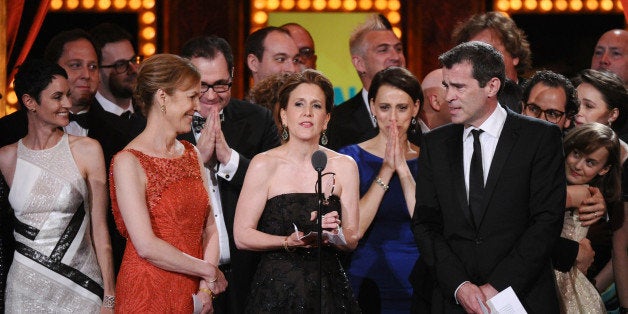 TONY AWARDS PRESS ROOM -- Although the space where we flacks are packed into rows is provided with a simulcast and earphones, you don't have to watch the show if you don't want to. The winners are coming our way at times and that preoccupies us, but there are lulls, and you don't have to tune in to the presentation then either.
The show is now about seven minutes old and hosts Kristin Chenoweth and Alan Cumming have finished their uninvolving opening number. Just now on the tube is "It's a Musical," the first act biggie from Something Rotten. It's so beloved by those associated with the tuner that they do pretty much the same number in the second act, though under a different title.
Helen Mirren just won best actress for The Audience, and there wasn't much response in these quarters, but we're certainly waiting to get to her with questions when she arrives. There is, however, heavy mittage for Jeanine Tesori and Lisa Kron for their Fun Home score.
Changing costumes constantly on the show, Chenoweth and Cumming have done more below-par material -- some of it requiring sloppy lip-synching -- and it doesn't look as if things will get any better. So I'll leave them to it for the rest of this report.
Christian Borle wins his second Tony for his Something Rotten featured role. He's on screen as the winners of a special citation for regional theater talk to us. Attention is divided. But since no one is on the interviewees' podium during Annaleigh Ashford's win for her featured You Can't Take It With You role, she does get nice response from this gang for her cute on-screen chat.
Now Tony Yazbeck is doing a reworked number (or is it numbers?) from On the Town. Most television viewers won't be aware of the jockeying that goes on when deciding what numbers from what shows get televised. No one seems to consider that more often than not, larger numbers look pushy and tinny to folks sitting in their living rooms.
Helen Mirren, humble and direct and looking like a billion dollars, says the best advice she ever received about having a career was to conquer fear. While she was game to answer more questions, she was graciously cut off by one of the facilitators. John Cameron Mitchell talks about starting his career thinking he must hide his homosexuality and has learned that what's important is protecting yourself as a person when taking on roles, implying that hiding may not be the way but maintaining a remove might be. Christian Borle says he wished he'd learned sooner that other people's success is not your failure. That's a tonic.
This might be the time to note that the pressroom quiet stretches outnumber the active minutes. It's akin to a funereal pall. Even when someone is being queried from our crowd, things can be ultra-dull but there's no need to go on about that either.
Bunny Christie confides that while designing The Curious Incident of the Dog in the Night-Time set she repeatedly referenced both Mark Haddon's novel and Simon Stephens's script for more inspirations. That meant something to me, if not anyone else. Ruthie Ann Miles, having nabbed her Tony as featured actress in The King and I, said her advice to her younger self would be, "Don't be a dentist." Then she was movingly emotional talking about how her mother "sacrificed her life" so she could go to college.
Perhaps worth noting: Not one of the women is asked who designed her gown. Is this the difference between Broadway and Hollywood? Hold the iPhone. Costume design winner (The King and I) Catherine Zuber has just been asked if she designed her gown. Nope: Marc Jacobs did. So I ask Christopher Oram, whose Wolf Hall costumes won, about obtaining fabrics now that were used prominently then. He replies that there are fabric houses still turning out such materials. Kelli O'Hara is wearing Oscar de la Renta, but doesn't say it was defined before or after his recent demise.
It's hard to resist pointing out that underscoring the "In Memoriam" section Josh Groban comes close to burying "You'll Never Walk Alone."
The biggest response in this room by far is Kelli O'Hara's win. She thanks her Oklahoma vocal coach Florence Birdwell, who, obviously not by accident, also was Kristin Chenoweth's vocal coach back in the day. (Is her phone ringing right now? It should be.) The second biggest response goes to the Fun Home win for Best Musical.
OK, so the show is over, but we're sitting here waiting for the later winners to address us. Alex Sharp, direct from Juilliard into Incident of..., says Al Pacino movies were early influences for him. The applause Kelli O'Hara gets in this room emphasizes how popular the win is with those of us who follow these things daily.
I notice this is a surprisingly short account of the year's Tony Awards as scoped from the press room. I can only suggest it's an indication of the excitement the event didn't create from start to finish.
REAL LIFE. REAL NEWS. REAL VOICES.
Help us tell more of the stories that matter from voices that too often remain unheard.