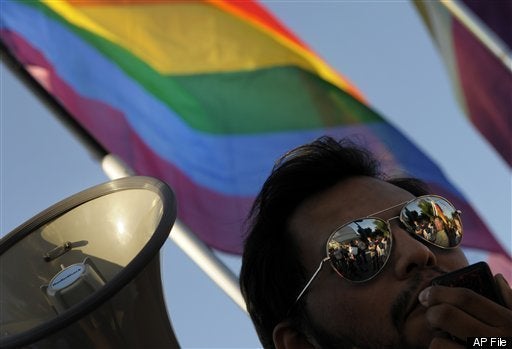 It looks as if Tim Miller has chosen -- for better or worse (not worse, you hope) -- a long career for himself. Miller is one of the quartet of performance artists (the others are John Fleck, Karen Finley and Holly Hughes) whose obituary opening sentences are sure to identify them as part of "the NEA four." They're the ones whose grants were rescinded in 1991 because they were espousing "gay" messages and therefore ran counter to what was considered community decency -- artistic and civic postures Jesse Helms and his Congressional posse couldn't in all good conscience abide.
Nothing else Miller does as a performer devoting his life and career to the advancement of homosexual and lesbian causes is likely to replace the above obituary citation. Surely not his having come to New York City at 19 and, in the process of establishing himself, helping to co-found P. S. 122, the lower East Side experimental-theater oasis currently celebrating its thirtieth year.
P. S. 122 is where Miller, absent from Manhattan for some time now since he's been West coast-based, has returned to present his mesmerizing latest hour-plus-change rant, Lay of the Land, on recent ignominies accorded the country's homosexual population.
When he put this cunningly-titled monologue-with-visuals together, he was responding to the passing in California of Proposition 8, which took back the endorsement previously given in the state for same-sex marriages. And don't you know his stint coincides with the California appellate panel hearing this week on Prop 8's legality.
Miller couldn't foresee that yet another concurrent slap in the face of the nation's gay population would be last week's removal from the National Portrait Gallery "Hide/Seek" exhibit of David Wojnarowicz's video, A Fire in My Belly, which includes a sequence depicting ants moving across Jesus Christ's body on a crucifix. Ironic, Miller declares, that during the week when National AIDS Day is held, this action is taken against one gay man honoring the AIDS-related death of his lover, the artist Peter Hujar.
That comment is, however, only an aside in the diatribe. It's an aside, of course, confirming the unending assault on the civil rights of the country's homosexual men and women. (Not to mention, which Miller doesn't, the renewed debate about the "Don't Ask, Don't Tell" policy the military retains for gays in the Armed Forces.)
But, yes, civil rights are Miller's compulsive subject -- civil rights as they apply, or more to the point don't apply, to gays. Now 52, still in fighting trim and wearing his signature economical outfit of black tank-top and black shorts, Miller begins the agitated spiel by poking around in the audience at one of the smaller P. S. 122 performance halls, He claims he's lost his BlackBerry and confides he has a habit of losing things like keys, wallet, passport.
Coming to his true point, he says, "I lost my civil rights on election day as did everyone in California, Florida, Arizona, Arkansas and Maine." And off he goes, getting to the heart of his remarks by recalling--as the impetus for an extended metaphor -- an incident when he was ten and got a piece of meat caught in his throat, thereby coming close to having his father carry out a dining-room-table tracheotomy.
Miller likens the incident to the United States having gays stuck in its throat and the need to get the impeding element out and freed. Reporting on his travels around the country sometimes as an activist, sometimes discoursing -- as he does here -- about his activism, he eventually fantasizes flying over the states and coming at last to New York City and the Statue of Liberty on whom he applies the Heimlich Maneuver.
As he progresses towards that extended coda -- and in front of projections that feature a map of the states as well as a segment from the one-time children's television series Romper Room -- he cites an activist march he attended when he heard a heckler in a passing automobile shout the crude phrase about shoving something "where the sun don't shine."
Confused by what the insult means, he decided to ascertain if there's any place on the human body where the sun don't shine and so demonstrates less graphically than his history of full-frontal and full-backal demonstrations would suggest that there is no such sunless place. Later, he extends that metaphor to a hopeful conclusion that the metaphorical sun will one day shine brightly on a cloudless America.
That's a conclusion, perhaps needless to say, that can seem unrealistic after his preceding overview of what today's civil rights cover and what and whom they don't. But bless his heart for thinking so. Perhaps the blessing would be broader were he imagining that the piece of meat stuck in Miss Liberty's craw represented others denied full civil rights, but he's got his very personal theme, his passion, his crusade.
In a performance piece boasting a section where he contemplates burning the flag, he has his own flag, and gallantly he waves it. Okay, so for the most part, he's waving it before the converted, but maybe he's hoping they'll see it as a guidon and follow him more actively into the fray -- not the worst imaginable development.
Popular in the Community