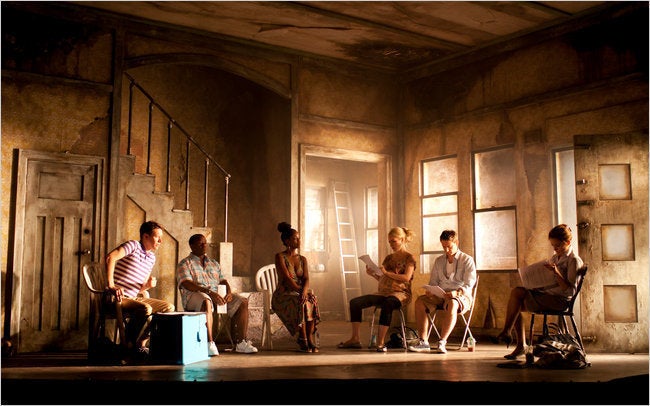 Great news for Yes, Minister and Yes, Prime Minister lovers. The outrageously wonderful television series has been retooled by creators Jonathan Lynn and Antony Jay, and a brand-new Yes, Prime Minister is now on the stage at London's Gielgud Theatre.

That's right, Prime Minister Jim Hacker and civil servant aide Sir Humphrey are once again confronting each other but not in the eminent persons of Paul Eddington and Nigel Hawthorne. Both those paragons of hilarity have gone to the great television Parliament Houses in the sky. But never fear. They've been replaced by actors every inch as qualified to wring laughs from government hi- and low-jinks: David Haig as the prime minister and Henry Goodman as his tenured foil.

The two men are having at each other in Simon Higlett's swanky idea of a library at Chequers, where very much in line with 2010 political climate -- which means, for one thing, dire economic straits -- a possible way out has cropped up in the form of an oil pipeline originating in fictional Kumranistan and zig-zagging through most of the European countries. The potential monetary solution is being engineered by Prime Minister Hacker but relies on the Kumranistan foreign minister's signature.
All is set for the dotted-lining when, as the Brits say, there's spanner in the works. The (never seen) foreign minister sends word through his emissary that he requires a female companion for the evening and if she's not supplied, will withhold his inked okay. And it's not just any female he'd like. He won't settle for anyone older than sixteen.
The dilemma raised and addressed causes the kind of frenzy series aficionados will happily expect. Its moral ins-and-out are thrashed not only by Hacker and Sir Humphrey but also by second-rank civil servant Bernard Woolley (the shambolic Jonathan Slinger) and new character to the mixed nuts, Claire Sutton (a sleek Emily Joyce), whom the prime minister has tapped to give him advice whenever he twigs to Sir Humphrey's manipulations.
And there's where the great news from Jay and Lynn, who also directs with a tight grip on the characters' loose (and louche) behavior, loses some edge. While leaping into the new millennium miasma, the co-authors have done some slight adjustments to the Hacker-Humphrey relationship -- twists and tweaks that call into question just how pliable the formerly highly manipulable prime minister is.
This bit of a re-think may disturb long-term devotees who'd like their wrangling protagonists to remain as they were. Others may welcome the shift, which puts Hacker on more of an intellectual level with his right-hand man. Not, one hastens to say, that Prime Minister Hacker is any less prone to running around as if he's misplaced his shopping-cart at the nearby Waitrose. And not, one also hastens to say, that Sir Humphrey doesn't have so many gulling tactics up his Savile Row sleeve that it wouldn't benefit from lengthening.
Hammer-and-tonging it, Haig and Goodman shine like twin suns. Haig, bald and fuming as if steam is about to issue not only from his ears but also from his fingertips, always stands at a 60-degree angle -- or darts here and there at the same tottering slant. All but constantly on the verge of losing it entirely, he delivers his lines in sweaty desperation, lines like "I don't talk to ordinary people unless there's an election on." Goodman's containment is also a sight gag. Erect as a Buckingham Palace guard, he gets his laughs with his eyes, endlessly bulging at the Prime Minister's lapses, and with his obsequiously dominating tone of voice.
Lynn and Jay have fun with the plot turns, although they find a somewhat toothless way out of the foreign minister's dicey over-nighter -- a hint that ultimately the authors lack the courage of their satirical convictions. But they do keep the laughs coming. A particularly devilish jibe at political spinning comes when Hacker, dealing with a phone call from an investigative reporter, responds to each question with one or another boiler-plate reply he reads from a binder.
What particularly distinguishes Yes, Prime Minister is that it's topical humor served hot from a theater oven. That's a dish not often available these days. (David Mamet's November, seen in New York two seasons back, is another of too few examples.) And though a whiff of the sitcom still emanates from the piece, well, that's the enterprise's roots. In preparing for this return, Lynn and Jay may not have left the small screen mentality behind for something more anarchic, but, hey, they've long since contrived their formula for success. Why shouldn't they use it?
By the way, it may be that, on seeing this freshly-minted Yes, Prime Minister, politicians will be queueing to get a copy of the above-mentioned all-purpose binder -- if, that is, their staffs haven't already compiled a similar list.
Related
Popular in the Community