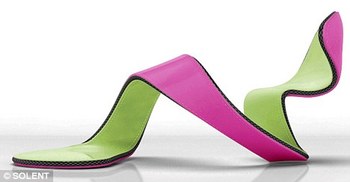 Hot on the heels of the pants vs. not-pants debate, I'm confronted with this vaguely-Hot-Loop-like thing above. Honestly, I don't even know what I'm looking at here. A modern sculpture? Or an orange peel gone awry, as the Daily Mail so aptly put it?
British architect and designer, Julian Hakes, claims that in fact, this is a shoe, and also the future in footwear. It supports only the heel and ball of the foot and, allegedly, is actually great for your health.
There's a place for fashionable ingenuity, we're mostly just in favor of shoes that protect our feet from city streets.
Since it looks like extra foot exposure is on-trend right now, we'd point you towards some stylish cut outs. We're obsessed with this dramatic bootie from L.A.M.B; check out our even tamer suggestion - or just wear flats.