Taking my shoes off in the private alcove of the exclusive Japanese dining room, I open the shoji screen to reveal a beautiful 12-tatami mat room complete with alcove, ikebana, foot-tall table with sunken floor - complete with emergency lighting and modern ventilation. An auspicious opening to a dinner with Mariela Castro Espin, the daughter of the president of Cuba Raul Castro, hosted by my friend, Dr. Kazuko Tatsumura Hillyer.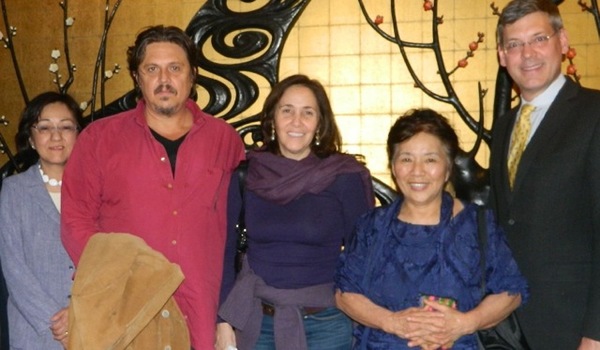 Several friends attended dinner with Mariela Castro Espin hosted by Dr. Kazuko Tatsumura Hillyer. Photo Credit: Cuban Mission to the United Nations.
In town for a United Nations conference, Mariela travels in the U.S. with bodyguards from both her own government and the U.S. State Department. But she cannot travel far - Cuban diplomats and dignitaries are prohibited from travelling more than 25 miles from their U.S. base. I find this humiliating and express my embarrassment for the manner in which she is treated by our government.
Dr. Kazuko has just returned from Havana where she was sharing medical advice. She met Mariela there during her medical mission.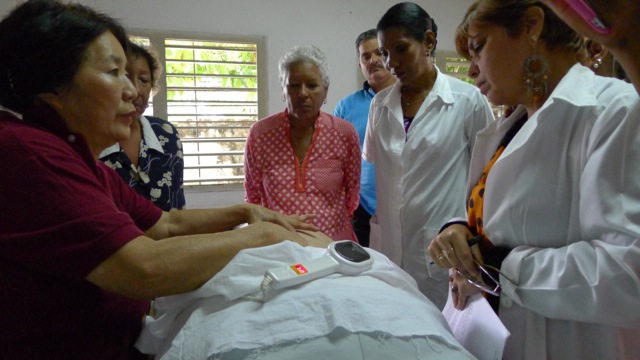 Dr. Kazuko Tatsumura Hillyer recently returned from a trip to Havana where she met the president of Cuba's daughter and presented on Oriental Medicine.
Photo: Dr. Kazuko Hillyer.
The year I was born - 1959 - Mariela's uncle Fidel led a revolution against the ruling elite (and Miami mafia) that ran that nation, instituting a reformation that shocked the world. One of the first steps the new government took was to focus on training doctors not soldiers, and Cuba today has one of the finest health systems in Latin America.
Having worked in international development in Haiti, off and on, since 1999, I am familiar with the barefoot Cuban doctors who have brought so much medical attention to Haiti's rural poor. Walking through the mountains and the valleys, sleeping on the floors of Haitian homes, the Cubans have proven themselves there - and around the world. From Africa to East Timor, Cuban doctors are known for their skill and perseverance.
My own view of Cuba was slanted by reports of HIV+ patients being quarantine in the 1980's, however Dr. Kazuko, Don Rubin, and many other influential people have regaled me with more positive aspects of modern day Cuban life, from health and education to the arts.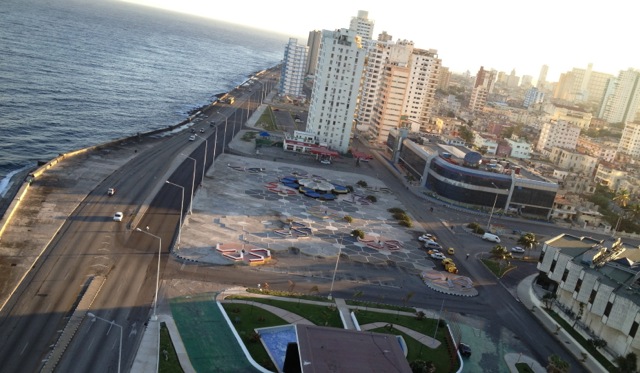 Havana, Cuba's capital, as it stands today. Photo: Dr. Kazuko Tatsumura Hillyer.
I spoke with Mariela about how concerned I had been at the onset of AIDS to hear that HIV+ Cubans were being secluded from the general population. We agreed that in the early days of the 1980's the world had little idea how to cope, and that whereas most governments had simply done nothing, Cuba seems to have attempted to provide free healthcare and housing to those afflicted.
Seated next to Mariela, she asked me if one of the Japanese guests was my wife. «¡No!,» I explained, «soy gay y mi esposo es de Singapur... » In addition to being a Congressional representative, Mariela heads Cuba's National Center for Sexual Education. I figured she could handle it. She smiled.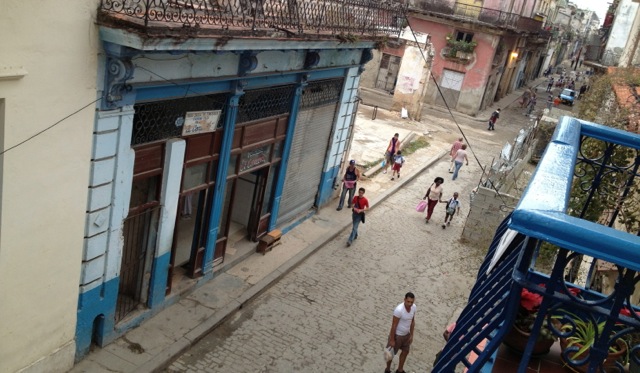 Street scene in Havana. Photo: Dr. Kazuko Tatsumura Hillyer.
So where does this leave me? I find Cuba extremely intriguing. I would really like to travel there. But I am uncomfortable going through Canada to get there - my brother contemplated Canada as a route to escape Vietnam. I would rather go there directly. Not as media or international aid, but simply as an American.
I implore our own president to end the Cold War embargo on Cuba and let us who grew up in American - land of the free - travel where we will. My will is to visit Mariela Castro Espin, thought leader and global citizen, in her own city: Havana.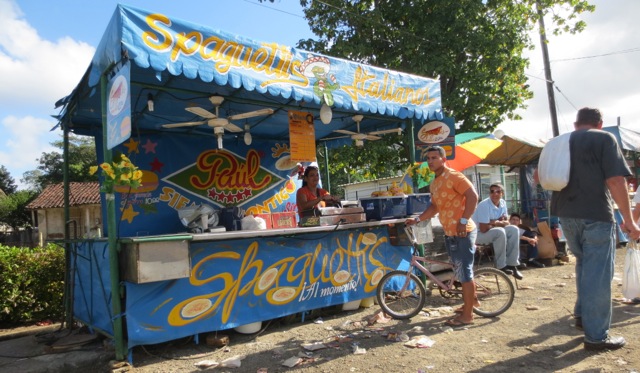 Food off the streets of Havana is delicious. Photo: Dr. Kazuko Tatsumura Hillyer.
Calling all HuffPost superfans!
Sign up for membership to become a founding member and help shape HuffPost's next chapter