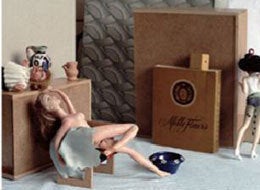 Ahh. Thank heaven for Barbie. Hard, kitschy, and curiously proportioned, who would have imagined fifty years ago that a doll based on a German cartoon character/harlot named Lilli would be re-imagined, by a Jew no less, and rise to such a level of pop culture status? Perhaps it's the je ne sais quoi hidden secret about Mattel's blond bombshell that enthralls and repulses simultaneously. Girls love to both dress and behead her in equal measure. (As a former young girl now with a young daughter, I can attest to this.) But no one loves Barbie more than artists. What other symbol carries such a loaded mental vocabulary of culture, expectations, and feminine identity in one sexy ten inch piece of plastic? This week we feature two filmmakers and an artist who use Barbie to to wondrous effect.
Todd Haynes, FilmmakerBefore Todd Haynes made I'm Not Here, a rumination on the life of Bob Dylan for which Cate Blanchett won the Best Actress Golden Globe, he made his first movie twenty years ago featuring Karen Carpenter called Superstar: The Karen Carpenter Story. He aptly chose Barbie, a doll whose body is impossible to achieve in the real world, to tell her tragic anorexic tale.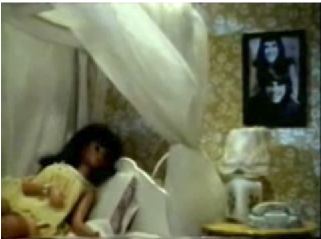 Clip from "Superstar: The Karen Carpenter Story,"a first film in stop-motion animation by auteur director/writer Todd Haynes, 1987.
He spent months making miniature dishes, costumes, Kleenex, Ex-Lax boxes and Carpenters records to create the film's intricate, doll-size mise-en-scene. It remains a wonderment that Haynes' manipulation of plastic's most recognizable form caused audiences to weep for the singer. Richard Carpenter's animosity for the film led to a "cease and desist" order in 1989. Despite Haynes' offer "to only show the film in clinics and schools, with proceeds going to the Karen Carpenter Memorial Fund for Anorexia Research," Superstar remains shelved, one of the few films in modern America that cannot be seen by the general public but for a pirated clip on YouTube. (I'll let you guys do the search...)
Tiffany Shlain, FilmmakerAnother film featuring Barbie is Tiffany Shlain's The Tribe: An Award-Winning Film About The Unauthorized, Unorthodox History of the Jewish People and the Barbie Doll...In About 15 Minutes which explores a complex social history through America's favorite doll.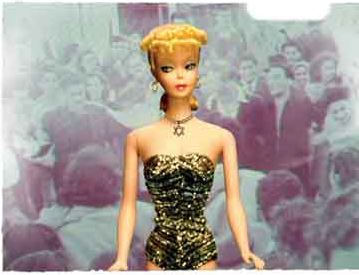 Tiffany Shlain, Still from "The Tribe" Barbie Hora Shot, 2002.
Narrated by Peter Coyote, the film mixes old school narration with a new school visual style. The Tribe weaves together archival footage, graphics, animation, Barbie dioramas, and slam poetry to take audiences on an electric ride through the complex history of both the Barbie doll and the Jewish people--from Biblical times to present day. By tracing Barbie's history, the film sheds light on the questions: What does it mean to be an American Jew today? What does it mean to be a member of any tribe in the 21st Century?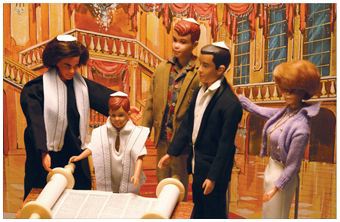 "The Tribe" Still Barbie Bar Mitzvah, 2002. Tiffany Shlain
When asked how she came up with the film Shlain explains, "In 2002, I was wrestling with what it meant to be Jewish in America in the age of assimilation. One day, I opened up the New York Times and read that the creator of the Barbie doll, Ruth Hadler, had just died. I knew she was Jewish and couldn't believe that in the long obituary they failed to mention what I had always thought was one of the greatest ironies of pop culture: that the creator of Barbie was Jewish. So that moment it hit me that Barbie, the ultimate assimilated Jew, was the perfect tool to explore these issues of assimilation. Being a blond Jew named Tiffany married to a blond Jew named Ken, I could relate." This is a film you can see and even buy on iTunes. She will be speaking this week at Sundance on January 23 and 25th. www.tribethefilm.com[Full disclosure: Ms. Shlain is my sister and she totally rocks.]
Irina Polin, ArtistIn her "Balthus Series" artist Irina Polin riffs off French painter Balthus' risque paintings by recreating his paintings in a doll's world. Her three-dimensional scenes reinterpret Balthus' often dramatic, erotic, and perplexing scenes and recast them into seemingly carefree and domestic scenes as if in a doll house themselves. Balthus' suspense is translated into a humorous yet detailed scene that forces the viewer to find laughter in the intensity and complexity in the constricting, sexualized domestic sphere.

LEFT: Balthus, "Le Chat de la Mediterrane", 1949 RIGHT: Irina Polin, "Mediterranean Tomcat",Pigment color print on archival paper, 43.3" x 43.3", Edition of 5, 2007, Image Courtesy of SCALO|GUYE Gallery.

LEFT: Balthus, "Nude with Cat", 1949RIGHT: Irina Polin, "Nude with Bowl", 43.3" x 43.3", Pigment color print on archival paper,Edition of 5, 2007, Image Courtesy of SCALO|GUYE Gallery.
Irina Polin comments on her own process of converting Balthus to Barbie, "I saw a book of Balthus paintings and it seemed to me that he painted interiors to look like bathrooms and bedrooms of doll houses, and his figures look very seductive and tempting, but at the same time they look like dolls." Polin's figures draw attention to the hyper-sexualization of the dolls that many of us grew up playing with, while also using them to point to Balthus' positioning of women in his works. In 2007 she won a highly recognized photography award in Switzerland. "Eros and Muses" is Irina Polin's first show in the USA is on view now December 15 - February 28, "Eros and Muses" at SCALO|GUYE gallery, 302 N. Robertson Blvd, West Hollywood, CA, www.scaloguye.com.
Popular in the Community