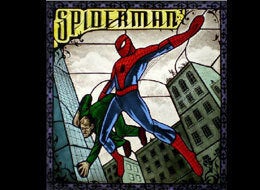 A few weeks ago, while we were marinating in religion and all its accoutrements during the holiday season, I featured artists who use Jesus as their subject matter, including painter Chris Roth. In his piece entitled "Holy Trinity," Jesus flies over a graveyard with Superman and Santa Claus. In reaction to this piece, one of the commenters enthralled with the painting wrote:
"Really fascinating work. I never really understood the fear of death until I reached middle age. Now I'm constantly amazed that such fear drives so many humans en masse to create such elaborate fantasies of immortality. Just because we fear death doesn't mean that our imaginary heroes will somehow rescue us from it. The fear of death just makes life all the more valuable."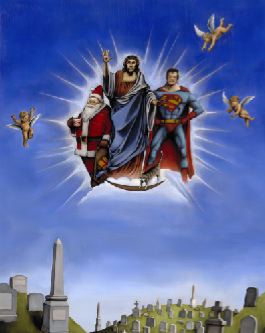 Partial view "The Holy Trinity", 2002. Oil on birch, 19"x42" Chris Roth
The fear of death is a massive subject for artists. Even the medium itself alleviates it. Almost every piece created promises to outlive us and we can enfold ourselves the warm fantasy of immortality. Not only does our work exist after we die-- hopefully for hundreds and hundreds of years-- but it changes and becomes alive every time a new person experiences it. Like having a child, we relish the notion that we might cheat death and petrify our aesthetic DNA for all eternity. Religion, with all its seductive visions and instructions for the hereafter, is an equally powerful salve. No wonder we lather ourselves in it during the darkest and shortest days of the year.
As it so happens, Chris Roth is being featured in a group show in Los Angeles and I thought I'd for his reaction to the comment.
Kimberly Brooks: So fear of death, visions of immortality, superheroes to the rescue-- did that pretty much nail it for you?
Chris Roth: Yeah, it was really great hearing people's feedback on that one... That piece was part of a series I did entitled "A Visual Exploration of My Uneasiness With Life." It featured five paintings, each of which dealt with some sort of epic existential anxiety that I harbor. To date, they have been the most rewarding pieces I have painted. When you put so much time and effort into something so personal, which is so loaded with intense subject matter, there is nothing better than having others approach you to tell you "Wow, I totally think about that all the time too." In a sense, that's the whole point of those pieces... appreciating and finding comfort amongst the things that scare us.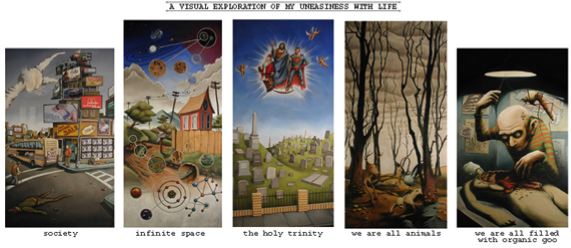 Series "A Visual Exploration of My Uneasiness With Life." Oil on Birch. Varying Sizes. Chris Roth
KB: In your latest series, you keep a religious element by resuscitating the ancient art of stained glass windows. What led to this body of work?
CR: I was at the Getty Center in LA in 2000 when I saw a show called "Painting on Light" which was a collection of painted stained glass windows from the mid 1400s. I was totally blown away. I knew at that moment that this was something I needed to do. However, given the equipment and materials required, it took 7 years for that dream to actually come together.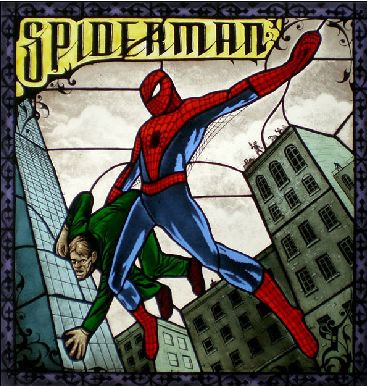 Introducing Spiderman, 19" x 19", Traditional Hand Painted Stained Glass Window, 2007, Chris Roth
KB: How did Spiderman supplant Jesus for the starring role?
CR: I created "Introducing Spiderman" for the upcoming group show "100 Artists: A Tribute to Stan Lee" at Gallery 1988 in Melrose, CA. It is my first painted stained glass piece. I had just finished testing out all the necessary materials when I was asked by the gallery to participate in the show and I knew it was a perfect opportunity to marry a contemporary icon with this ancient time-withstanding technique.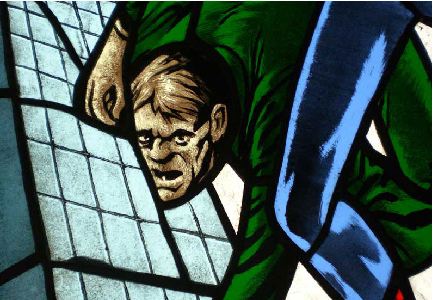 Detail, Introducing Spiderman, 19" x 19", Traditional Hand Painted Stained Glass Window, 2007, Chris Roth.
KB: Tell us about the techniques you used to make it happen.
CR: The process is quite laborious...After a design is finalized, each individual piece is hand-cut from sheets of colored glass. Next, the pigments, which consist of ground-up glass, lead, and cadmium, are mixed with white vinegar for application to the glass. Once dried, they can be scratched off, brushed off, or reapplied. Next the pieces are individually fired in a kiln at 1200oF, after which the pigments melt into the glass and become permanent. Once all the pieces are ready, the entire window is ready to be put together.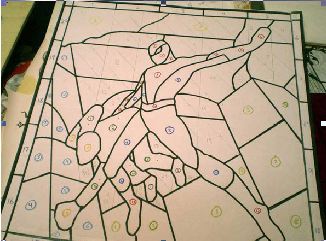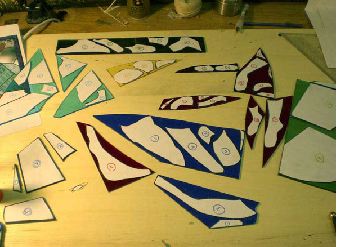 Glass Pattern Templates Glued to Glass Pieces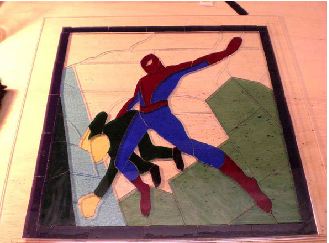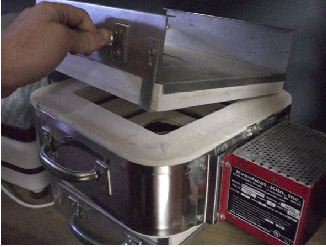 All Glass Pieces Cut, before painting and soldering. After pigment is applied, each piece is kiln fired at 1200° F
KB: Since some of your earliest work is oil on canvas, how does your process differ with the stained glass? What do you hope to evoke with this traditional medium?
CR: I love the dark and ethereal beauty of painted stained glass windows. I modeled my design on the cover of Amazing Fantasy #15 --the first comic book appearance of Spiderman. I thought the idol like religious undertones of the medium would compliment this great American icon and its creator, Stan Lee.
KB: In terms of inspiration, is there an artist that inspires and informs your work?
CR: I love many of the old masters of the past... Raphael, Jean-Auguste-Dominique Ingres, and Jean-Honore Fragonard top my list.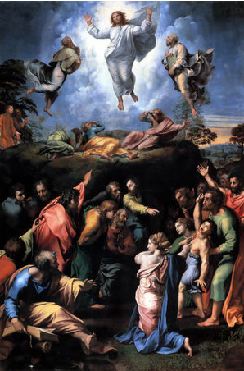 The Transfiguration, Raphael, oil on wood, 405 × 278 cm, Pinacoteca Vaticana, Vatican City, c. 1520.
Los Angeles born Chris Roth moved to New York in 1998 where he still resides in a converted Brooklyn firehouse. He works as a freelance illustrator and animator and has created vivid imagery for album covers, children's books, magazines, and apparel as well as created animations for music videos and television. Two of his paintings were recently chosen for the upcoming "200 Best Illustrators Worldwide 07/08" collective published by Lurzer's Archive. His latest endeavor has been creating traditionally painted stained glass windows. His work can be seen at: www.chrisroth.net. His first stained glass piece "Introducing Spiderman" will be on display at the "Tribute To Stan Lee" show at Gallery 1988 in Melrose CA beginning Jan 8th 2008. The show will feature the work of 100 Artists: www.nineteeneightyeight.com.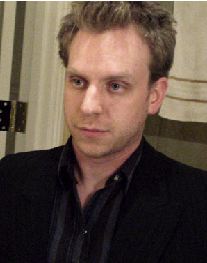 REAL LIFE. REAL NEWS. REAL VOICES.
Help us tell more of the stories that matter from voices that too often remain unheard.