First Person Artist is a weekly column by painter Kimberly Brooks where she features deep thoughts about art, the creative process and showcases new artists' work from around the world.
I just got back from New Orleans where I saw but a glimpse of the heartache and devastation that Katrina wrought. And yet, to be an artist is to have a silent fascination with the sight of such decay; with the moldy walls of an abandoned building, the rust on a faded green car or the way a drop of oil slicks over a polluted puddle of water.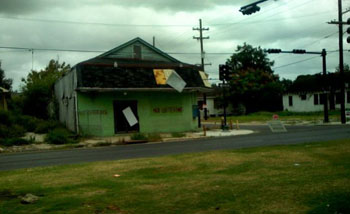 When I recently interviewed this week's First Person Artist, Katherine Gullien, her answers gave that fascination, and my trip to New Orleans, a certain oxygen, and it made me view it, through the prism of her work, in a new way.
Kimberly Brooks: What is the inspiration behind your work?
Katherine Guillen: Mold spread through my garden this year. All it would take was one infected plant leaf to lean on another and soon there would be puffy white spots traveling up the stem. It was both life and death; just as a new development might be at the edge of the desert. The idea haunted me all summer.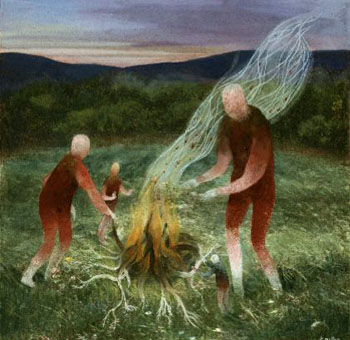 Because of the sprawling nature of Los Angeles, I drive a lot. Often as I braced the curve of the off-ramp I have visions of earth being scraped and cut-into in ever deeper spirals. The compulsion we have as a society to create and therefore destroy ourselves has inspired most of my recent paintings.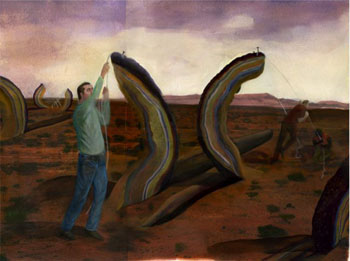 "Foundations of Sentiment" by Katherine Guillen 20x26 in. Goauche and Transfer on Paper Courtesy Junc Gallery
KB: Tell me about your process of working, any routines that might be curious or exemplify a larger message you are trying to communicate?
KG: I started painting a few years ago. I would sketch very controlled lines and then practically color in my drawings. Then I gave up on sketching and would take notes, sometimes in stick figure simply to remember the idea. Lately I have been trying to push myself to respond more to what I have already put down. The intuitiveness and mystery that comes from thoughts that lay on the other side of my consciousness' wall seem to present themselves only when they have long silent periods of cajoling and something to hold onto. Many of my favorite pieces have actually come from misinterpretations of a forgotten sketch. That moment when the idea somehow jumps the wall is exactly the reason I make art. Before and after is work, like any other work almost. But finding those moments where everything aligns is definitely what keeps me painting.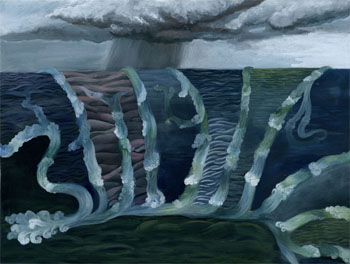 Oddly, I have very little art work up in my house. In fact, my walls are white. I think I am so visual that anything (even a little messiness) outside me is easier to latch on to than what I find if I can just get inside my head. I wish there was some solution to this. I almost feel like people must doubt how much I truly like art if I don't have any up. But it isn't a matter of like -- I almost too sensitive to it -- it will just take me over.
Katherine Guillen is a Los Angeles-based artist whose current exhibition at the Junc Gallery lasts through November. She is featured as an "emerging artist" in the upcoming STEP magazine and she is will also be featured in the Giant Robot-GR2 show in February. Prints and publications can also be found at Papermountainparade.com.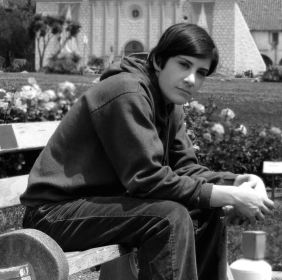 Popular in the Community