For everyone living in Southern California right now, the heavy black smoke spewed by the wildfires has thrown the entire region into an altered state. The palette, which is often so bright, has descended into a muted orange grey. Visual anchors that we count on -- the sun, the moon, the horizon -- look surreal and abnormal. A silent dread building up over years of drought preceded this. But now that it's here, we are in it. And it's all-enveloping.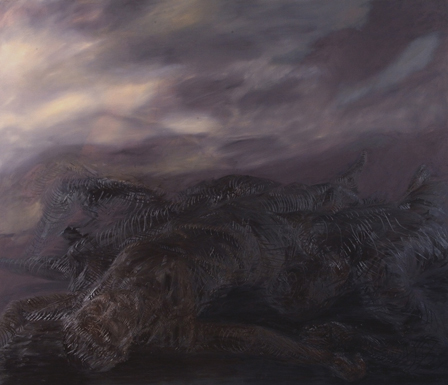 "Tender Among us I", 62 x 72 in. Oil on Panel. Liat Yossifor
In Liat Yossifor's latest series of paintings, "The Tender Among Us," she depicts and captures the thick fog of war and the ambiance of battle scenes. For the majority of Americans who are aggravated by and constantly worrying about the war, but are not serving in it, it remains in the abstract -- the gulf between picking up a new package of socks at Target and what it must be like to man a checkpoint in Baghdad post suicide-attack is enormous. Yet gazing at these paintings, especially in person, has a way of wrapping around you and shrinking that gulf.
Kimberly Brooks: What inspired you to make this body of work?
Liat Yossifor: I have been thinking about the romantic landscape of battle scenes as seen throughout art history and the relationship of cinematography in war films to painting. Recently, I have also begun researching various war monuments and their peculiar forms and the way they memorialize war.
Some of my new small paintings and sketches include references to bronze figurative monuments. The paintings serve as a continuation of the sculptural, war-like figurations which are part of a new series of work entitled "The Dawning of an Aspect."
"Tender Among us II", 62 x 72 in. Oil on Panel. Liat Yossifor
KB: What is your process of making these paintings?
LY: My paintings are done in one sitting, or, more accurately, are worked on as long as I can keep the same layer of oil paint wet (up to three days for a single painting). The process is fast and focused, especially for large scale paintings. Essentially, I sculpt figure-like elements in a dark palate out of a thick layer of oil paint with quick repetitive brush strokes. This method encourages the viewer to experience the work slowly and panoramically.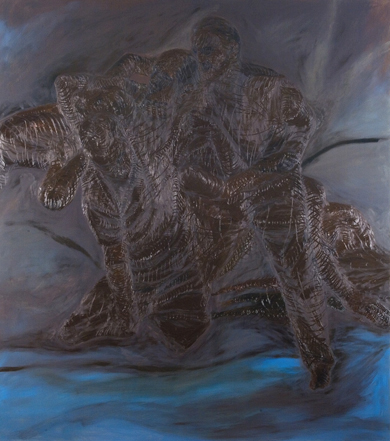 "Blue" 72 x 64 in. Oil on Panel. Liat Yossifor
KB: Was there a certain experience or moment that led you to create these works? LY: Since I began my new series of landscape paintings, I have been completely engrossed in the work of El Greco. Filled with stormy, irrational brush strokes that symbolize conflict even in some of his most quiet pieces, his backgrounds move me. I was especially fascinated by "The View of Toledo."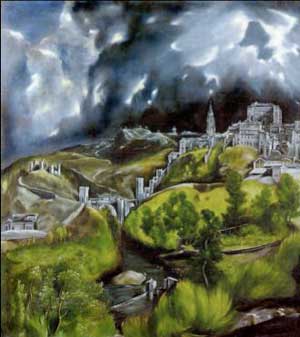 "View of Toledo" El Greco 1541-1614
Last month, I saw it at the Metropolitan Museum of Art. It was as if the past and present coexisted perfectly at the moment I viewed it. I have had this experience before when seeing a historical piece in person, but this experience was like no other. KB: What message or mood do you seek to impart to your viewers when they see your work?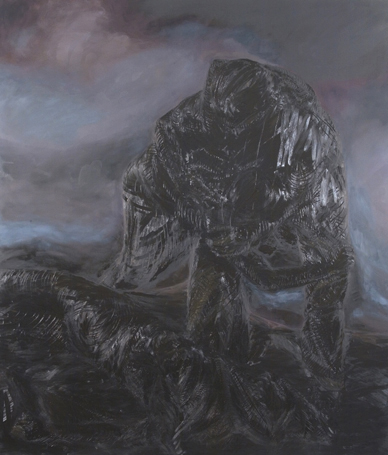 "Dusk" 72 x 64 in. Oil on Panel. Liat Yossifor
LY: I feel that my viewers are ultimately faced with the language of painting. There are so many things which I draw from while painting - among others: art history, field photography, and film - and I hope this allows the viewers to relate to the work from a boarder context and to feel a sense of timelessness.
Liat Yossifor graduated with an MFA from the University of California, Irvine, and a BFA from the San Francisco Art Institute. Most recently, in 2007, Yossifor exhibited her new work: in a solo show at the Pomona College Museum of Art entitled "The Tender Among Us," in a group show at the Torrance Art Museum, and a project show at the Susanne Vielmetter Los Angeles Projects entitled "The Dawning of an Aspect." Previously her work has been shown in solo and two-person exhibitions such as: "Portraits of Yfat" at Angles Gallery, LA; "New Paintings" at Anna Helwing Gallery, LA; "The Black Paintings" at Noga Gallery of Contemporary Art, Tel Aviv, Israel. She has been included in group exhibitions at the Lyman Allyn Museum, New London, CT; Museum of Modern Fine Arts, Minsk, Belarus; New Wight Gallery at UCLA, LA; University of California Gallery, Davis, CA; Claire Trevor School of the Arts Gallery at UCI, Irvine; Occidental College Art Gallery, LA; and Deep River Gallery, LA. She was also included in several art fairs such as Art Basel Miami Beach; the Armory fair in NY; and Art Forum Berlin. Read more about Yossifor in theNY Arts magazine article "Training Ground" by Carrie Paterson.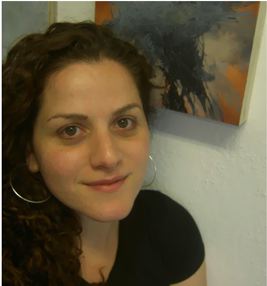 Liat Yossifor in her studio