First Person Artist is a weekly column by artist Kimberly Brooks in which she provides commentary on the creative process and showcases artists' work from around the world. This week's artist in the first person is New York's Kirsten Hassenfeld.
It's "Christmas Time" here in America and there is such an intoxicating burst of creative energy from so many people at the same time you'd think the earth might flip on its axis. We get out our scissors and paper, make decorations, spontaneously burst into song, string colorful lights all over our trees and houses, strange sculptures sprout on our lawns, drink too much and stay up too late trying to get it all done-- gosh, it's like finals at art school!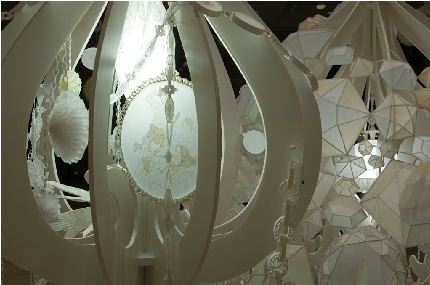 Untitled (Branch), 2007 [detail], Kirsten Hassenfeld, Paper, polystyrene board, acrylic, pipecleaners, light fixture, Approx. 88 x 53 x 53 inches. Commissioned by Rice University Art Gallery, Houston, Texas
Photograph by Nash Baker, nashbaker.com, Courtesy of the artist and Bellwether, New York
I myself love the neo-pagan ritualism of winter festivals, so you can imagine my rapture when I discovered the work of New York artist Kirsten Hassenfeld. With her magical paper sculptures, she takes the idea of decorating to a whole new level, something that might occur if you handed the task of decorating the Christmas tree to the offspring of Mandelbrot and Glinda, the Good Witch of the North.
Kimberly Brooks: I bet you have the most insane Christmas tree in New York City.
Kirsten Hassenfeld: I don't have a tree! I think also that all my decorative energy is poured into my work, I think non-artists usually have much better Christmas trees etc because they are using all their creative juices for that. We don't even have pictures on the walls in our house!
KB: You're not the first artist to say that to me. How do you see the relationship between the holidays and your work?
Well, the most recent installation incorporates imagery that connotes archetypes of femininity, and ideas of chivalry. I keep coming back to these Ye Olde gender roles and the primary stories (myths, fairytales) that inform western identities. I think I am fascinated by all this because I am surprised by the grip it all still has on my psyche, in my assumptions about roles in relationships, physical appearance, etc. It's all so fragmented at this point, there are bits of the traditional DNA scattered throughout the work, amongst other, stranger forms and parts of thoughts. In the end, I hope it comes across as a unified whole, maybe a snapshot of the confusion inside me.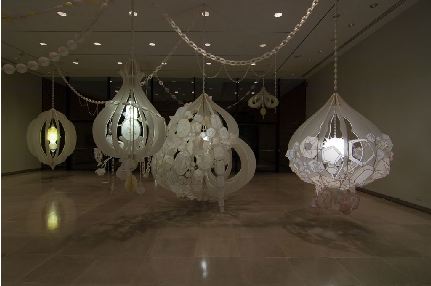 Installation view, Dans la Lune, Kirsten Hassenfeld, Rice University Art Gallery, Houston, Texas, 2007.
Commissioned by Rice University Art Gallery, Houston, Texas
Photograph by Nash Baker, nashbaker.com, Courtesy of the artist and Bellwether, New York
KB: In some ways, your sculptures remind me of fantastical fractal jelly fish, because they have a weightless quality... Do you ever get inspiration from jelly fish?
KH: Yes, I do look at some sea-life, in the book Art Forms in Nature, an amazing book of drawings of all kinds of primitive life forms from the 19th century by Ernst Haeckel. I think it's so amazing that symmetry, so essential to natural structures, also informs much of what we regard as beautiful in buildings, design and people. I use this overlap between the structures that exist in the natural world and the highly abstracted/aestheticized version of nature found in design.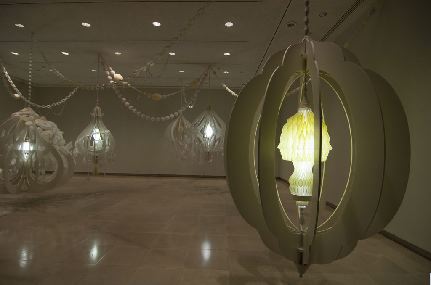 Installation view, Dans la Lune, Kirsten Hassenfeld, Rice University Art Gallery, Houston, Texas, 2007. Commissioned by Rice University Art Gallery, Houston, Texas
Photograph by Nash Baker, nashbaker.com, Courtesy of the artist and Bellwether, New York
KB: What inspired this series in the first place?

KH: I moved into a loft in downtown Brooklyn in 1999 across from a strip of pawnshops and check-cashing stores. They made me think about how many New Yorkers are living in the "second economy," and the desperation these storefronts represented. It was a depressing reality. In response to the view out my window and the incredible noise from the traffic, I made "Viewing Screen," my first paper sculpture. I was "solving" the problems I saw out my window by decorating them.
KB: I think a lot people are trying to do that with their Christmas trees right now. Tell us about your work's latest evolution.

KH: My most recent body of work, Dans La Lune, is the articulation of an interior landscape. I have been attempting for the past seven years to allow the decorative to run amok and overtake whatever I am building, resulting in the effect that decoration is being decorated. The result is a constantly shifting sense of scale, an onion dome might be an earring, a cluster of crystals might also be a building. This work is almost entirely translucent paper (except for the armatures) which makes the work appear ghostly.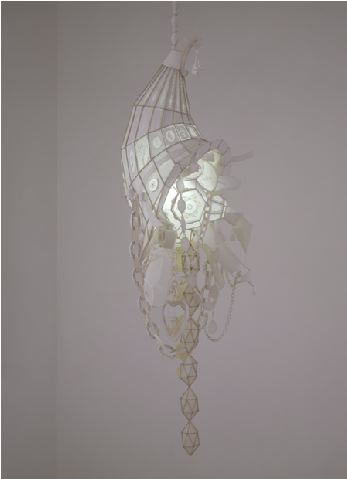 Horn of Plenty, Kirsten Hassenfeld, 2004, Paper with mixed media, 60 x 24 x 24 inches.
Courtesy of the artist and Bellwether, New York.
KB: How do you go about making them? Do you have to plan much of what you create?
KH: I make a lot of really intricate bits, and then assemble them in a really unplanned way. Many people assume that my work is very mapped out, and that I must measure and cut meticulously, but its really not the case. I find ways to avoid taking the surprise out of the process.
I am really not thinking about the end effect when I am working. I have a set of forms I am interested in working with, like a vocabulary that is constantly shifting, and materials that I typically use, and I might have some vague goal like "horn of plenty", but I try not to think so specifically about the end impact. That said, I do enjoy when my work is evocative of over-the-top-excess and of a certain kind of decay, or culture crumbling back into nature.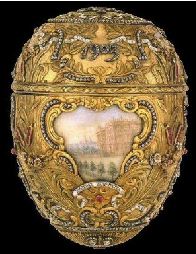 Peter the Great Fabergé Egg
KB: What work of art or object has most inspired your work?
KH: I take most of my inspiration from decorative arts, 18th and 19th century ceramics and glass for instance (Meissen figures, essentially the precursors to Hummel figures are a big source for ideas). Fabergé eggs were hugely important to me when I first began to make this work in, as icons of the most ludicrously luxurious objects imaginable, toiled on by countless workers and enjoyed by very, very few.
Kirsten Hassenfeld's work has been the subject of three solo exhibitions since 2000, most recently in Dans la Lune at the Rice University Art Gallery, Houston. Her work has been included in numerous prestigious group exhibitions at locations such as PS1/MoMA, the Brooklyn Museum of Art, White Columns, and an exhibition organized by the Public Art Fund in Brooklyn. She has received grants from The Pollock-Krasner Foundation, Dieu Donne Papermill, and The Marie Walsh Sharpe Foundation. Her most ambitious set of installations to date are on view at the Rice University Art Gallery in Houston through December 9th. View more of Kirsten's Work at The Bellwether Gallery.
Come back every Saturday for more from Kimberly Brooks. Read all First Person Artist interviews and essays at www.firstpersonartist.com.
REAL LIFE. REAL NEWS. REAL VOICES.
Help us tell more of the stories that matter from voices that too often remain unheard.