This weekly column, "First Person Artist," features myself and other contemporary artists who will share their innermost thoughts on the creative process that culminated in a work of art or body of work. The following is a First Person Artist Interview I conducted with artist Timothy Marvel Hull. Timothy Hull is based in New York and his work consists mostly of drawings on paper. His current solo show can be seen at Freight + Volume in New York City, up through October 13. www.freightandvolume.com.
In the summer of 2005, my brother Gordon and I listened to a lot of Robert Johnson's blues during thunderstorms and crushed red bricks from our family's old brick yard and experimented with spreading them about the family farm. The idea of magic as metaphor for art was very palpable and it set me on a trajectory of creating works of art with a mystical bent. I also discovered the hidden messages in KLF's music and realized that art was a rich place to explore the esoteric.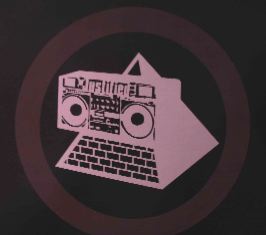 Album Cover "KLF" c. 1990
I have recently been very involved with the concept of Egypt. Mostly I have been doing drawings and making various objects that exemplify western man's long standing obsession with her mysteries and treasures. Egypt has been seen as a repository for esoteric knowledge and has been referenced in one way or another by almost every mystical/occult group. It has fascinated people from the Romans to the Victorians to the present day. I am fascinated by this fascination.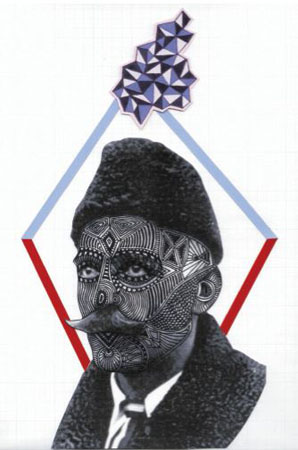 When I Am Real, mixed media on paper, Courtesy Taylor De Cordoba
I spend copious time researching in libraries, museums and on the internet. I think of myself as an artist/historian/archeologist. I could have been very happy as a shop-keeper of a store that sells exotic imports, housewares and trinkets from around the world. I still might do that... I am also interested in philosophy and the classics. I could run safaris in Africa or intellectual trips through Italy... but I became an artist because I have a lot of ideas and ways of making them manifest through art.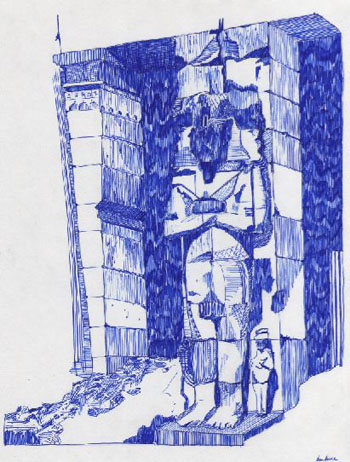 "Collossus" Diptych Part 1. 8 1/2 x 11" Gel Pen on Paper. Image Courtesy Freight + Volume
I hope that people walk away with a feeling of history and the sense that there are so many plausable interpretations to a meta-narrative. Without trying to be overly didactic, I tend to construct my exhibits like college seminars. I'd like people to think that art is not only beautiful but something to learn from.
Related