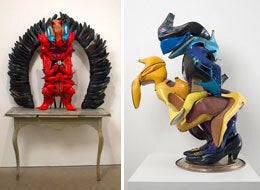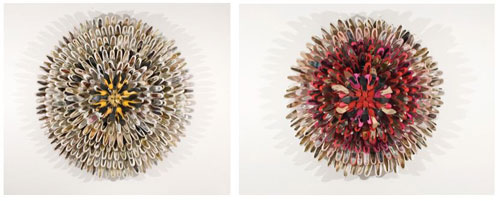 LEFT: "With a Heart of Gold," 2005. Shoes, wood screws, metal, staples. Diameter: 85", Depth: 16". RIGHT: "Pretty in Pink," 2005-06. Shoes, wood, metal pipe, screws, staples. Diameter: 70", Depth: 16 1/2"
The sight of a single pair of shoes is so charged that it can cause obscene amounts of money to fly from a wallet and others to immediately fall in love. Imagine what would go through Carrie Bradshaw's mind if she walked into this exhibition. Artist Willie Cole transforms discarded domestic items into sculptures textured by time. But this goes far beyond a woman's boundless fascination for those things we wear on our feet. He captures the inherent complexity of what each shoe represents, while the marks on the soles offer a consolidated view of every step ever taken--a time stamp for the discarded, all arranged in a magnificent bouquet. In doing so, he also explores issues of identity, race, consumerism, and the environment. These rescued objects are given a new and blooming life, evoking multiple associations ranging from domestic labor to religious ritual and even to Western appropriation of African forms.
For me personally, this abundance of shoes makes me instantly recall the crestfallen shock Carrie Bradshaw feels when she realizes she has spent $40,000 on shoes and still rents an apartment.
If women are like diamonds, we seem to need a shoe to represent every facet. Since I wear a perfect sample size six, when I see a shoe I like, it too easily ends up in my closet. I know an artist who buys himself a pair of shoes every time he sells a painting. Whenever he takes a step, he is reminded of his accomplishment and forges on. I interviewed Willie Cole to ask him about this creations. He claims to have never seen Sex in the City. Right. And I've never skipped a meal or two over a pair of boots.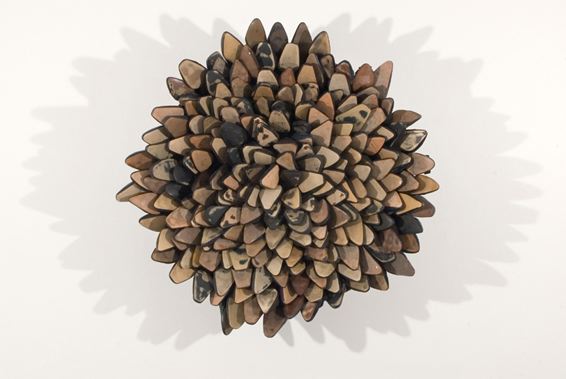 "Harlem Rose," 2005-06. Shoes, wood, resin, screws. Diameter: 45"; Depth 15 1/2"
Kimberly Brooks: When was the first time you decided to take someone's refuse and turn it into art?
Willie Cole: Finding a discarded steam iron on the streets of Newark, New Jersey literally changed my life. It was like discovering a relic from the past, present and future all once. I identified it as African yet clearly I knew it was American. Then made the leap that it was African-American.
KB: What made you gravitate to high heels and then lead you to arrange them in this way?
WC: I did this body of work because I wanted to explore the energy in the shoe. After the first few pieces I recognized that that energy shared an aesthetic with the art of Tibet. Tibetan-like imagery then became my inspiration.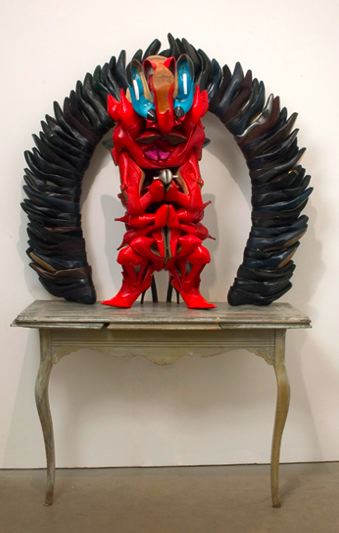 "With My Heart in My Hands," 2005-06. Shoes, PVC pipe, painted wood table, metal, screws. 76" x 47" x 24 1/2"
KB: How do you go about creating one of your sculptures?
WC: I start with play and let that lead me wherever it may. No sketches or plans. I currently use single objects in multiples, like building blocks, or as basic cell components to create larger works.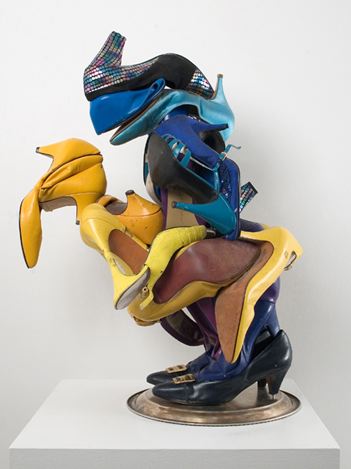 "Dirty Little Soles," 2005-06. Shoes, metal plate, screws. 26 1/4" x 12 3/4" x 19 1/2"
KB: What message or mood do you seek to impart to your viewers when they see your work?
WC: I am interested in creating a new perception wherein the viewer will never see the object that is the basis of my sculpture the same way again. I'm also very interested in exploring the idea that all things are the same thing and that all time is the same time--AKA everything is everything. I also seek to impart a sense of the NOW. That means that I attempt to create objects that are both old and new and that reflect our past, present, and future all at once.
KB: Have you ever watched Sex in the City?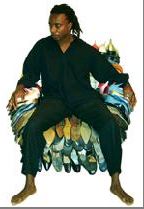 Portrait of the artist with Shoe Chair
WILLIE COLE is an internationally renowned sculptor and print maker. He is the recipient of the 2006 Driskell Prize presented by the High Museum in Atlanta, GA, the 2004 Lamar Dodd Fellowship at the University of Georgia, and the 2007 Institute of Diversity in the Arts fellowship at Stanford University in Stanford, CA. He graduated from the School of Visual Arts in NYC. His work is in major museums and private collections around the world. Upcoming shows include: January - March. "Nature/Culture" Craft Museum, Columbus; February 8 - April 21. "On the Margins" Mildred Lane Kemper Art Museum, Washington University in Saint Louis; January 22 - March 2. "Working History" Douglas F. Cooley Memorial Art Gallery, Reed College, Portland, Oregon. www.alexanderandbonin.com
Calling all HuffPost superfans!
Sign up for membership to become a founding member and help shape HuffPost's next chapter