Today's top soccer clubs feature highly paid players from all over the globe. But it wasn't always that way.
Players used to play for clubs in their own countries. There were no world super teams like Barcelona, Real Madrid, Manchester United and Bayern Munich.
But the New York Cosmos changed all that in the 1970s.
The American soccer club pioneered the "super team" style of assembling a roster, exploring the world for star players like never before. They signed Pele (Brazil), Franz Beckenbauer (Germany), Giorgio Chinagli (Italy), Carlos Alberto (Brazil) and a host of other players from 14 total nations throughout the late 1970s. It was my honor, as an American who grew up in the Bronx, to play alongside this diverse group of soccer superstars and help lead them to a 1977 NASL championship. 
We became a sensation. We went from playing in front of a couple thousand fans per game to 77,000 sold out fans at Giants Stadium. We were the country's most famous team with fans all over the world. Celebrities like Mick Jagger, Elton John and Peter Frampton hung out in the locker room.
Pele, Beckenbauer, Alberto: These guys were larger than life in their countries, but being born in the Bronx, I sort of became the gang leader. They didn't know where Studio 54 was, so I took them there to party with some of the most famous people in NYC. We'd hang out at parties and nightclubs in New York. We were making soccer COOL.
In the 70s, it was all baseball, American football, hockey, and basketball. Soccer wasn't even on the radar. But our team was on the front page of Sports Illustrated. We were on the back page of The Daily News and The New York Post. We legitimized soccer in this country. 
And then it disappeared. Amid financial problems and ownership drama, the Cosmos had to sell their stars and cease operations in the 80s. That almost made it more magical. Imagine if Manchester United or the New York Yankees disappeared for 35 years? I believe it really enhanced how famous we were.
Now, 40 years later, these New York Cosmos are in a different soccer landscape – a landscape that we helped build. That first Cosmos team and North American Soccer League laid the seeds for everything we see in American soccer today: TV ratings, 20-plus million kids playing the sport, excitement around the national team. We're proud to have been a big part of that.
And we're proud to see the New York Cosmos playing again. When they rebooted the franchise in 2013, I felt so much pride seeing them play. That's my team. That's my jersey.
I love that they're doing it their own way. Back in our day, we were rock stars, bad boys, renegades. These guys are also choosing their own path, playing in a different league, and we see them as sort of in our same vein. They've won championships in two of three seasons, they're right at the top again, and I really take pride in that. I want this team to follow our success. And I want them to do it for the next 80 years, not the 10 years we did it.
Right now, it's looking good. I'm at every game broadcasting for ONE World Sports, and I see a dynamic coach, a hungry group of players, and fans supporting them. It's cool to see generations of people wearing Cosmos jerseys. I'll talk to people who say they watched me play for the Cosmos, and now they're telling their grandkids about the team we had. You can't manufacture that history. 
Over the years I've kept in touch with a number of the guys. Beckenbauer, a guy who's won a World Cup, the Euros, and is one of the most prominent figures in the history of German soccer, told me the Cosmos was the greatest time of his life. That gives me chills.
He's proud of being part of the Cosmos. We all are.  And what we did is still felt throughout soccer, from New York City youth fields to the pinnacle of soccer at the world's biggest clubs. 
The New York Cosmos host the Tampa Bay Rowdies Saturday, August 13th at 7:00 PM.  Watch the live stream of this historical match-up on AOL. com or on ONE World Sports.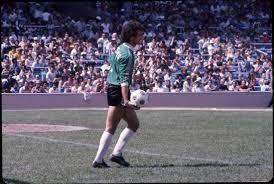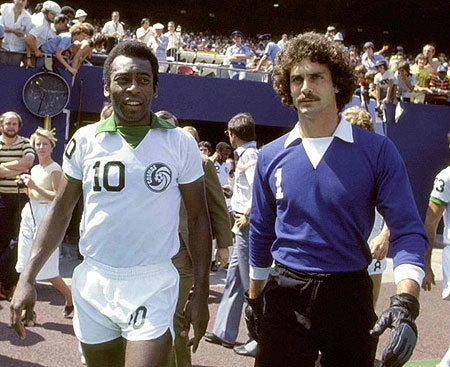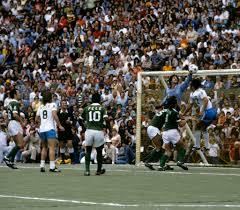 Calling all HuffPost superfans!
Sign up for membership to become a founding member and help shape HuffPost's next chapter