"My name is Chivvaun and I'm so excited to share a little bit of what I know with you today." This is how Chivvaun begins her free dance clinic. All twelve girls have trickled into the dance studio one by one donning their leotards and dance shoes, an apprehensive look in their eyes. They've never been to a dance workshop before and they're not too sure what to expect.
Chivvaun takes a moment to get reacquainted with her surroundings. In what I can only imagine is a sudden burst of nostalgia, her eyes begin to tear. Nothing too dramatic but enough to let me know that she doesn't take for granted the importance of this very moment.
This is the dance studio that started it all for her: The Lois Seiler Academy of Dance was her former stomping ground. Long before she dreamed of dancing alongside primas and honing the craft of ballet, this studio was home.
As she happily engages the girls in spatial awareness activities, my mind drifts just a bit. Chivvaun's flight out of Nassau landed at 7 o'clock in the morning and no less than 12 hours ago was she strutting down the poolside of the Albany resort for the first segment of Miss Universe Bahamas in the costume competition.
Donvaria Duncombe, an up and coming designer out of Freeport Grand Bahama, had her work cut out for her when she realized her design would hit the Miss Universe Bahamas stage.
Surrounded by towering blue marlins and feathers bending to sweep the grounds around us, stood a fairy like figure in the brightest yellow and hints of green, Chivvaun was our national flower, the yellow elder.
There was almost a hush that came over the crowd when Chivvaun began her walk. Many of the girls that came before her had slipped into costumes that were beautiful and elaborate but laborious to maneuver and difficult to have fluid movement.
Whereas the spectators found beauty and excitement in these larger than life costumes, many of them also found grace and poise in Chivvaun's delicate yellow elder ensemble.
Some may get tired of hearing that Chivvaun is a dancer, but to a certain extent it is at the core of who she is. It's the reason I dedicated an entire series to her journey transitioning from the Centre Stage of dance to a completely different one. Donvaria clearly wanted this encapsulated in her costume. Free flowing material with yellow petals and delicate vines wrapped around her creating the perfect illusion of a flower flourishing in any environment.
The inspiration behind the costume was the yellow elder. Up until this point I've not really taken the time to examine it despite it being our national flower. The more I looked at it, the more I realized that it is not only beautiful but it's majestic, delicate and graceful. All of which I believe can be used to describe Abigail (Chivvaun). So those are the elements I focused on when thinking about the design.
To go against some of the best career costume designers and to be able to hold her own on a stage of that magnitude took courage. Donvaria earned nothing less than my respect that night.
I'm pleased at the way it came out and would also like to thank my friend, Latoya Saunders, for painstakingly handcrafting each flower and my sister, Donvarcia Duncombe, for her creative direction and inspiration.
Chivvaun seemed to float down the runway allowing people to see different elements of her simple yet contradictorily intricate costume. A master of movement, she allowed people to engage with her without the exchange of words, Just the sincerest of glances and the warmest smile one can muster while being judged for it.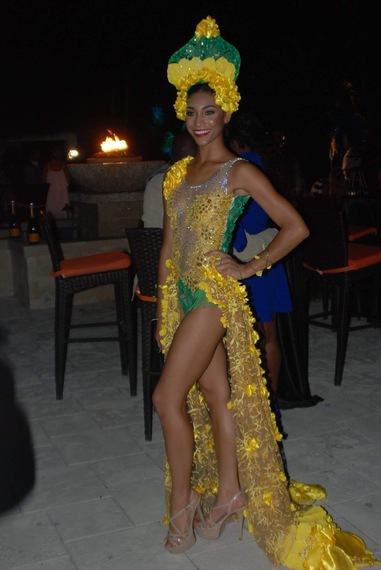 " I was a bit nervous. My costume wasn't as large as the other girls and I wasn't sure how receptive people would be towards it, but I'm really grateful people were able to see the beauty in its simplicity." Chivvaun is explaining this to me at 6' o'clock in the morning. We're in the domestic section of Lynden Pindling International Airport as she awaits her departure from Nassau to begin preparing for her dance clinic. That conversation that happened merely hours ago brings me back to where I am. Right here in a small dance studio attached precariously to one of the main gyms on the island, little girls are staring up into the face of a young woman who just might be the future Miss Universe Bahamas.
Chivvaun doesn't make mention of the competition at any point. She wants nothing to overshadow the knowledge she can possibly impart on the girls looking up to her. With bated breath they watch as she moves gracefully across the floor correcting their stances and encouraging them to try again even when something seems impossible.
I know the parents of one or two of the girls personally. I know that dance classes, for them, are a massive sacrifice. A free dance class provided by one of the best Bahamian dancers is something many can only dream about.
It is known that Grand Bahama has seen brighter days and is slowly, but surely rising out of the ashes, which was a devastating economy. But, on days like this one, much like the bright hue of the yellow elder Chivvaun brought a bit of hope to some of the girls in that dance studio.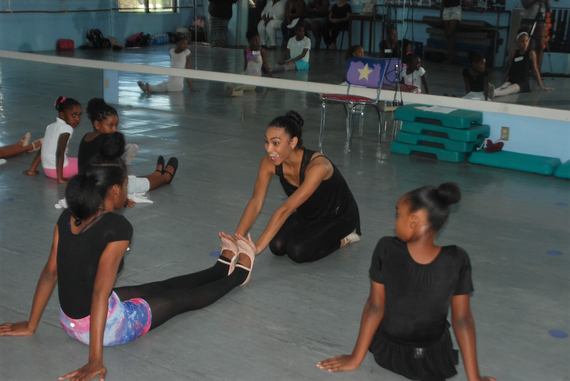 With the official crowning happening on September 17th, my time with Chivvaun is dwindling and I feel more than honored to have had a front row seat to a life-changing event for both parents and students alike.
The next part of my journey will find me writing from the Marley Resort in Nassau. As I make a daily commute to the Albany resort where the pageant will be held, I cannot wait to see what the capital has in store for myself, and the young Miss Universe Bahamas hopeful.
To keep up with Chivvaun Abigail's journey to the crown continue to read Mindthis Magazine and follow her official Facebook page here. Also don't forget to check out the first installment.
REAL LIFE. REAL NEWS. REAL VOICES.
Help us tell more of the stories that matter from voices that too often remain unheard.