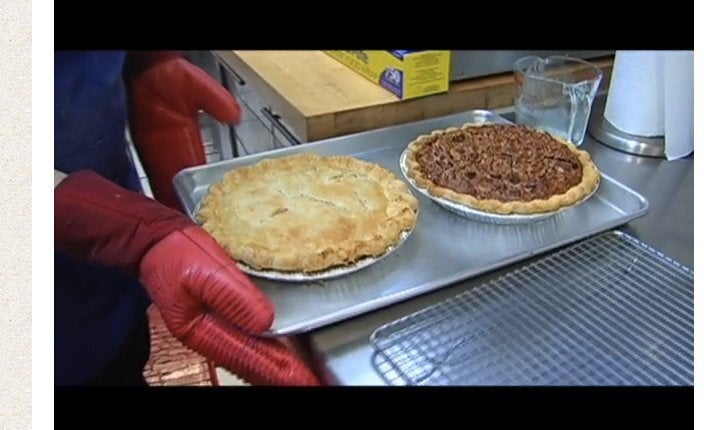 "I've been trying to figure out who my customers are and it's hard to say. I get a lot of New Yorkers. I get a lot of Midwesterners. It almost depends on the pie. I'll have people from Pennsylvania order the shoo-fly pie because they miss that flavor, or Southerners order the pecan pie. I think there's a pie for every palette and for every context..."
Meet Allison Kave, the owner and chief pie baker at First Prize Pies in New York City, an artisan pie company that specializes in twists on old-classics and inventive, made-by-hand pie recipes. Allison started baking pies as a kid, inspired by her mom who was always in the kitchen, cooking up good food with good ingredients, so that her family could eat better than the canned goods she grew up on. According to Allison, pie "kinda became her thing" and by the time she was in high school, she was already starting to invent her own recipes. Therefore, even though First Prize Pies is only about a year old now, the passion for the product is decades in the making.
So how do you achieve a great pie? Well, you'll learn from Allison that it's a balance between having a perfect crust recipe with perfect fillings. And to get the perfect seasonal fillings for her spring and summer pies, Allison handpicks fresh, local fruits and produce at the New York City Greenmarkets. So come take a peek into First Prize Pie's small operation at The Essex Street Market. During the week, Allison hand makes between 40-50 large pies for her shop, online orders and select restaurants; in addition to, hundreds of mini-pies that sell at the Hester Street Fair on weekends.
So, to really kick off the spring and summer season, why not start with a slice or two of pie? You can find First Prize Pies at pie-friendly spots like Fatty 'Cue or the Greene Grape in Brooklyn, or place an order at their online store. A few favorites you might want to start with:
* Local Rhubarb Frangipane Pie
* Lemon Cream Pie (my personal favorite)
* S'more's Pie (Allison's favorite to make)
* Chocolate Peanut Butter Pretzel Pie (Allison's favorite to eat)
* Bourbon Ginger Pecan Pie (customer favorite)
* (soon to come) Samoa Pie - based off everyone's favorite Girl Scout cookie!
All in all, Allison just loves the act of creating, she confessed: "Pie isn't even my go-to dessert to eat. I much rather have ice cream, but, I really just love making pie." And, honestly, that's all you really need to know.
Popular in the Community