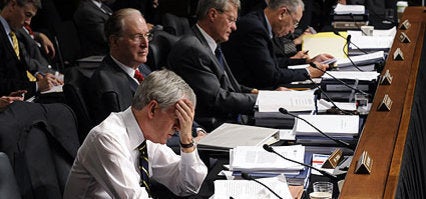 A coalition of Republicans and Democrats on the Senate Finance Committee joined together Tuesday to defeat a public health insurance option.
Five Democrats joined with all the Republicans on the committee to reject an amendment by Sen. Jay Rockefeller (D-W.Va.) in a 15-8 vote.
Three Democrats then joined the Republicans to defeat a second public-option proposal. By a vote of 13-10, the committee rejected an amendment by Sen. Charles Schumer (D-N.Y.).
Schumer, however, said the debate is far from over. He acknowledged during the debate that the public option doesn't yet have the 60 votes on the Senate floor it needs to overcome a filibuster, but he emphasized to Huffington Post outside the hearing room: "Yet. I said 'yet.'"
Schumer's public option was considered a more moderate proposal than one offered earlier by Rockefeller, which was tied to Medicare rates.
Finance Committee Chairman Max Baucus (D-Mont.), Kent Conrad (D-N.D.) and Blanche Lincoln (D-Ark.) opposed the Schumer amendment. Baucus said he did so because he didn't think it could garner 60 votes on the floor and his highest priority is to pass a bill.
Sens. Bill Nelson (D-Fla.) and Tom Carper (D-Del.) voted for the Schumer amendment, but joined Baucus, Conrad and Lincoln in opposing the Rockefeller amendment. Carper told the Huffington Post after the vote that he wanted to send a signal that he is open to different policy options. "I'm almost agnostic on the public option," he said, explaining that increasing competition is his top priority and that he is open to various approaches to that end.
Rockefeller's proposal was expected to garner less support than Schumer's. The government-run insurance option he envisioned would have used Medicare reimbursement rates for the first two years; Schumer's public plan would negotiate rates and not be tied to Medicare.
Ironically, the more liberal amendment offered by Rockefeller is also more fiscally responsible, according the Congressional Budget Office. Rockefeller's package would have shaved $50 billion of the bill's cost over a ten-year period.
Nevertheless, Republican senators argued that the public option would bankrupt the country and lead to a single-payer system. "Government is not a competitor. Government is a predator," said Sen. Charles Grassley (R-Iowa).
Yet the GOP also defended Medicare, which Democrats took pains to point out was a government-run plan.
Baucus framed his opposition in pragmatic terms. "My first job is to get this bill across the finish line," he said, arguing that if Rockefeller's public option was included in the final package, the bill wouldn't have the 60 votes needed to overcome a filibuster.
Rockefeller rejected the notion that any bill that can pass is a good thing. "We're here for a serious purpose," he said.
Though it's down, the public option is not out. "The public option is on the march," Rockefeller said.
I've been live-tweeting the debate here.
Popular in the Community