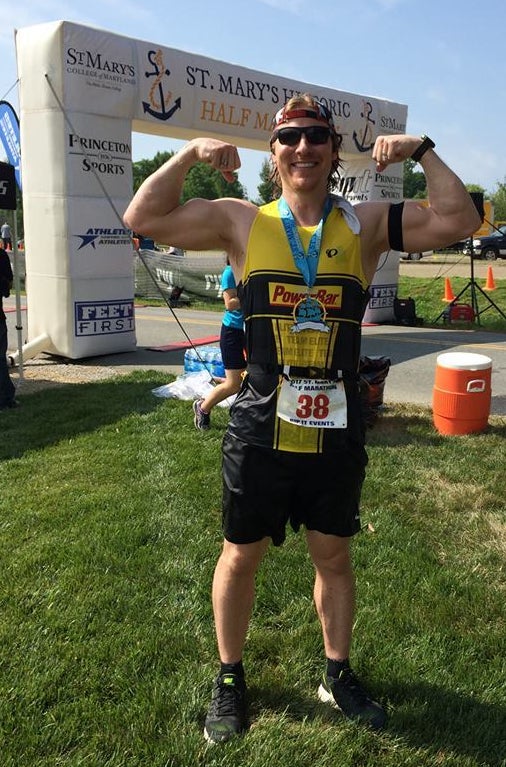 This past weekend I participated in my first endurance event of the 2017 season, the St. Mary's Historic Half Marathon in Southern Maryland. This was a special race for me because the course went all throughout my alma mater, St. Mary's College of Maryland (class of 2010).
While standing on the starting line of the race, I reflected back on many fond memories that occurred while I was a student there – sporting events, friends, being near the water, classes I enjoyed, and celebrating with my family on graduation day. One memory in particular that stood out to me was a trip my dad and I took to visit the school in November of 2004, just two months after I was released from ICU. I was supposed to begin my freshman year the month before, but the car accident and recovery put my plans on hold.
My dad brought me down to the school that day to get some fresh air in my still fragile lungs, and to possibly gain some motivation while being on campus. Could I attend college one day? I was hopeful, but it was uncertain. The only thing certain at that point in time was that I was far from being fully recovered. While we were on campus that day my dad noticed that I couldn't finish my lunch, and that I had trouble breathing. Within a few days I was back at my hospital, questioning not only my college future, but also my own survival.
After a few tests and procedures, I was finally sent home and continued on with the intensive physical therapy and rehab. After months of questioning my goals and continuing to overcome obstacles, I began my freshman year at St. Mary's College of Maryland, just one year later than initially expected.
Running throughout each mile of the half marathon, I kept thinking back to the many miles I put walking around the campus as a student. Every day after class, I would walk around the scenic grounds of the school, and throughout the nearby historic section of St. Mary's City. It was healing – physically, emotionally, and psychologically. Yesterday, I followed along those same footsteps, tracing the memories, and reflecting on the experiences over the years and the many people who inspired me to keep striving for progress.
Back then I didn't know what the future held for me, but I knew that I had a lot of support from my family and friends. The support I received is what helped me realize that the journey wasn't over, but rather, just beginning.
Special thanks to Daniel and Suzy Serpico from RipIt Events for organizing an incredible race - from start to finish. The course, spectators, music, volunteers, prizes, and overall atmosphere were incredible and I highly encourage anyone who is interested in doing a running or multi-sport event to look into the Historic St. Mary's 5K & Half-marathon. I'll definitely be back next year.
Special thanks also to my support crew from Powerbar, Nike, Nathan Sports, Foster Grant, Wigwam Socks, and Nuun Hydration for supporting my endurance sports career over the years.
Calling all HuffPost superfans!
Sign up for membership to become a founding member and help shape HuffPost's next chapter
This post was published on the now-closed HuffPost Contributor platform. Contributors control their own work and posted freely to our site. If you need to flag this entry as abusive,
send us an email
.