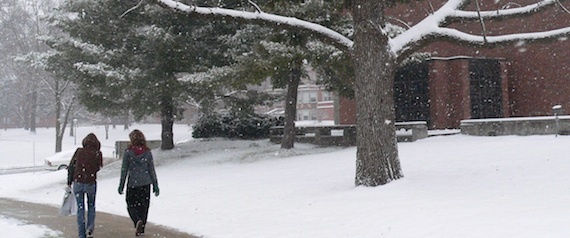 Photo credit: Stephens College
For this blog post, I thought it would be fun to re-visit with first-year students to see how their first semester at college went. Last fall I asked several high school girls why they decided to attend a women's college and shared their reasons in my blog post "Why I Chose a Women's College." During the holiday break I contacted the same students, Jenni Miller, Allison Chi-Tsen Wu, Jocelyn Mosman, and Briana McCall. What follows are their first-semester reflections as well as accompanying college videos.
Let's start with Jenni's experience while seeing what move-in day was like via a video from Stephens College (Jenni's college of choice).
Within the first week I knew that Stephens is where I belonged. There's a saying that you won't find your husband at Stephens, but you will find your bridesmaids and I've found this to be extremely true. Since coming to college I've made friendships that will last and a place to call home. . . . I found that by immersing myself in Stephens and the activities they offered, I was able to make a smooth transition and work on leaving high school behind. . . . The best part about my classes is their size. Because they're small, professors get the chance to know you as an individual. They take the time to talk with each student and make sure they're comfortable with the material. . . . All in all, this semester has been a lot. I've learned that time management is key, but it's just as important to cherish each little moment. Stephens is where I'm supposed to be and I wouldn't change this experience for the world
Briana is attending Sweet Briar College, intrigued by the college's equestrian and music program. During first semester Briana enjoyed getting involved with "Sweet Briar's Outdoor Program, living on the honor hall, and all of the crazy Sweet Briar traditions." Briana's favorite memory is going on a reflective writing retreat.
The music program at Sweet Briar is fantastic for me. I took Advanced Music Theory, Aural Skills, and Applied Guitar last semester. Some of my closest friends are music majors, and we have a lot of fun together. The class sizes are small, and the music professors will bend over backward for us. Asking for help is encouraged, and class participation is a must. That is true for almost every class at Sweet Briar.
I asked Briana how college is different from high school, and she replied:
Education is taken seriously by both students and professors. In high school I was concerned about what people thought of me. I feel like as soon as everyone gets to college it's all about standing out, not fitting in.
I wasn't expecting professors to care so much about my education. They really do put in the extra mile for you at Sweet Briar.
As part of the college's new student orientation program, Briana enjoyed participating in I Am Sweet Briar; as you watch the video, I'm sure you'll understand why.
Let's see what Jocelyn has to say about her first semester at Mount Holyoke College and learn about a popular college tradition: mountain day (via a college video). Women's colleges are known for their many traditions and are a great way to make new friends.
I have just reached the end of my first semester at Mount Holyoke, and I feel confident. Not only do I feel comfortable on the campus, but I also feel a personal growth occurring within me. . . . I have been graced with free time to study with different schedules every day, and time to work, create a social life, and be involved. Through my high school years, I was always very busy, never having a spare moment, it seemed like. College feels far less stressful in that regard because I have been able to organize myself each day and plan accordingly. Also, being in a college where all of the women attending want to better themselves and their education is a far step from my high school where I witnessed students who did not want to continue learning. A very unexpected part about college, for me, was the number of friends I was able to make very quickly. While there are not any sororities at Mount Holyoke, it is as if we are one large sorority in which everyone is welcomed because of their differences, rather than in spite of them. The acceptance and kindness occurring on campus is something I would have never expected when considering colleges.
Smith College is the college Allison decided upon. And although Allison didn't consider a women's college initially, she's now glad she did. Looking back over her first semester, she'll tell you that Smith College exceeded her expectations and she greatly enjoys the "depth and complexity of the academics, being able to design my own academic schedule, and going to the dining hall every night and talking about almost everything with my peers."
My first semester was a predominantly academic experience with the social life being only one aspect of the academic. My love for college has been mostly about the academics and intellectual environment. Of course the people I've met and the fun times I've had with them are great, but at the end of the day it's the academic environment that makes me really happy. I feel like I am finally in a place where I can start to satisfy my hunger for learning and expand the way I think. . . . . This is my chance to blossom intellectually with no restraints. This is my time.
Before Allison knows it, she too will take part in a time-honored tradition: The Diploma Circle.
I hope my blog post inspires you to investigate colleges for women. If you would like to learn more about women's colleges, visit my blog, where you will find an up-to-date list of women's colleges in the United States, arranged alphabetically, along with other pertinent information.
Popular in the Community