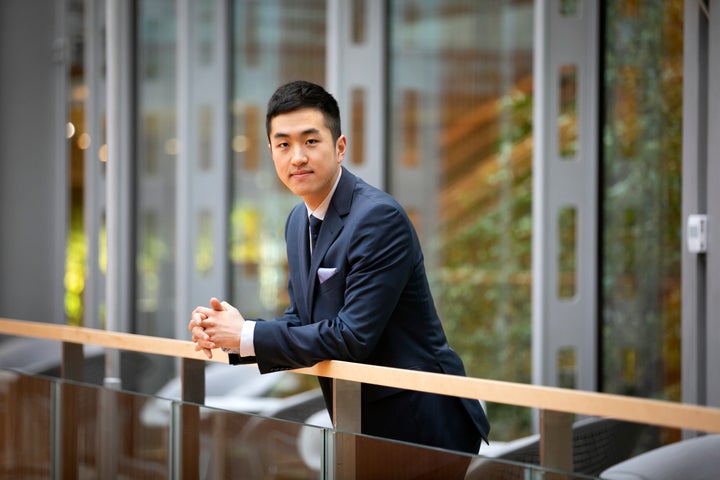 Harvard University senior Jin Kyu Park has not only been awarded one of the most prestigious scholarships but made history in the process.
The Rhodes Trust announced on Saturday that he is among the 2019 class of Rhodes Scholarship winners, making him the first undocumented immigrant to receive the accolade.
This is the first year the Rhodes Scholarship accepted applications from those in the Deferred Action for Childhood Arrivals program. Park, a DACA recipient from the Flushing neighborhood of New York City, told HuffPost that it took some time for the achievement to sink in.
"I felt still ― just an incredibly still silence. I felt neither happy nor sad. I think I didn't actually register that I had won this thing until a few hours after and everything had calmed down and I began to settle into my emotions," he said. "Then the stillness gave way to a wave of gratitude, thankfulness and love for my parents, my community, the city of New York and my country."
The molecular and cellular biology major boasts a resume that's nothing short of remarkable. In addition to his responsibilities as a student, he juggles volunteering for his nonprofit organization Higher Dreams, which provides resources to undocumented students looking to go to college, and the Harvard Phillips Brooks House Association Chinatown Citizenship program, which offers naturalization assistance in Boston.
And as if that weren't enough, he serves as the managing editor of The Harvard Undergraduate Research Journal as well as a research assistant at the Koch Institute for Integrative Cancer Research at MIT. He's also a chapter leader of Define American, a nonprofit media and culture organization that aims to challenge the media's depiction of immigrants.
While Park's professional aspirations lie in the medical field, so much of his extracurricular work around immigration draws from his life experience. He moved with his family from South Korea to the U.S. when he was 7 years old. His father took up jobs in Korean restaurants, and his mother worked in nail salons.
"So if you've ever eaten at a Korean restaurant or received a mani-pedi in New York City, congratulations. Like it or not, you may have partially subsidized the education of what Fox News would call an illegal alien," Park quipped during a speech in front of Harvard's class of 2018.
His status affected his navigation of society, and he wasn't always so open about his immigrant background. He revealed to HuffPost that growing up, he was instructed to avoid "fooling around next to police or other law enforcement" and to never disclose where he's from so as to not invite discussion of his immigration status.
Today, Park is an outspoken advocate for the undocumented community, and he said he feels that the mainstream media is due for a much more nuanced, complex discussion around immigration. The topic is often cast as a Latinx issue, yet Asian-Americans are the fastest growing immigrant population in the U.S., and he pointed out that the term "undocumented immigrant" doesn't often conjure images of Korean-Americans like him. Yet the experiences of the unauthorized population shouldn't be boiled down to just race or ethnicity, he said.
"Immigration in America has always been racialized. Latinx folks are disproportionately affected by immigration enforcement, but I think being undocumented as a social condition affects all undocumented immigrants in some very common, intersectional ways," he said. "There is always that fear and feeling of not really being able to tell our full story or living in our truth. I think it's important to complicate prevailing narratives regarding undocumented immigrants."
He added that telling authentic stories of the undocumented population is particularly crucial "at a time when the president of the United States is weaponizing immigrant narratives for an incredibly harmful agenda."
With the scholarship, Park has an education at Oxford University in England to look forward to after graduation. He has some solid advice for other undocumented students who may be having a difficult time under the current administration: Never forget your roots.
"Keep going. And understand that your story is beautiful and powerful," he said. "When things become difficult, think of your community ― your family, friends, mentors and partners."
He said that visits to his father in the restaurants where he worked always kept him grounded.
"He works as a line cook, often 10 to 12 hours a day, making sure that I have a shot at full opportunity in America," he said. "When I hold his hand, rough and blistered from the work he does day in and day out, I am reminded of the tremendous hardships he endured to get me where I am today."
Popular in the Community